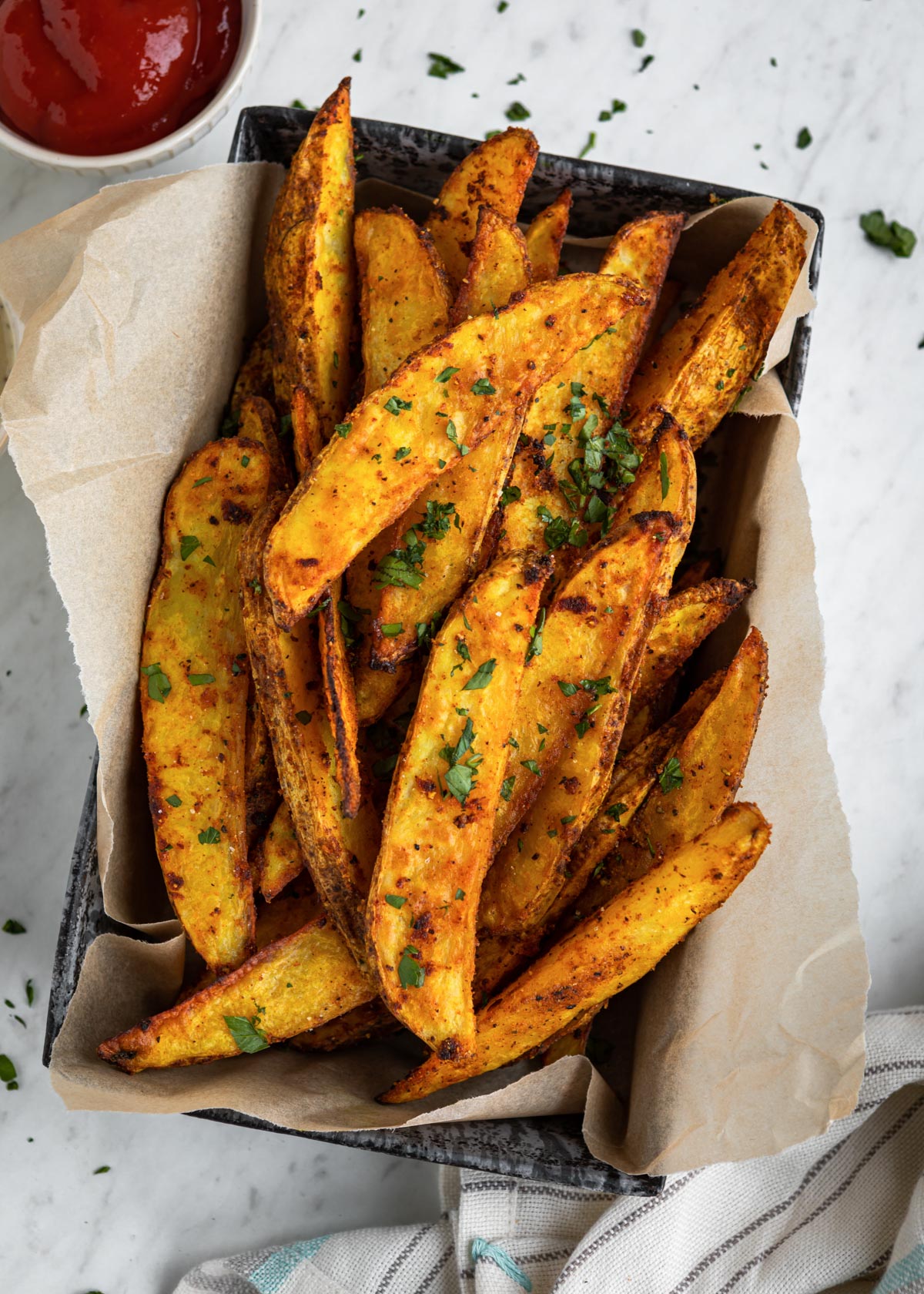 I love crispy potatoes. Whether they are in a breakfast skillet, a burrito, or smothered in toppings with a delicious dipping sauce. I8217;ll eat them and enjoy every bite. Try my crispy baked potato wedges and add an easy side dish to your next meal.
Did you know you don8217;t have to fry potato wedges in a vat of oil to get the crispy result you love? I bake mine in the oven and they come out perfectly crispy every single time. Follow these simple steps (and use the right oil) to enjoy perfection for yourself.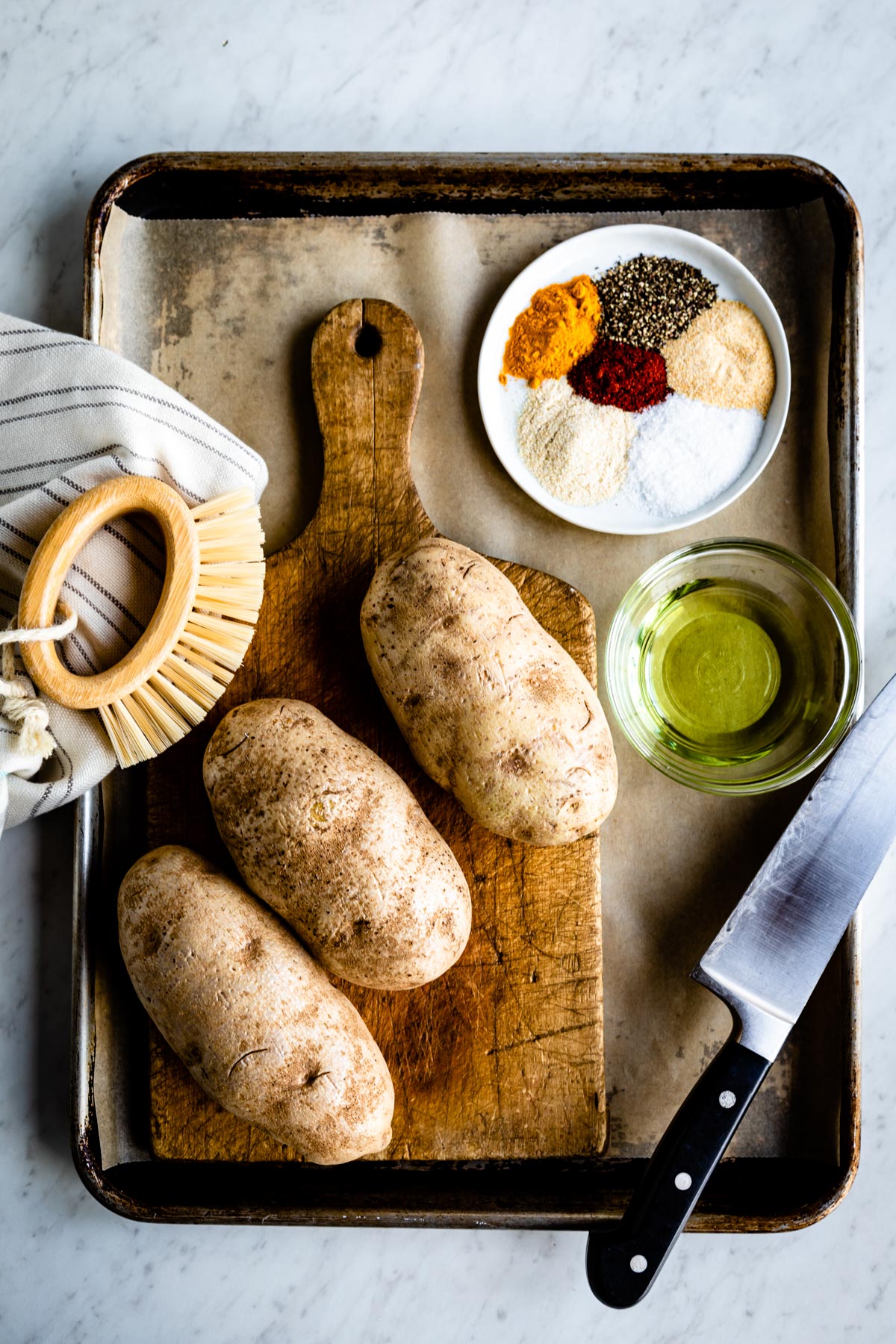 How to Make Potato Wedges
In just a few steps, you can produce delightfully crispy baked potato wedges. I love dip-able sides and potatoes, so this recipe is a win-win!
Wash and scrub 4-6 Russet potatoes until clean. Then slice them into wedges. I use my mandolin, which works incredibly well!
Soak those potato slices in hot water for 10 minutes. Soaking them ahead of time will ensure a crispy outside, soft on the inside finished product. Make sure to pat dry after soaking so they go into the oven dry.

Set the oven to 400°F. Toss the dried wedges in avocado oil (as this withstands high heat well) as well as the seasonings I list below.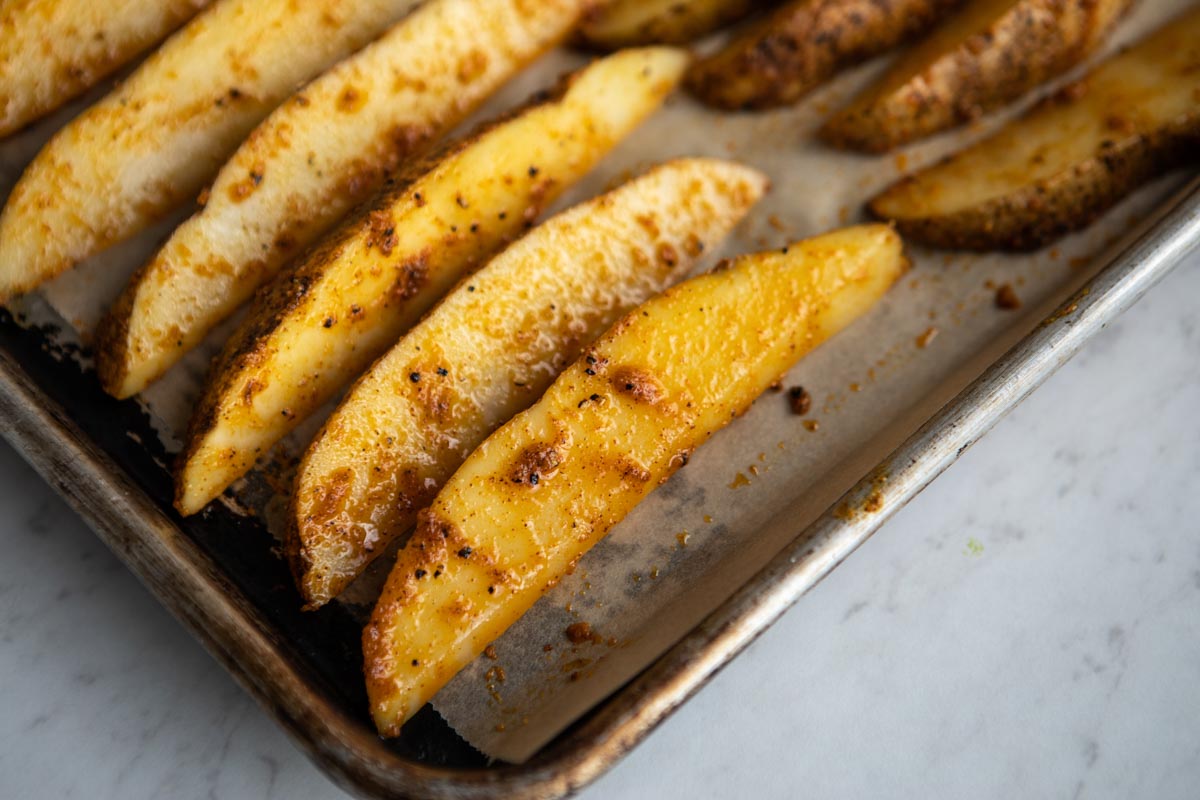 Roast on parchment paper for 45 minutes, flipping over halfway through. Once they8217;re as crispy as you like them, take them out of the oven.
Read on for some incredible toppings and dipping sauces to finish off these crispy wedges the right way.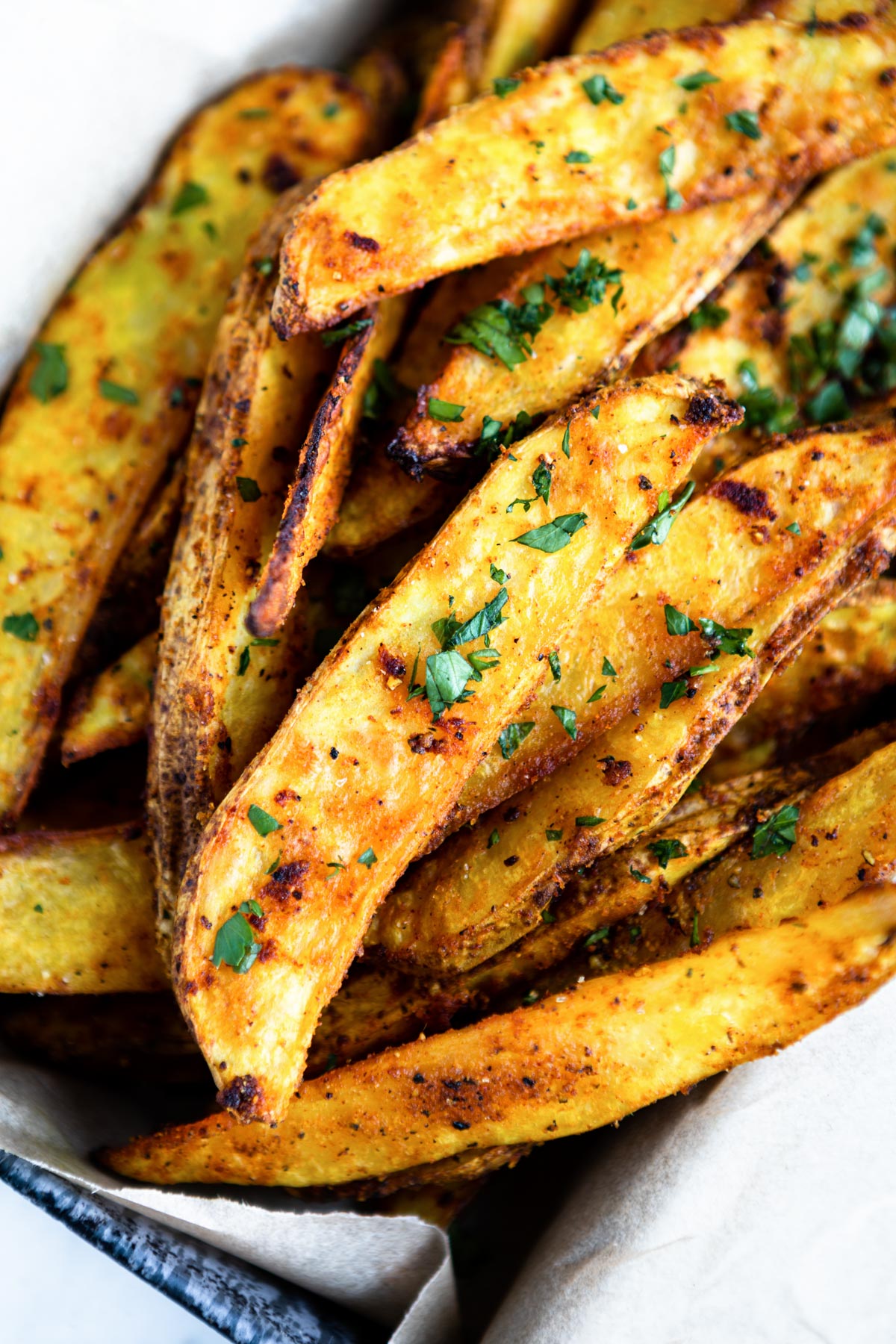 Potato Wedge Toppings
Choose to load up these crispy baked potato wedges or keep them plain for optimal dipping; whichever you like. Here are some great toppings and sauces to finish off this epic dish.
Nutritional yeast (gives these potatoes a 8216;cheesy8217; flavor)
Crispy Potato FAQs
Are you supposed to boil potatoes before baking them?
Yes! This helps the outsides crisp up while keeping the inside soft when baking. I know it feels like an extra, unnecessary step, but it8217;s super important!
How do you make crispy potato wedges in the oven?
Easy! Cut potatoes into wedges, soak in hot water for 10 minutes then remove and dry. Top with your favorite seasoning and a good oil like avocado or coconut. Bake at 400°F for 45 minutes, flipping halfway through.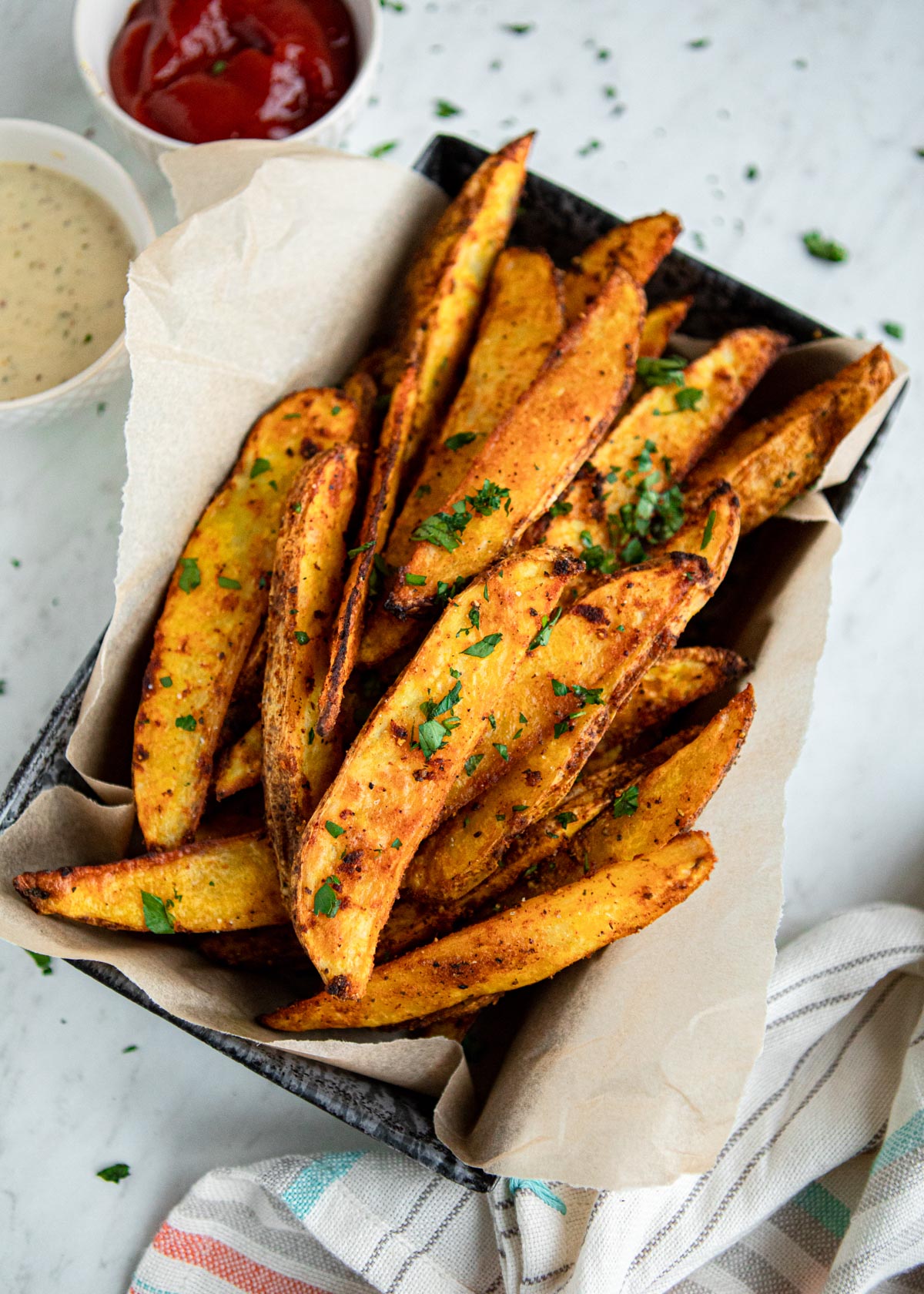 Potato Wedge Serving Ideas
Now that you8217;ve got an amazing new side dish, what should you serve with these baked potato wedges? Here are some recipes that work well with these potatoes: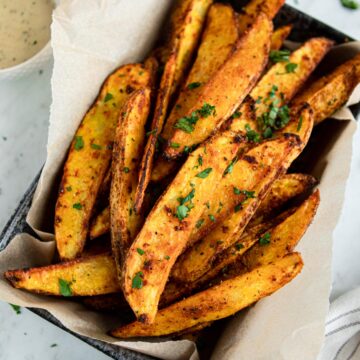 Baked Potato Wedges
Nutrition (estimated)
Calories: 185kcal (9%) Carbohydrates: 28g (9%) Protein: 3g (6%) Fat: 7g (11%) Saturated Fat: 1g (6%) Polyunsaturated Fat: 1g Monounsaturated Fat: 5g Sodium: 396mg (17%) Potassium: 647mg (18%) Fiber: 2g (8%) Sugar: 1g (1%) Vitamin A: 15IU Vitamin C: 9mg (11%) Calcium: 23mg (2%) Iron: 1mg (6%)
More Potato Recipes