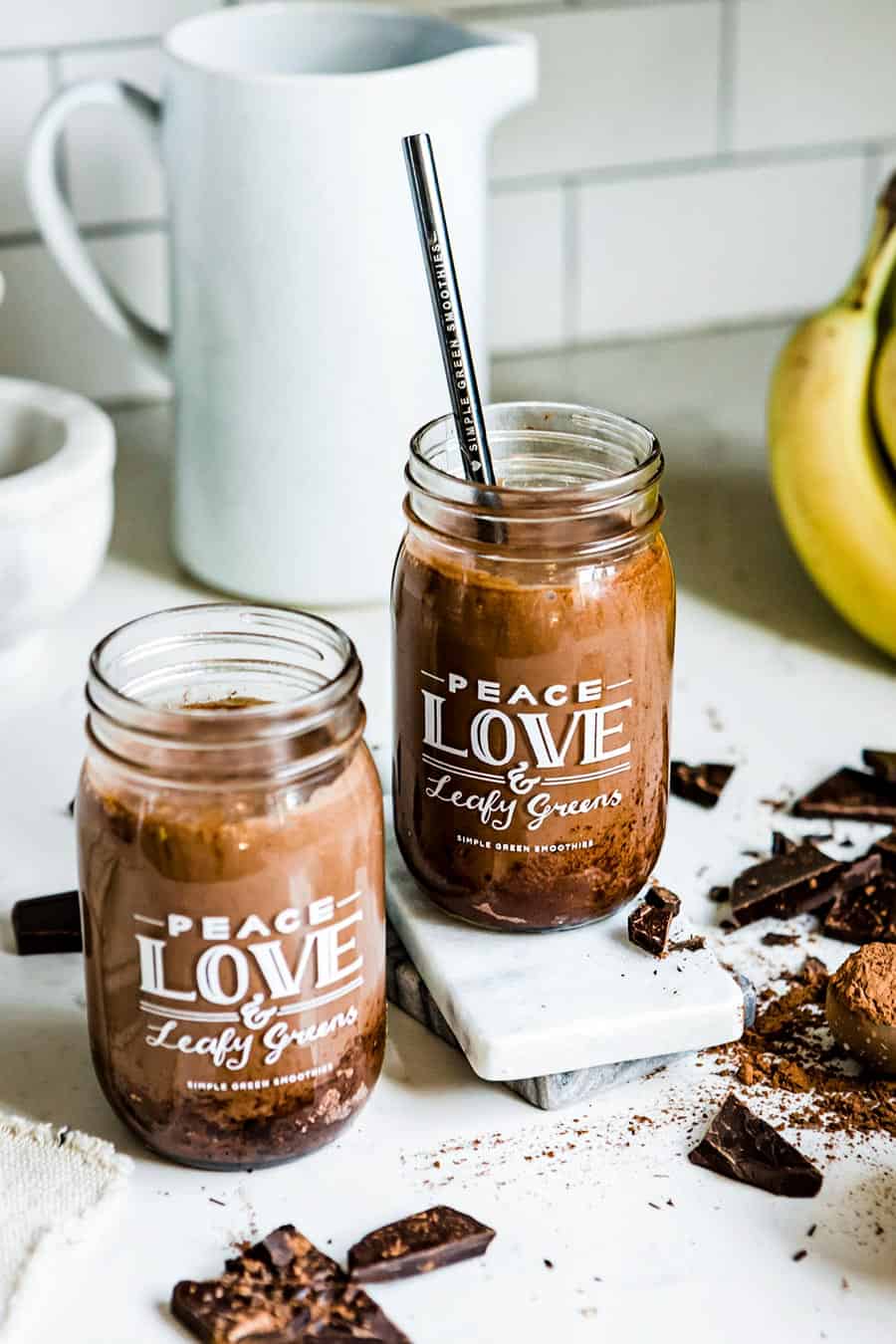 I8217;ve taken the classic well-loved flavors of chocolate and peanut butter and created a healthy, nutrient-rich blend. With just four simple ingredients, this chocolate peanut butter banana smoothie recipe is the perfect wholesome breakfast or quick snack. It8217;ll give you a natural energy boost as well as makes a great workout recovery drink.
I love blending this creamy chocolate smoothie pre-workout because it gives me a long lasting energy boost. Try replacing your afternoon coffee with a more naturally caffeinated option like this smoothie.
Chocolate Peanut Butter Banana Smoothie Recipe
It's super easy to make a 8220;good8221; chocolate smoothie, yet making it 8220;good for you8221; takes a few simple tweaks. I use raw cacao to boost the antioxidants in the smoothie. Oat milk creates a thick smoothie as well as removes all dairy, which can cause eczema and digestive issues. The banana acts as a natural sweetener so you don8217;t need any refined sugars.
Blend together until smooth and creamy. (Add extra oat milk if the smoothie is too thick.)
If I8217;m blending this smoothie for breakfast, then I add in a serving of Protein Smoothie Boost to turn it into a complete meal. Look at the ingredients on the peanut butter to ensure it is just peanuts (no need for extra oils or sweeteners). Feel free to swap out the peanut butter for the nut or seed butter of your choice.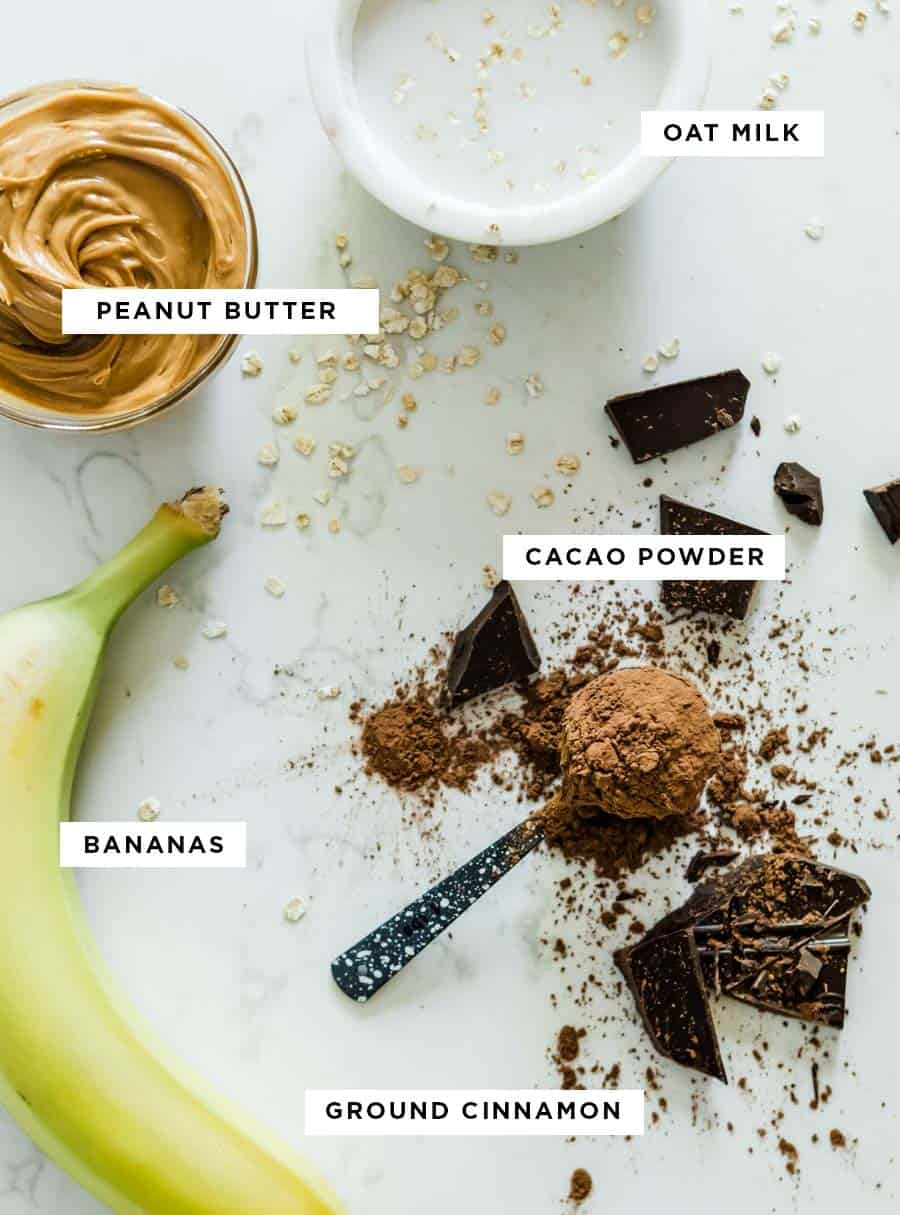 Is peanut butter bad for you in a smoothie?
Peanuts are a fungus, not a nut. If you aren8217;t allergic to them. It can help with managing blood sugar and keep your heart healthy.
How do you make a smoothie thicker?
Easy! Oat or cashew milk is a great and creamy liquid base. Adding cauliflower, banana, or avocado will instantly cream up a smoothie. Protein powder can also boost the creaminess. Nut or seed butter with thicken a smoothie.
What should you not mix in a smoothie?
Smoothies are delicious using just whole food, plant based ingredients. No need for added sweetener or overly processed ingredients. Plant milk or water, and fruit, leafy greens, and vegetables mixed together correctly make great smoothies!
Health Benefits of Peanut Butter
Sometimes peanuts get a bad rap. Yes 1% of the United States population has a peanut or tree nut allergy. Yes peanuts are actually a fungus and not a nut. Yet peanuts also have a whole host of nutrition!
Peanuts contain 7 grams of protein per 2 tablespoon serving, along with good amounts of magnesium, phosphorus, zinc, niacin and vitamin B6. Add in a scoop or 2 to your next smoothie and enjoy the boost! It contributes both protein and healthy fat in the chocolate peanut butter smoothie below.
Peanuts are about as heart healthy as olive oil (so cool!) and can help the body build muscle. They also help regulate blood sugar (bonus!) and may reduce the risk of breast disease.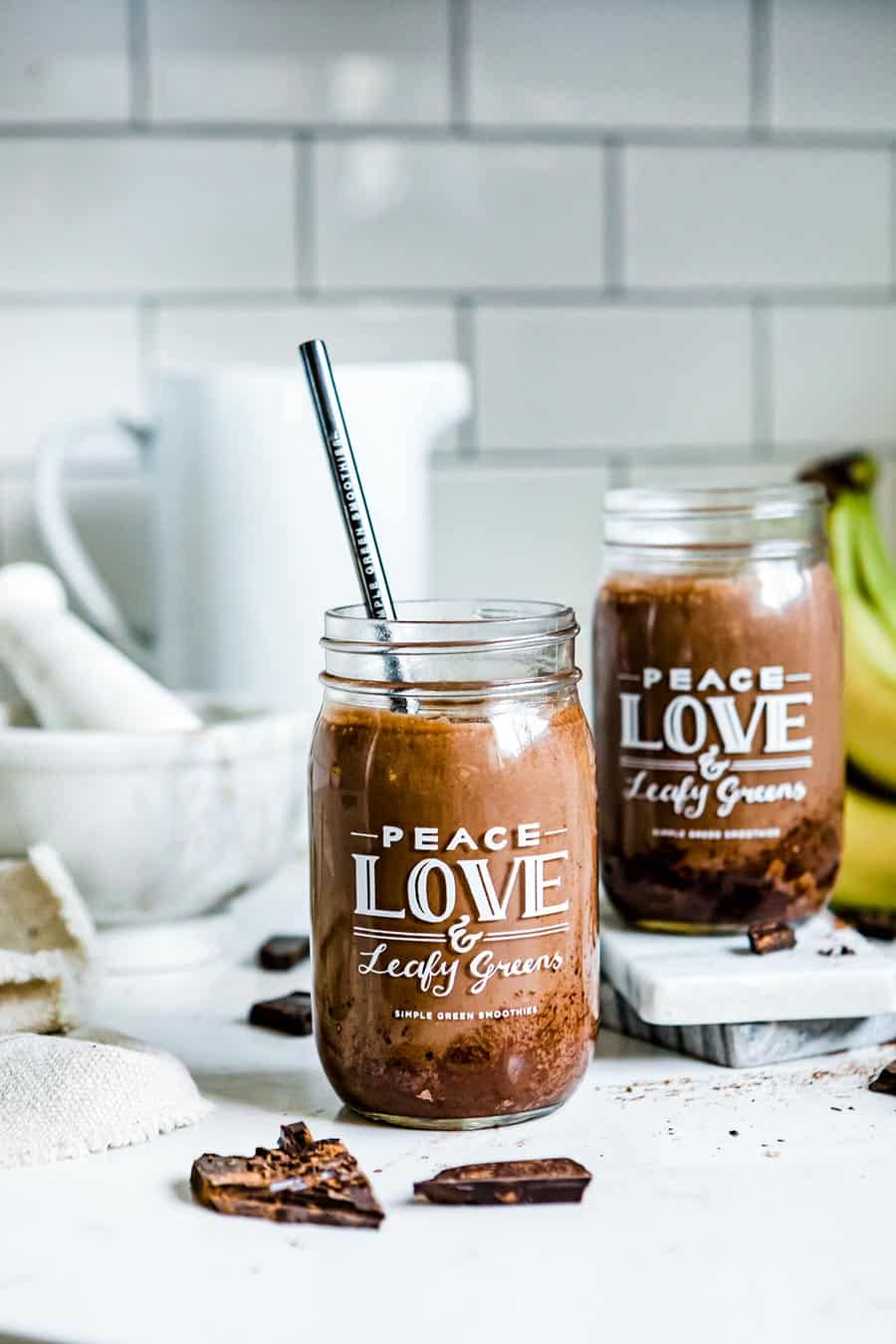 What Kind of Chocolate Powder is Best?
This recipe calls for cacao powder, which you can find in natural food stores and in most grocery stores nowadays. I like to buy it at Trader Joes or Thrive Market to save some money. Raw cacao is a powder made from cold pressing unroasted beans (or nibs) which removes the cacao butter.
Additionally, some grocery stores in the baking aisle or health food section stock it there. If you can't find cacao powder, substitute an equal amount of cocoa powder (Hershey8217;s has an option) in the smoothie.
Whether you're looking for a quick and delicious breakfast or satisfying snack, this chocolate smoothie is the perfect healthy drink. Just make sure whichever cocoa or cacao powder you use doesn8217;t have any sweetener in it. You8217;ll add it to smoothies with natural fruit sweeteners, so no need for anything extra!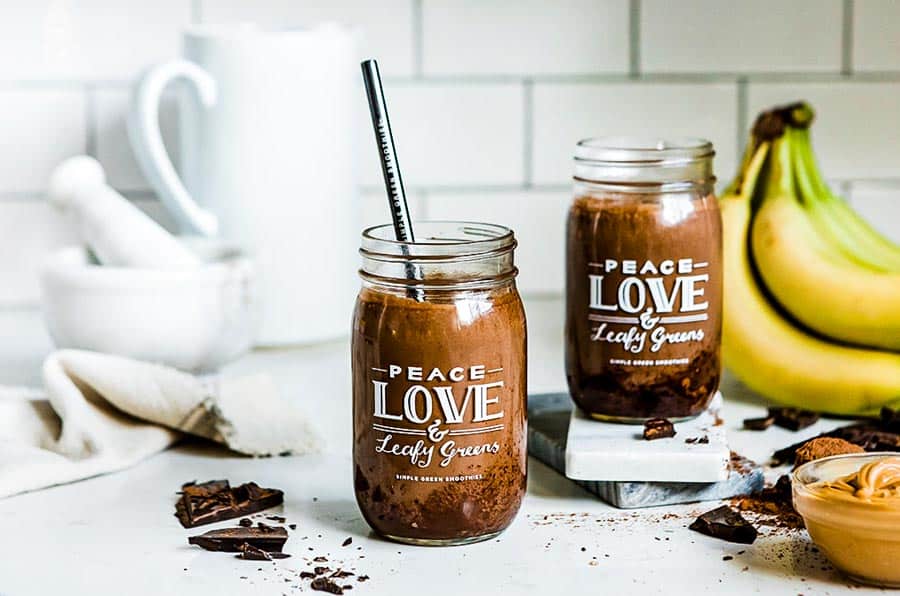 Chocolate Smoothie Recipes
If you8217;ve got a craving then I bet I8217;ve got a chocolate smoothie for you. These are all deliciously healthy and actually taste good. Pick one and get blending!
Don8217;t forget to let me know how you like this chocolate peanut butter banana smoothie below. It8217;s filling, yummy, and give a natural energy boost.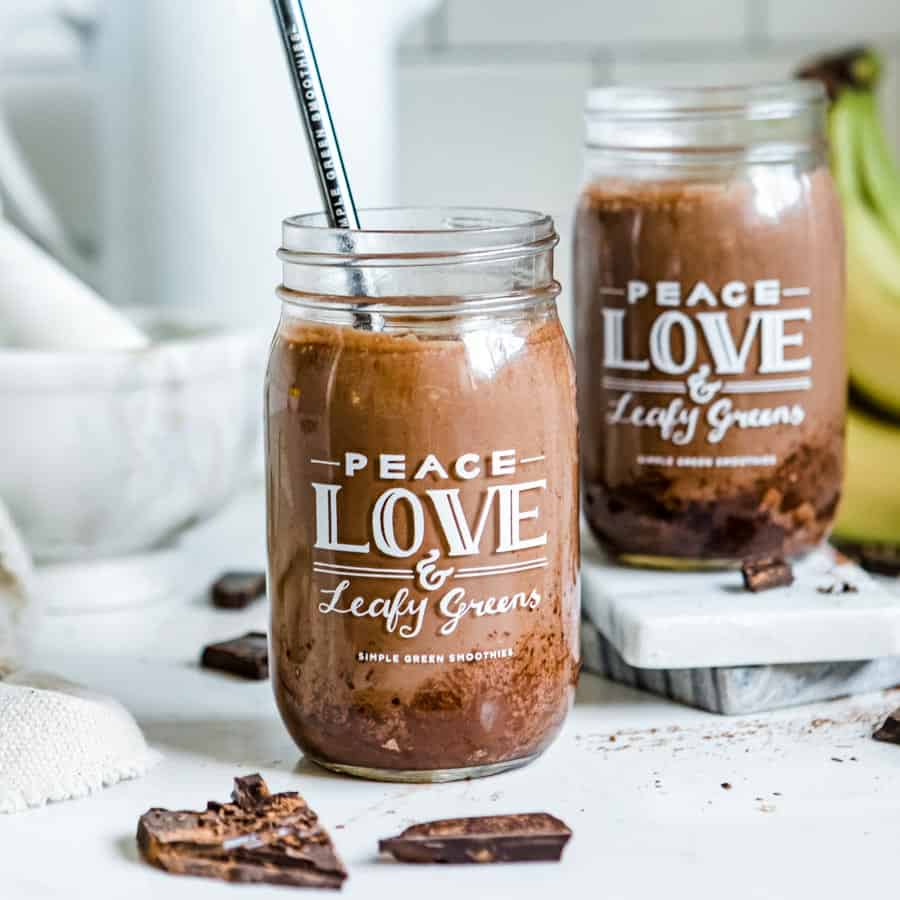 Chocolate Peanut Butter Smoothie
Better than a milkshake! This plant-based peanut butter chocolate smoothie is so creamy and decadent, you8217;ll think it8217;s ice cream. Tastes like a peanut butter cup, but your body will thank you for enjoying this all-natural, no-sugar-added sweet treat.
Nutrition (estimated)
Calories: 497kcal (25%) Carbohydrates: 90g (30%) Protein: 14g (28%) Fat: 15g (23%) Saturated Fat: 6g (38%) Polyunsaturated Fat: 3g Monounsaturated Fat: 5g Sodium: 86mg (4%) Potassium: 1120mg (32%) Fiber: 14g (58%) Sugar: 36g (40%) Vitamin A: 151IU (3%) Vitamin C: 21mg (25%) Calcium: 60mg (6%) Iron: 3mg (17%)