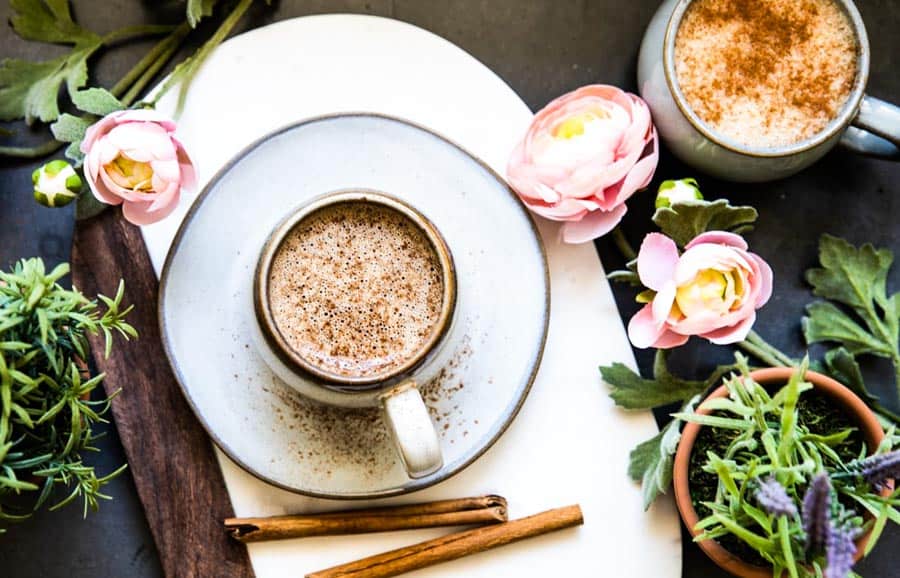 Some days… I just need a treat to get me through the day. This homemade cinnamon dolce latte recipe hits that sweet spot for me– without going completely off the healthy eating lifestyle. There's no reason to wait in the drive thru line again once you sip this homemade recipe— it's divine!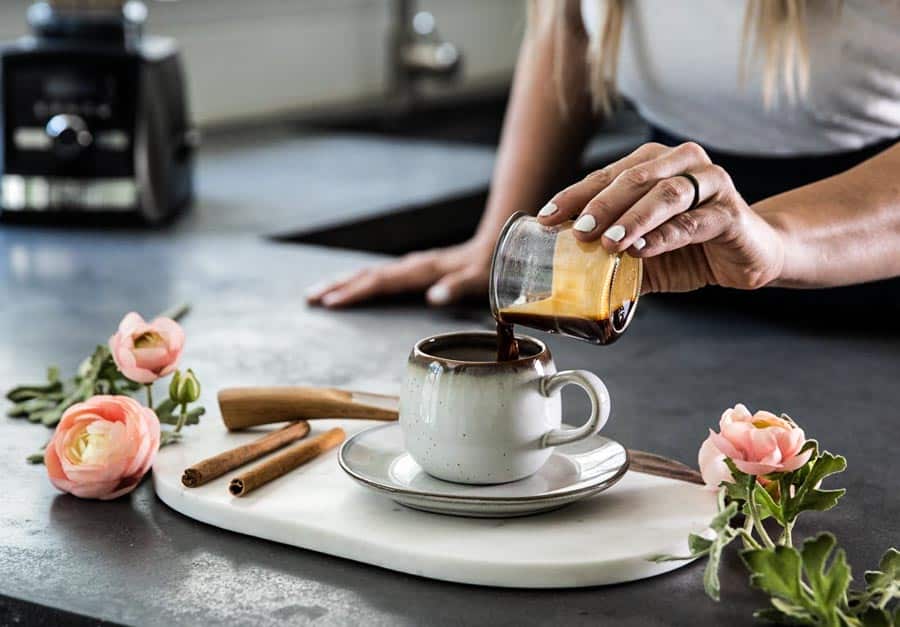 Better than Starbucks Cinnamon Dolce Latte
Before I dive into the recipe, let's talk about my first love— the Starbucks cinnamon dolce latte. In my 20's, I spent my lunch break in line at Starbucks, ordering this drink every single day. It's addictively sweet, perfectly caffeinated and packed with cinnamon. Yet aside from the wonderful caffeine, it contains: "natural flavors, carrageenan, potassium sorbate, cane syrup, citric acid and diglycerides."
The more I embrace a plant-based diet, the less I want to put ingredients like that in my body. None of that is real food…it's processed to become consumable— and it's created in a factory. No bueno.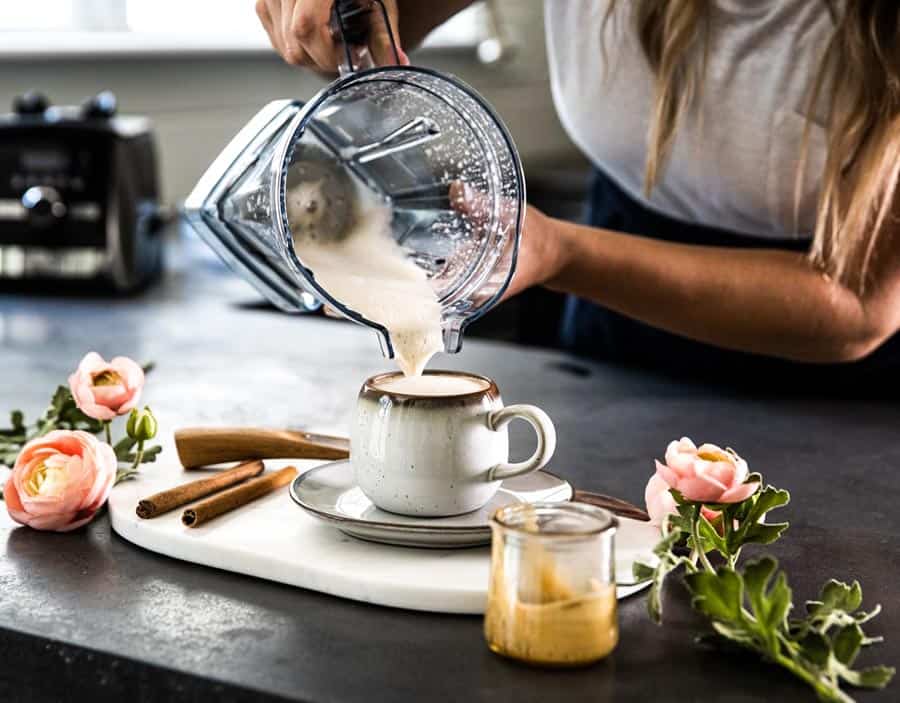 How to make a cinnamon dolce latte
To avoid those ingredients and make it even tastier, I created my own plant-based version that is amazing. Now, I am not even a huge fan of sweet coffee anymore (I prefer the Rawkstar Coffee method for my morning cup of joe)… yet this recipe has been calling my name around 2pm every day since I first made it.
To make this simply delicious latte:
Oat milk creates a creamy, frothy milk base. If you have a milk frother, you could use that instead of a blender to heat + froth the milk, then stir in the remaining ingredients.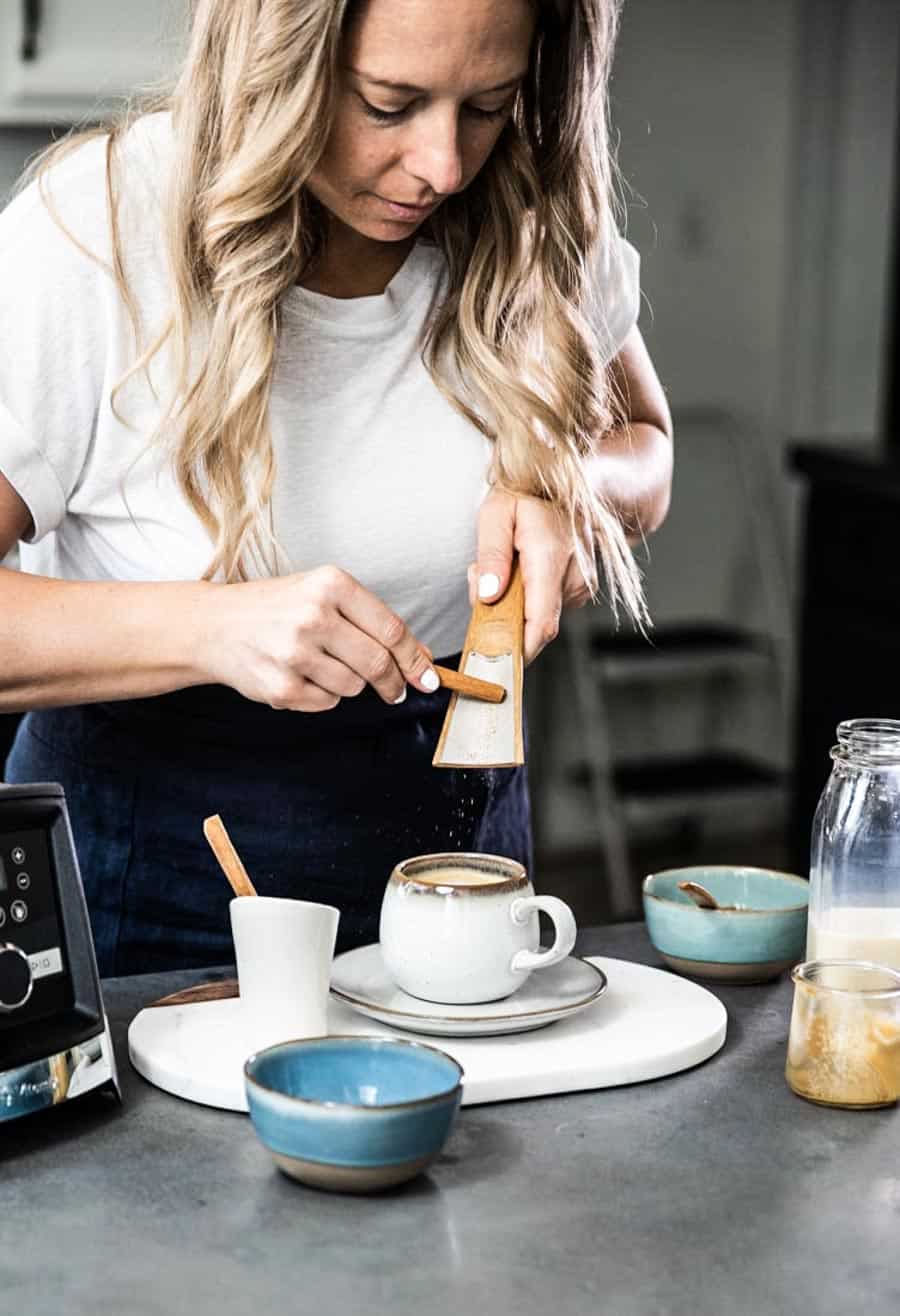 What to know when making a latte
What is a cinnamon dolce latte?
A latte is traditionally a shot of espresso mixed with hot milk. A cinnamon dolce latte is an espresso shot + hot milk + sweetener + cinnamon.
How do I make a vegan latte?
Easy! Pick your fav plant based milk and go for it. I prefer oat milk in my lattes because it is super creamy and froths nicely.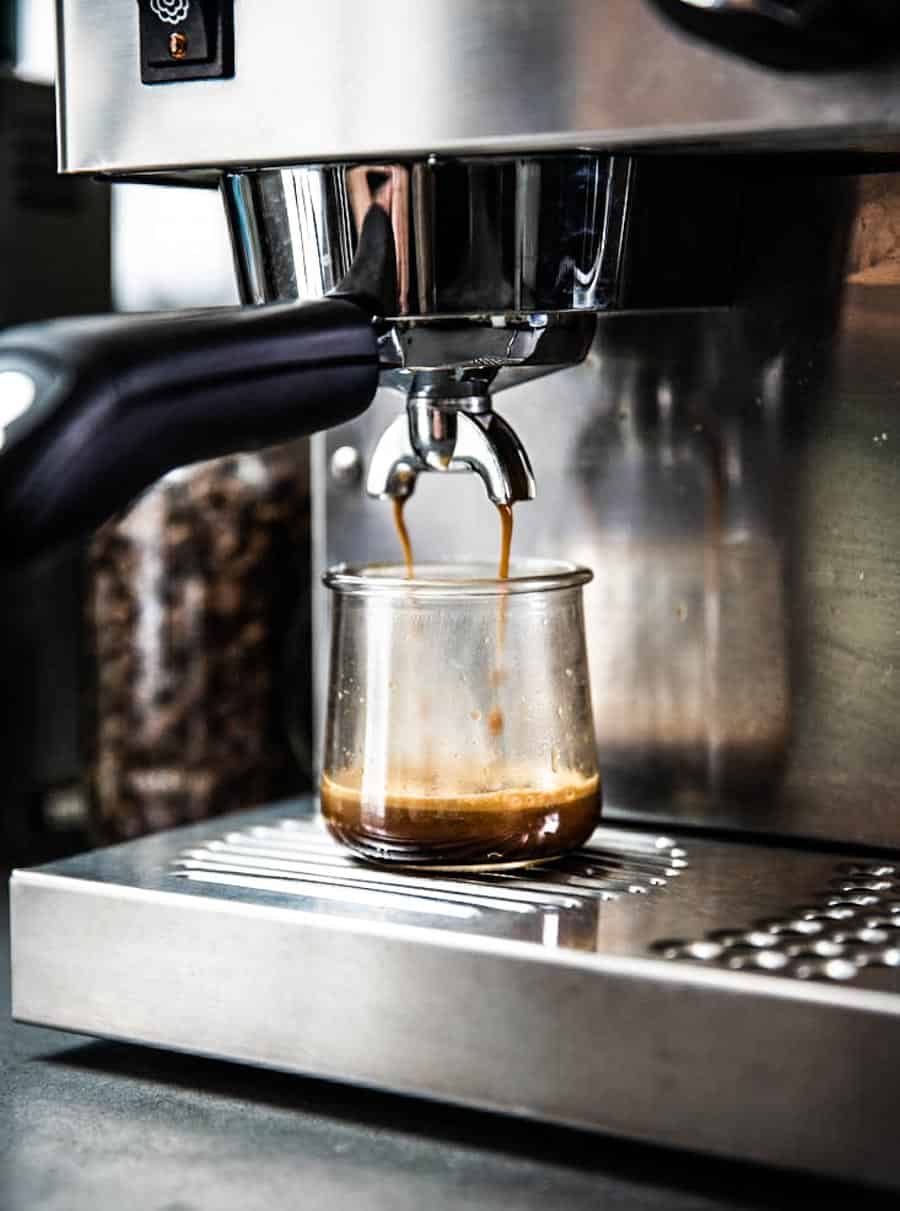 Using the right equipment as a home barista
High speed blender: This is the #1 piece of equipment for this recipe (and in my kitchen). The high speed allows it to heat up in just 4 minutes of blender. I blended with the Vitamix A3500 and their new Aer Disk Container that is designed to froth milk and muddle mojitos. (It's not necessary to use this container to get a frothy latte).
If you don't have a high speed blender, heat the oat milk to desired temperature on stovetop or microwave before adding to a standard blender.
Espresso Machine: I also used my Rancilio Silva Espresso Machine to pull espresso shots (we take coffee very seriously in my home). You can also use an Aeropress or high quality instant coffee in about 2 ounces of hot water to create an "espresso alternative." Feel free to use decaf beans if you're sensitive to caffeine.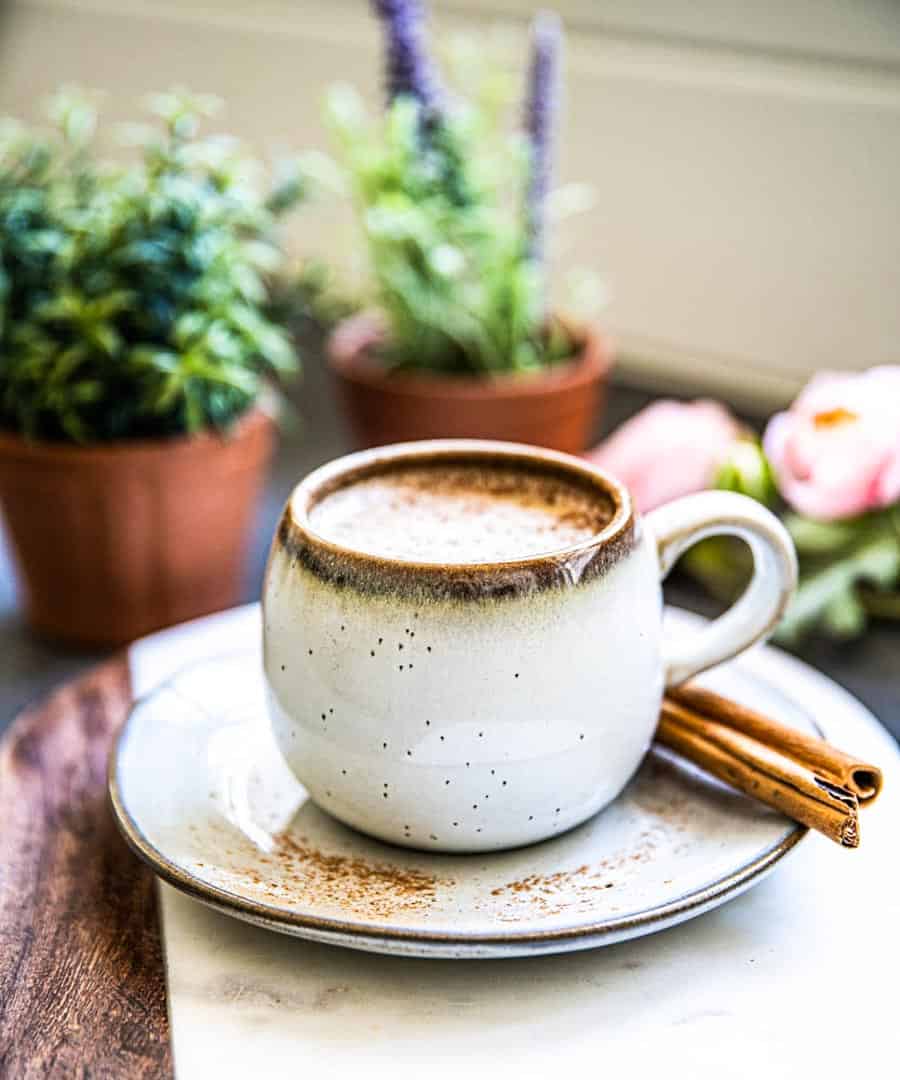 Different versions of this cinnamon dolce latte
I know that some like it hot, some like it cold, and some like it skinny… so I've got some variations to fit your preference!
Skinny Cinnamon Latte
The below recipe is for a traditional Cinnamon Dolce Latte, yet can easily be adjusted to become a Skinny version if you're watching your blood sugar levels or have a dietary concern. Just swap out the coconut sugar with your fav sugar-free sweetener and enjoy!
If you don't wanna go sugar-free, yet want less sugar, then start with our base recipe and just decrease the coconut sugar from 2 Tbsp to 1 Tbsp. Add 2g monk fruit (or a dash of stevia.) Now your latte has only 12 grams of sugar! That's what I like to call Plant Power!
Iced Cinnamon Latte
This recipe tastes amazing as an iced cinnamon dolce latte as well. Put it all directly into a mason jar (no blender needed), add ice and a lid. Give it a good shake and you're ready to enjoy. You could even swap out the espresso for concentrated cold brew (Stumptown is really smooth) to enhance the coffee flavors.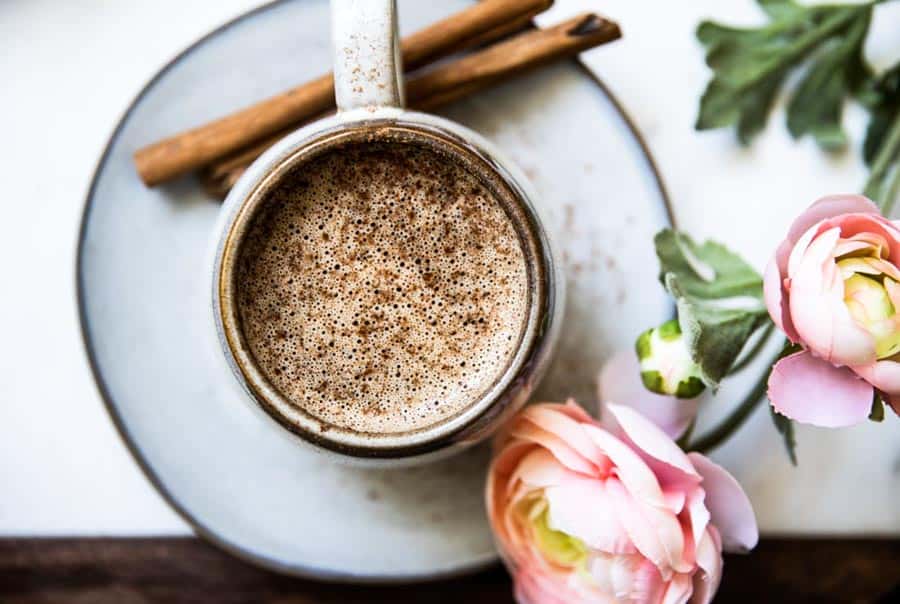 Making coffee shop magic at home
I love a good, cozy coffee shop and often seek out new places to try when traveling. Yet making your fav drinks at home is often less expensive, healthier, and fun! Here are a few recipes to try:
What is your fav specialty drink to recreate at home? Leave a comment and let me know!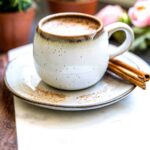 Cinnamon Dolce Latte
This homemade Cinnamon Dolce Latte recipe is bursting with all the right flavors. You can make this with an espresso shot or high quality instant coffee. There8217;s no reason to wait in the drive thru line again once you sip this treat.
Calories: 182kcal | Carbohydrates: 40g | Protein: 3g | Fat: 2g | Saturated Fat: 1g | Polyunsaturated Fat: 1g | Sodium: 139mg | Potassium: 152mg | Fiber: 1g | Sugar: 30g | Vitamin A: 354IU | Vitamin C: 1mg | Calcium: 249mg | Iron: 1mg