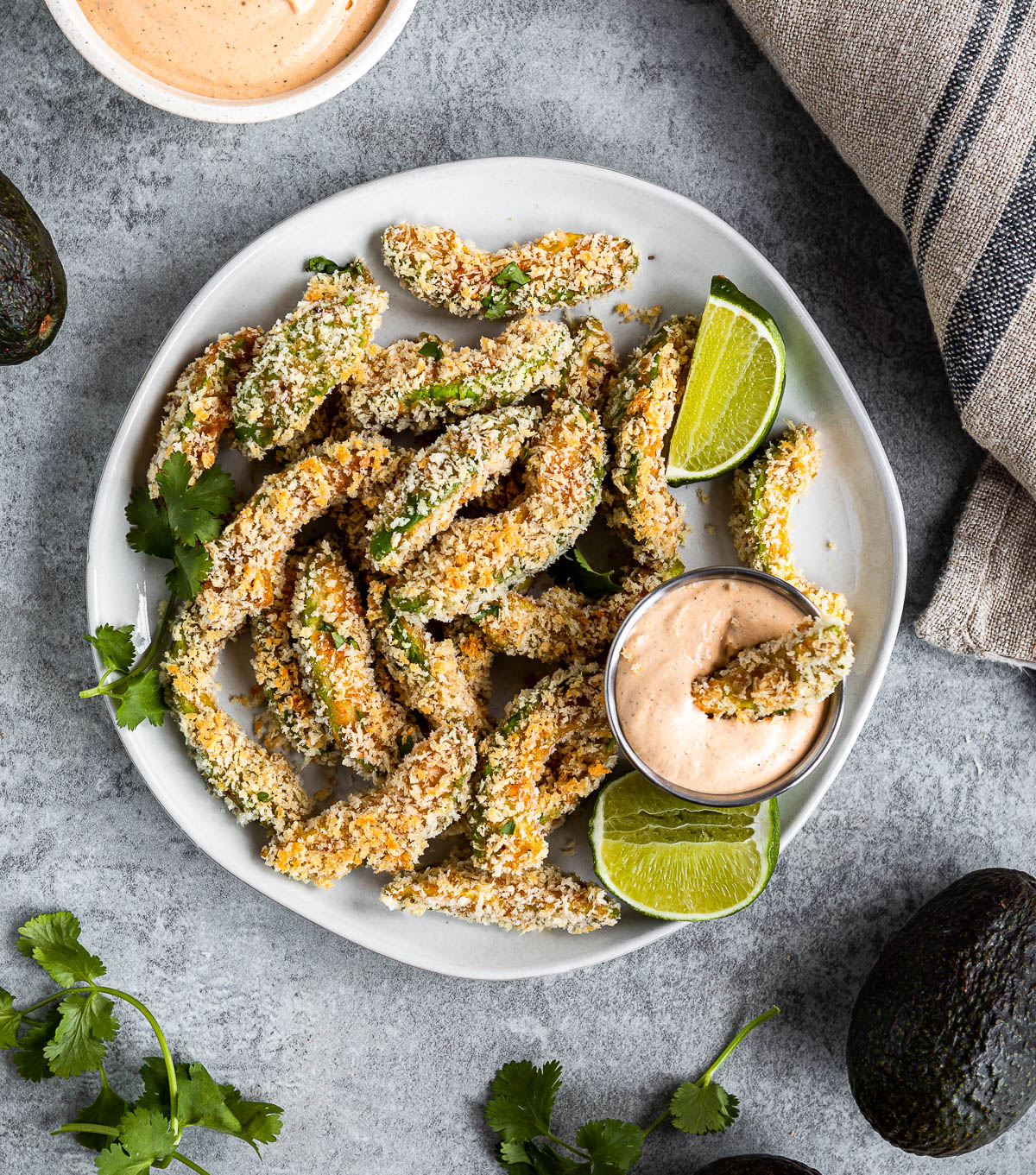 When I first heard of avocado fries, I thought they were potatoes fried in avocado slices, but I was wrong! Avocado fries are sliced avocado wedges with the perfect plant-based coating for a crisp yet filling snack. My vegan avocado fries recipe is fun to make, dip and share.
Enjoy these by themselves or make alongside a great main dish. You could even use them as the 8216;meaty8217; part of your next taco. They are equal parts creamy and crunchy.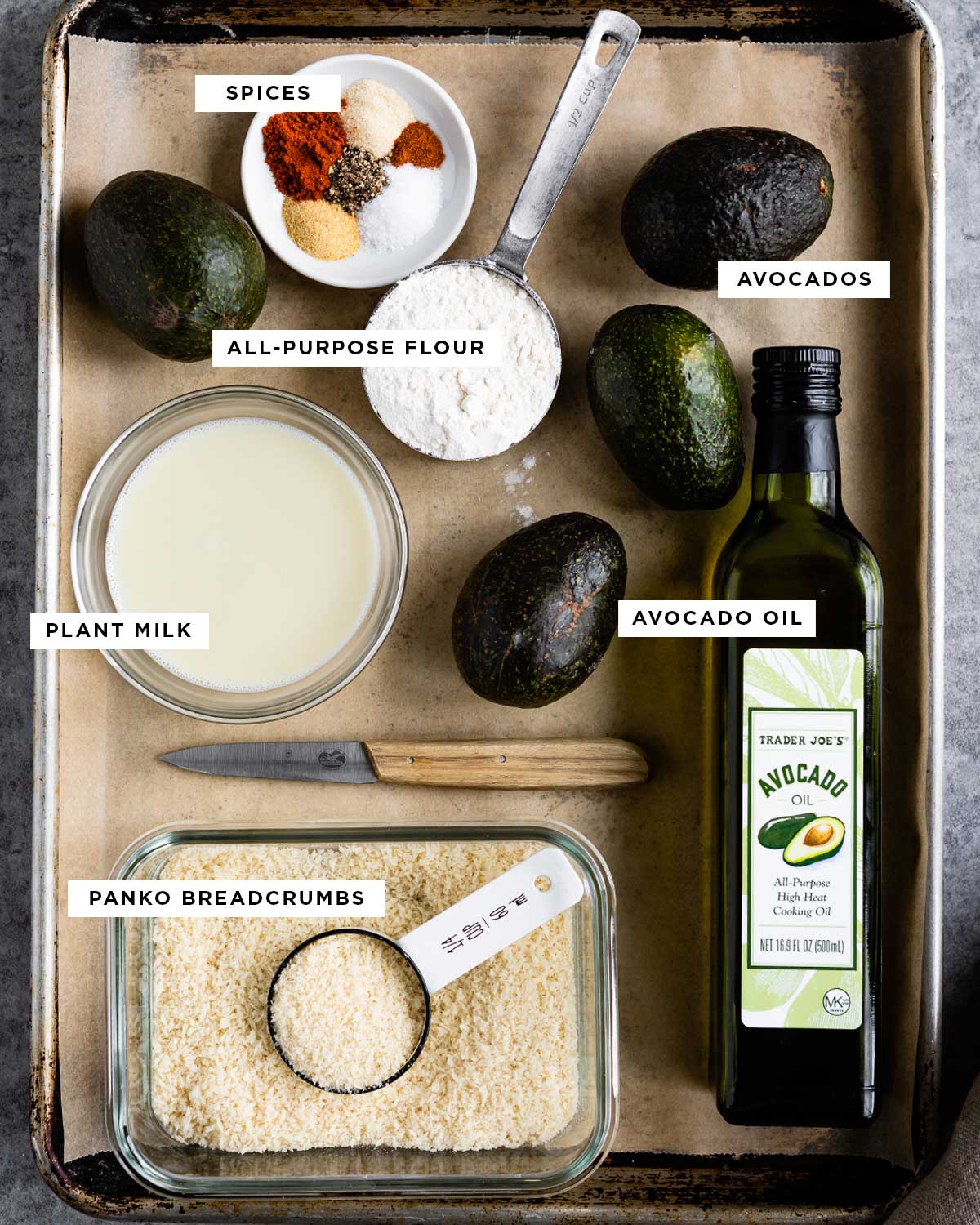 Ingredients for Fried Avocado Wedges
Ingredient Swaps
You can easily make this recipe gluten-free by swapping in your favorite gluten-free flour as well as gluten-free breadcrumbs. If you can8217;t easily find GF breadcrumbs then use GF crackers and blitz them quickly in a food processor to 8216;crumb.8217;
Avocado oil is used as it is a high-heat oil. Swap with another high-heat oil of your choice. I was purposely ambiguous about the kind of milk to use since you can use any kind! I used almond milk in my version, yet any unsweetened oat, cashew or hemp works great as well.
How to Make Avocado Fries
To make this fun plant-based snack, you need to grab three bowls. Much like my tofu nuggets and buffalo cauliflower bites, this fun recipe uses a few different blends to get that crispy texture you want in a 8216;fry.8217;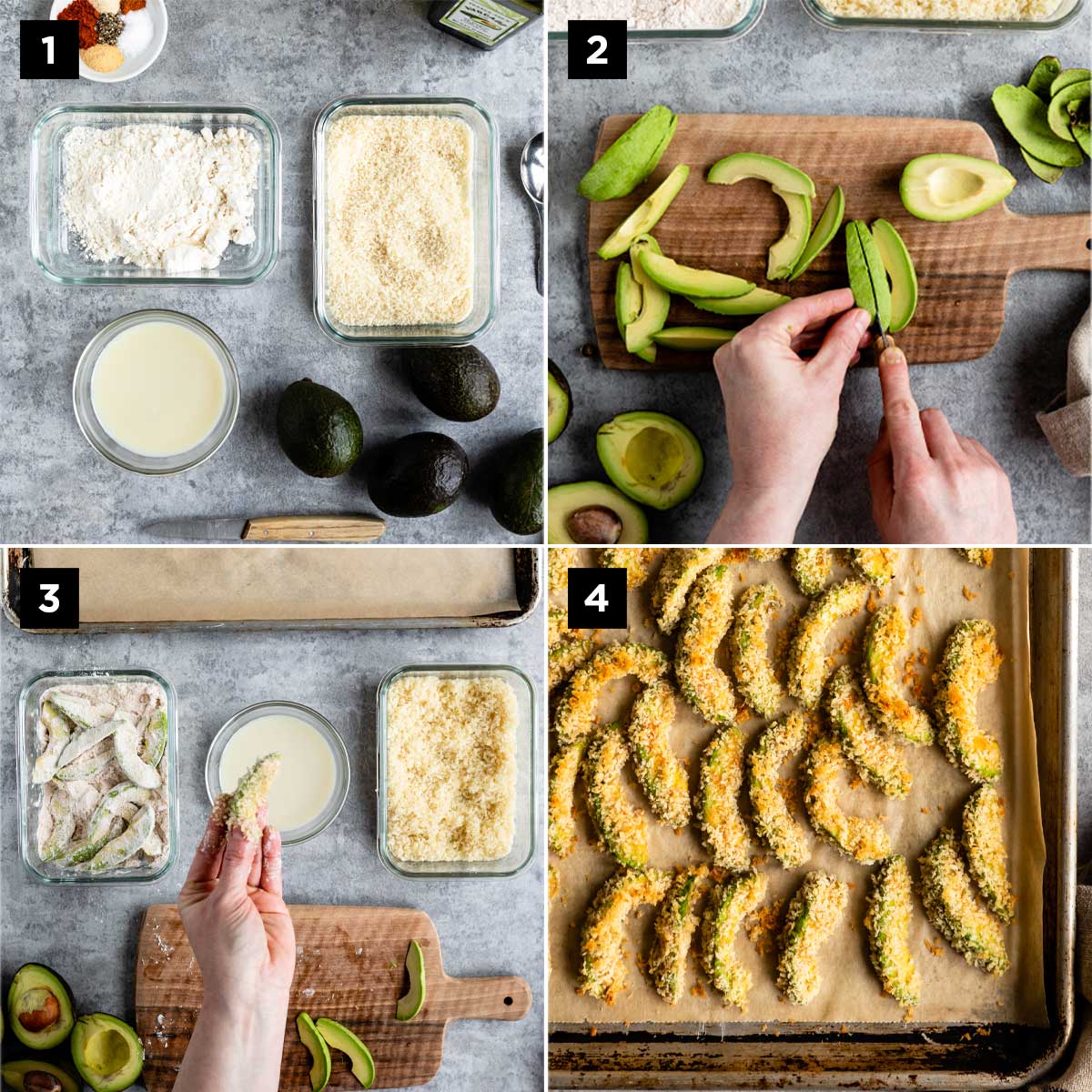 I recommend serving these crispy fries with Chipotle Ranch dipping sauce for the perfect snack. My vegan avocado fries make enough to share, so don8217;t be shy about inviting someone to snack time!
Dipping Sauce Options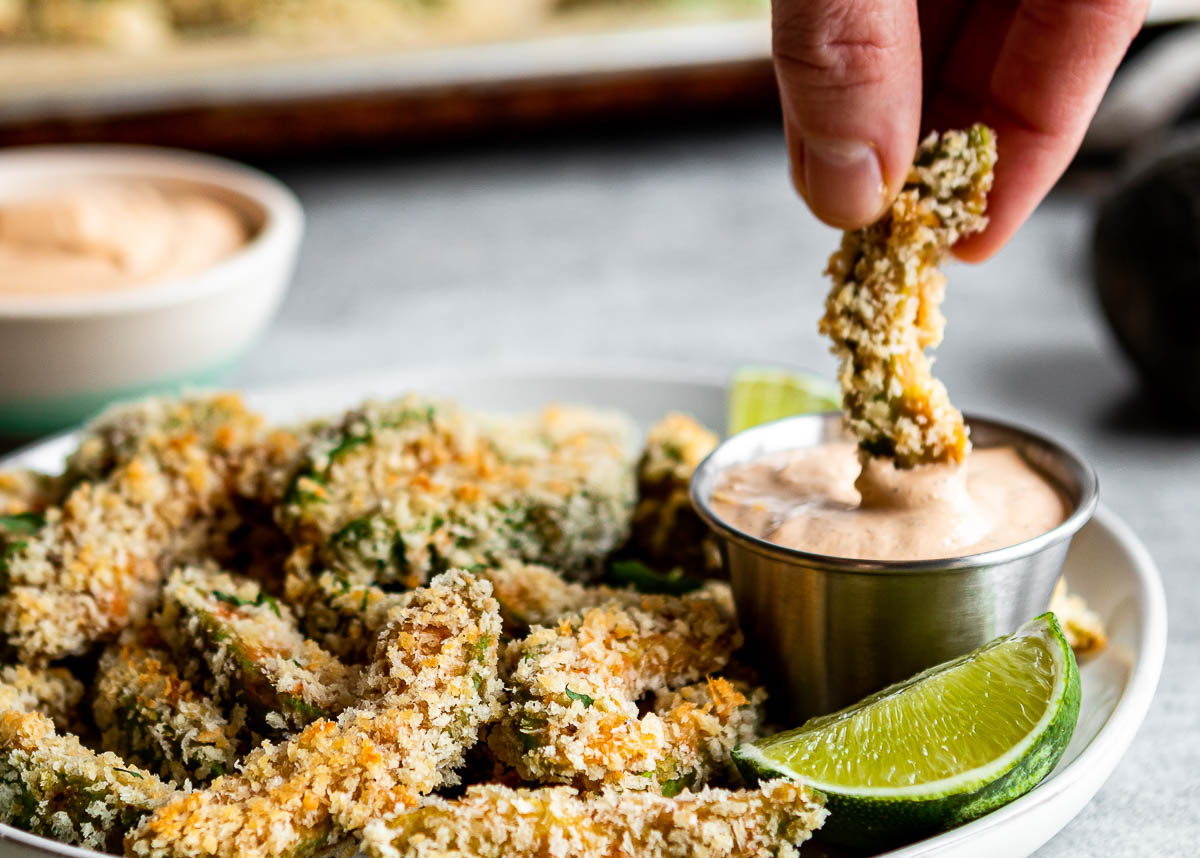 I created a decadent, plant-based chipotle ranch dressing for my avocado fries recipe, yet you can dip them in a variety of sauces! Add your preferred spices to my cashew cream for a great dip, coconut sriracha for a kicky sauce or my dairy-free queso dip from Simple Green Meals.
Play around with a sauce bar until you find the perfect dip for this savory snack.
Avocado Fries FAQs
What goes well with avocado fries?
They are great as the 8216;meat8217; in a taco, a side dish to veggie burgers or a fun appetizer to bring to the party. Or just eat them as a snack on your own and enjoy them all to yourself.
Can you fry an avocado?
Yes! My avocado fries are baked in the oven, yet I also included air fryer directions as well, for the ultimate crispy snack. Feel free to traditionally fry them if you want.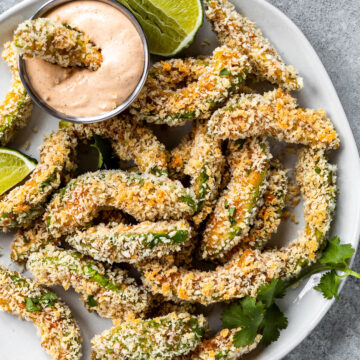 Avocado Fries
Snacking made delicious with these crispy avocado fries. These are a super fun side dish, snack or appetizer that will surely liven up your day.
Notes
To use an air fryer, set temperature to 400°F and cook 8-10 minutes, flipping the wedges half way through.
Nutrition (estimated)
Calories: 346kcal (17%) Carbohydrates: 32g (11%) Protein: 6g (12%) Fat: 23g (35%) Saturated Fat: 3g (19%) Polyunsaturated Fat: 3g Monounsaturated Fat: 15g Sodium: 740mg (32%) Potassium: 548mg (16%) Fiber: 8g (33%) Sugar: 2g (2%) Vitamin A: 322IU (6%) Vitamin C: 10mg (12%) Calcium: 81mg (8%) Iron: 2mg (11%)
Serving Options for Avocado Fries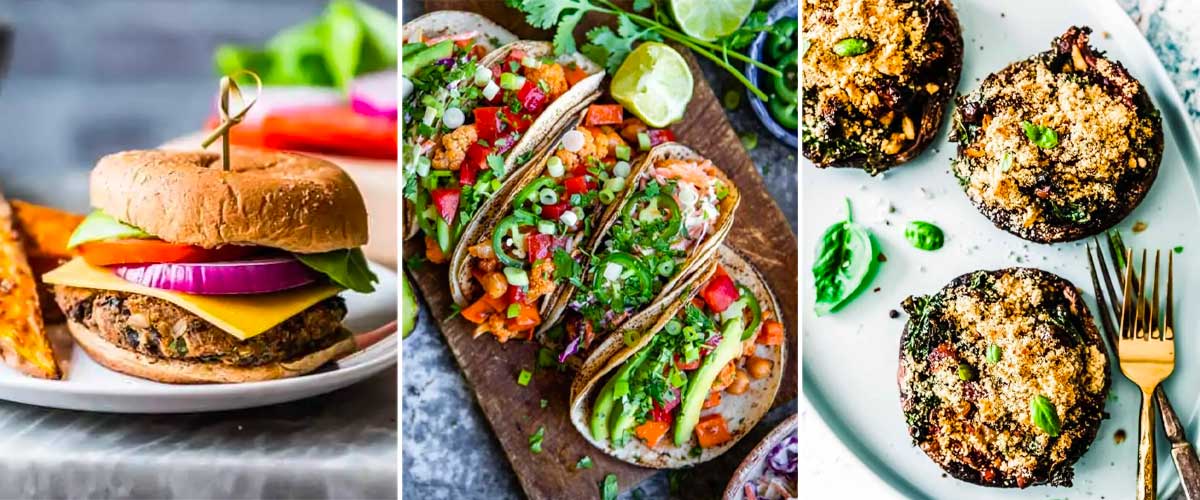 If you want to incorporate your vegan avocado fries into your next meal then I8217;ve got some great options for you:
If you8217;ve noticed a theme you8217;re not wrong. I think these wedges go great with just about any taco or Mexican-inspired recipe! Get creative with how you use them, they are seriously delicious.
Whip up these avocado fries then leave a rating and review to let me know how yours turned out! I love getting your feedback.