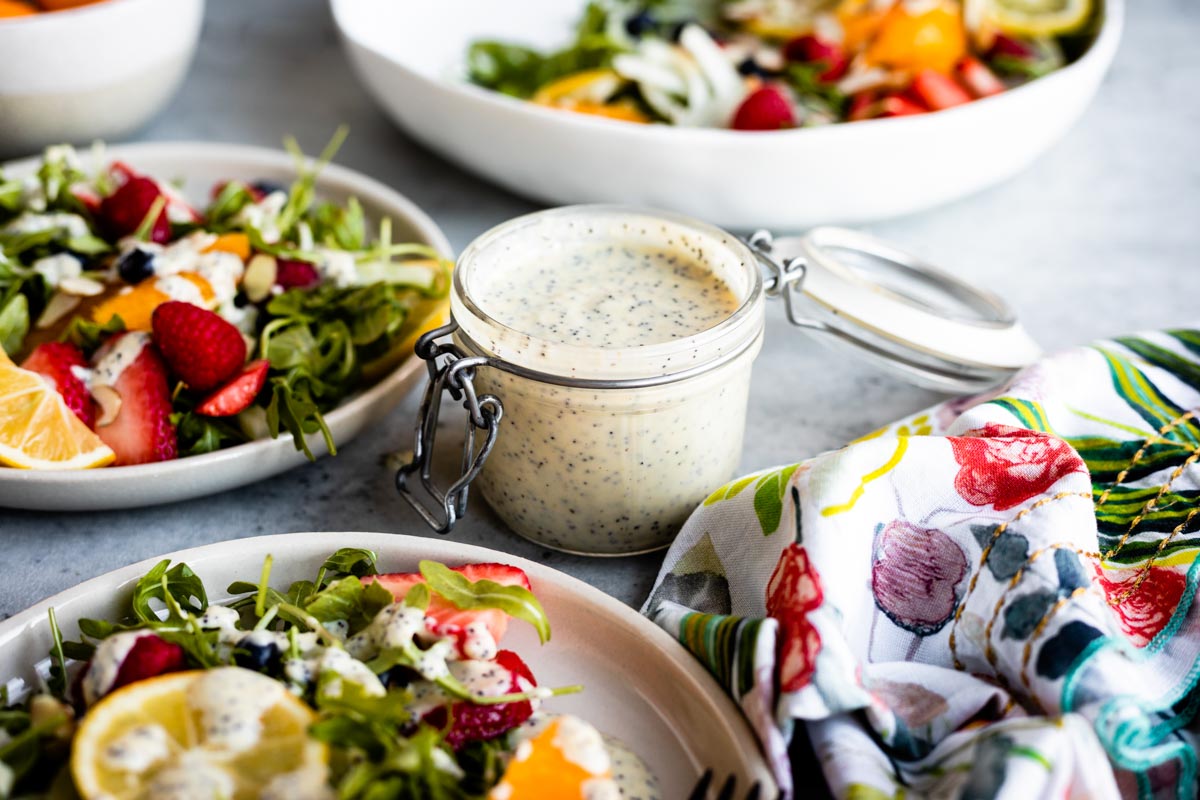 For me to choose salad over other options, it8217;s gotta be great. I don8217;t eat 8220;dry8221; salad. It needs a dressing that ties all the ingredients together perfectly. So you better believe I perfected this lemon vinaigrette before sharing it with you! This lemon dressing pairs well with berry-filled salads as well as those with peppery arugula.
I8217;m talking a sweet, tangy punch of flavor that shines. This vinaigrette isn8217;t a silent dressing, it is the star.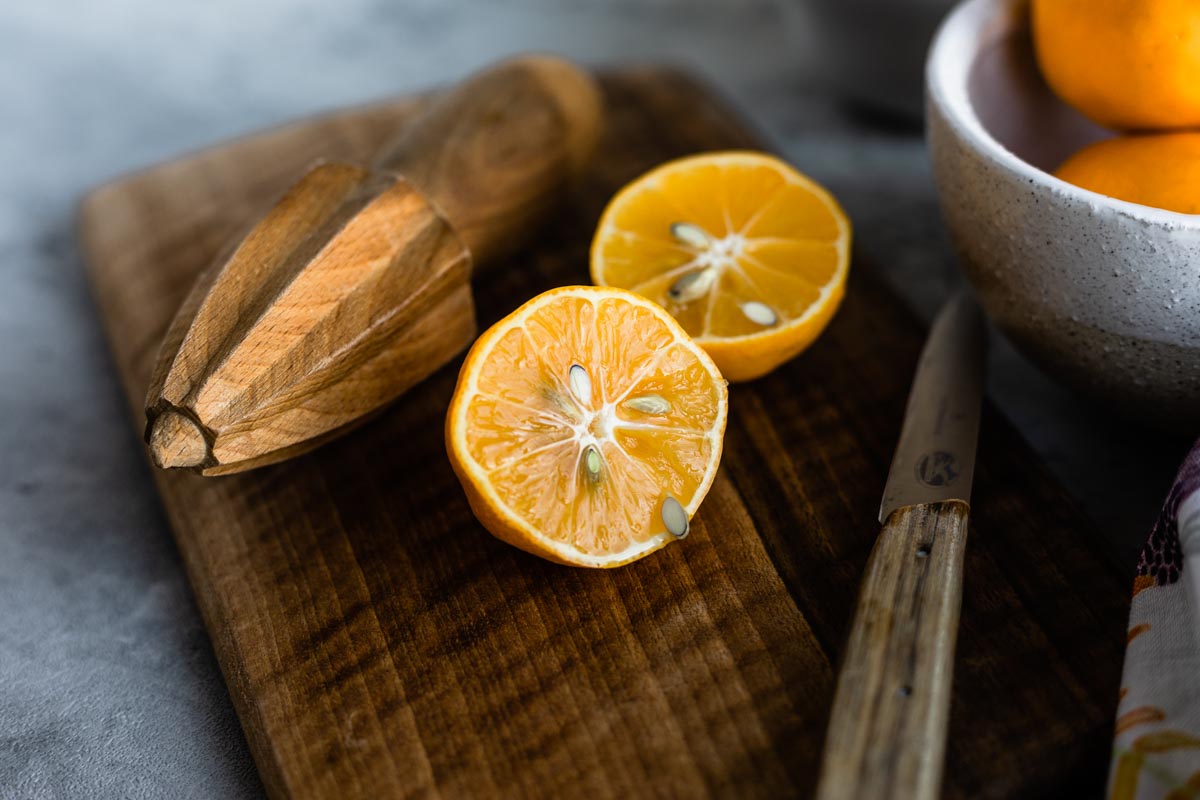 Lemon Dressing Recipe
I8217;m not kidding when I say this recipe takes five minutes to make. Squeezing the lemon takes more time than blending up the ingredients.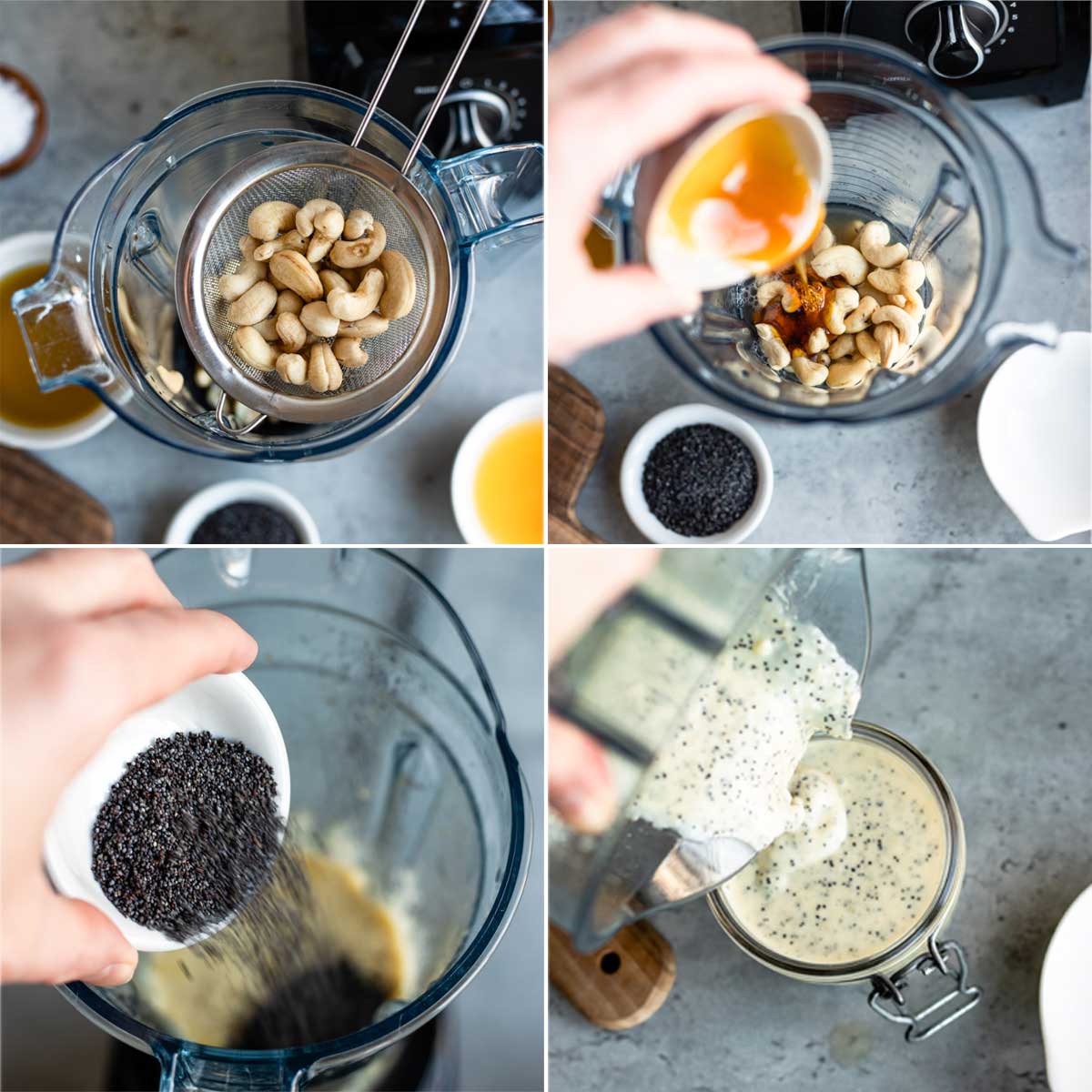 All you need to do for fresh salad dressing is measure the ingredients below into a blender or food processor, secure with a lid, then blend it up. Pour directly onto your salad or store in the fridge until you8217;re ready to us it.
Don8217;t have one of the ingredients listed? No problem! Swap honey for maple syrup, olive oil for avocado oil, cashews with soaked almonds or macadamia nuts.
Vinaigrette FAQs
What8217;s the difference between a dressing and a vinaigrette?
A vinaigrette needs something acidic and an oil, while dressing is a broader term. A vinaigrette is typically used as a marinade or salad topper.
What8217;s in a lemon vinaigrette?
My recipe has Meyer lemon juice, honey, soaked cashews, sea salt, black pepper, olive oil and poppy seeds. It8217;s the perfect balance of sweet and tangy.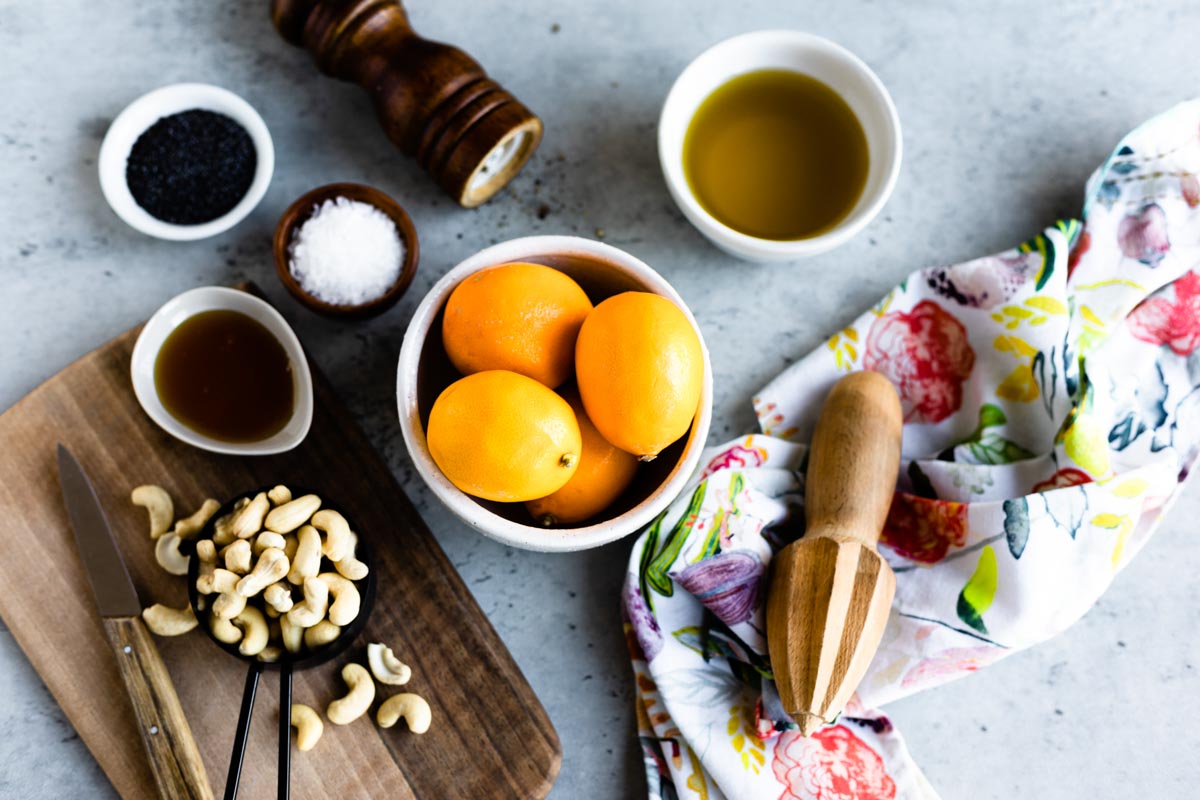 Power Ingredient List
Fresh Meyer lemon juice8211; You can use a regular lemon, yet the sweetness and flavor of Meyer lemons in this vinaigrette are out of this world.
Honey8211; Local, raw, seasonal honey provides great health benefits (think allergy help) as well as unique flavor depending on the type of honey. Lemon dressing can be super tart, so honey helps keep the balance.
Olive oil8211; Use high quality olive oil when making dressing because you8217;ll taste it. This is the time to break into that gorgeous bottle you were gifted. #worthit
Cashews8211; A unique dressing ingredient and thickens up this recipe perfectly.
Poppy seeds8211; Provide a delicious flavor, slight crunch and a host of antioxidants.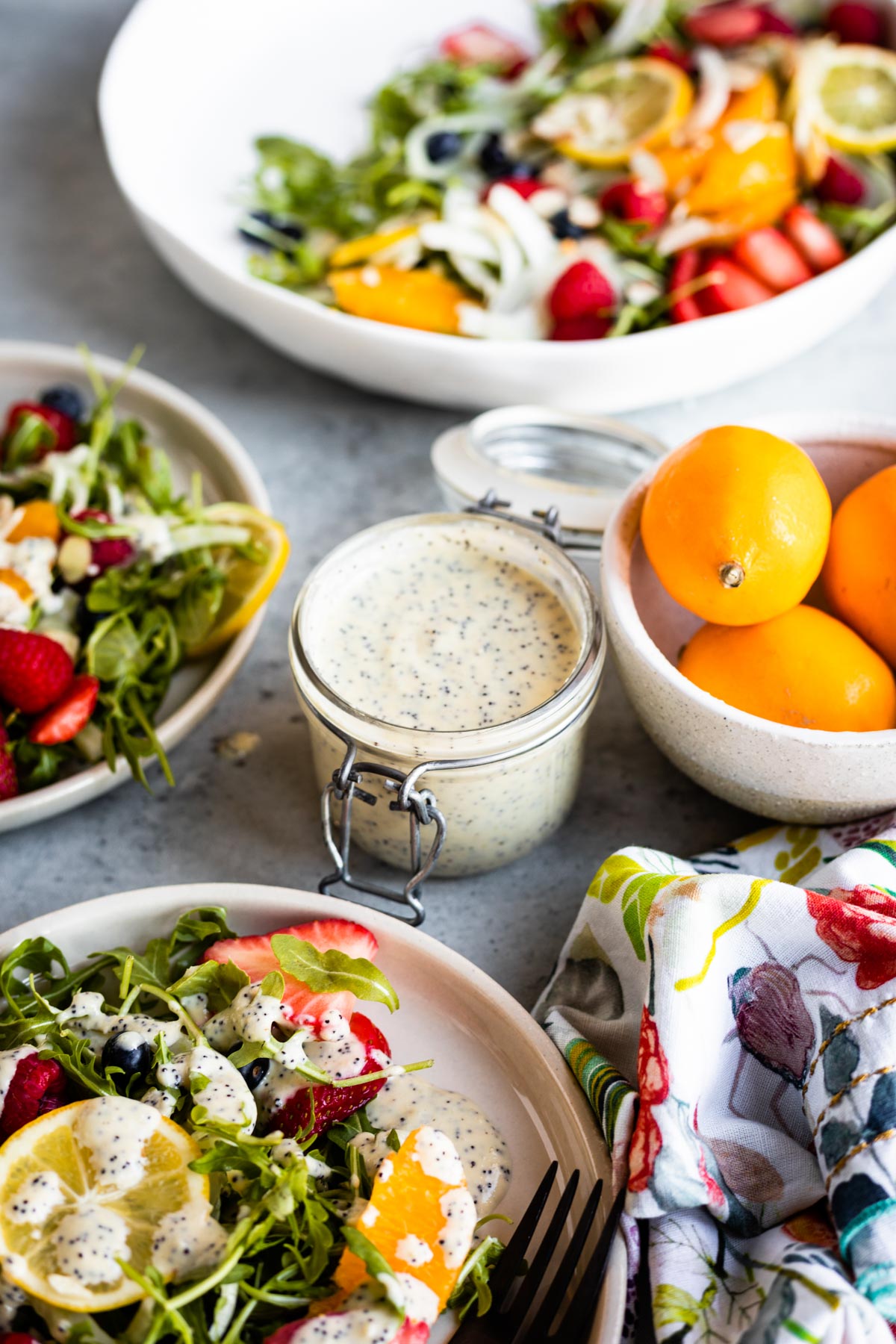 Fresh vs Store-Bought Dressing
Have you ever found it a bit weird just how long store-bought dressing can stay 8216;fresh8217; in your fridge? Once I learned how easy it was to make dressing at home, I all but stopped buying it from the store. It8217;s super easy to make, and you probably have the basic ingredients on hand already.
If you want to buy your vinaigrette from the store then READ YOUR LABELS. Don8217;t be fooled by the healthy photos and pretty jars and instead make sure you can pronounce and recognize all the ingredients on the label.

Seasonal Salad Recipes
I8217;ve got a host of delicious salad recipes coming your way! The next time you8217;re in the mood for a plate of fresh plants, try one of these great recipes:
Salad doesn8217;t have to be boring, nor does it have to be your whole meal. Load it up with flavor and crunch, pair it with your favorite plant-based meal and fall in love with salad.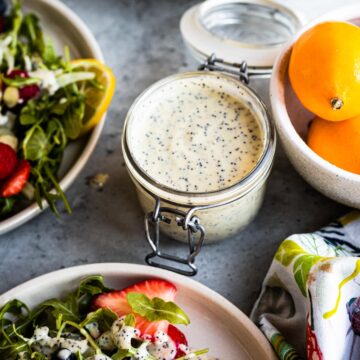 Lemon Vinaigrette
This bright and fresh dressing was originally created for my Strawberry Arugula Salad, yet can be used in a variety of Spring salads. Be sure to use fresh squeezed lemon juice for the best flavor.
Nutrition (estimated)
Calories: 211kcal (11%) Carbohydrates: 9g (3%) Protein: 2g (4%) Fat: 19g (29%) Saturated Fat: 3g (19%) Polyunsaturated Fat: 3g Monounsaturated Fat: 13g Sodium: 293mg (13%) Potassium: 106mg (3%) Fiber: 1g (4%) Sugar: 5g (6%) Vitamin A: 3IU Vitamin C: 8mg (10%) Calcium: 41mg (4%) Iron: 1mg (6%)