Potatoes are a staple at my family gatherings in one form or another. Cheesy potatoes at Thanksgiving and Christmas, baked potatoes loaded with chili for Halloween, and the ever present potato salad at all summer events. I've never been a fan of any kind of mayo… so I took up the challenge to make a vegan potato salad recipe only using fresh herbs, mustards and olive oil to bring color and flavor to your next BBQ.
It'll wow your tastebuds, trust me!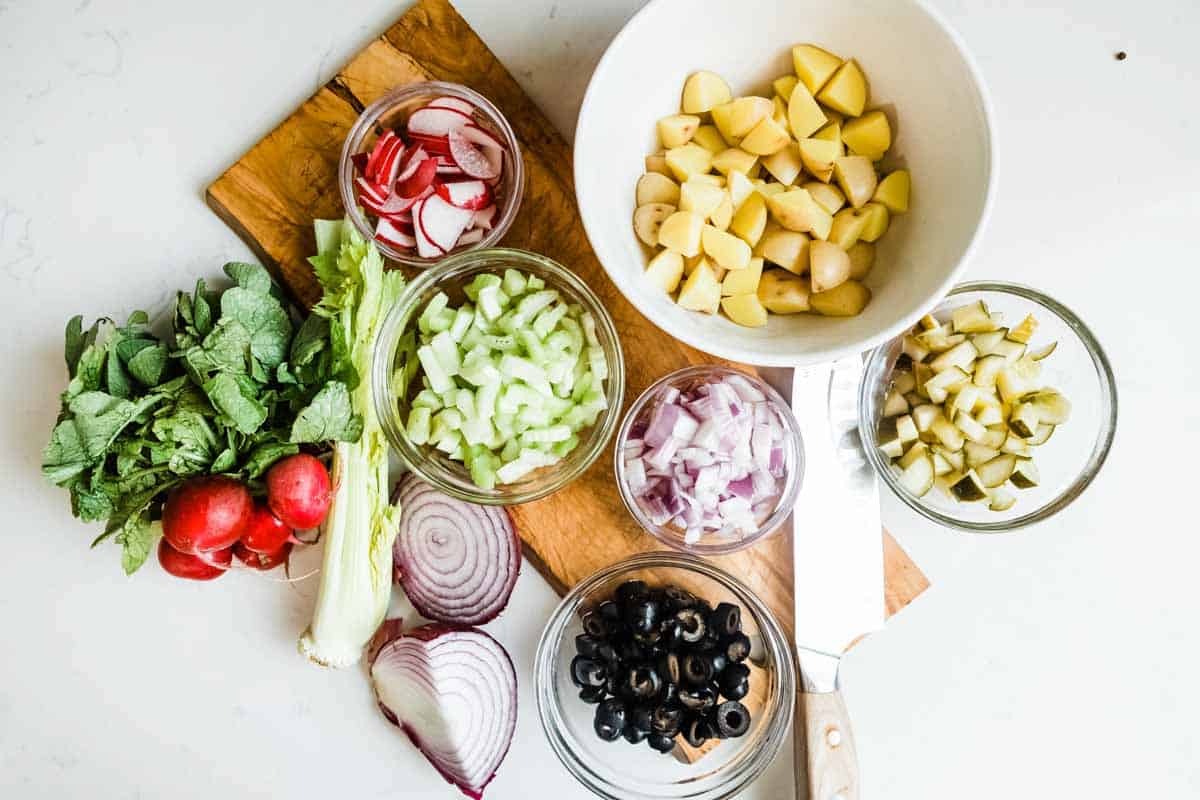 What makes this potato salad vegan?
Traditional potato salad has eggs either in the mayonnaise or hard boiled in the salad itself. My potato salad swaps the mayo for a delicious olive oil + mustard blend dressing, and loads up on fresh veggies.
Switching from a mayonnaise base to an olive oil one also lightens up the salad a bit. I find mayonnaise-based dishes are fairly heavy, while this lovely recipe remains light and bright… plus, it's just SO colorful without that white sauce covering everything up!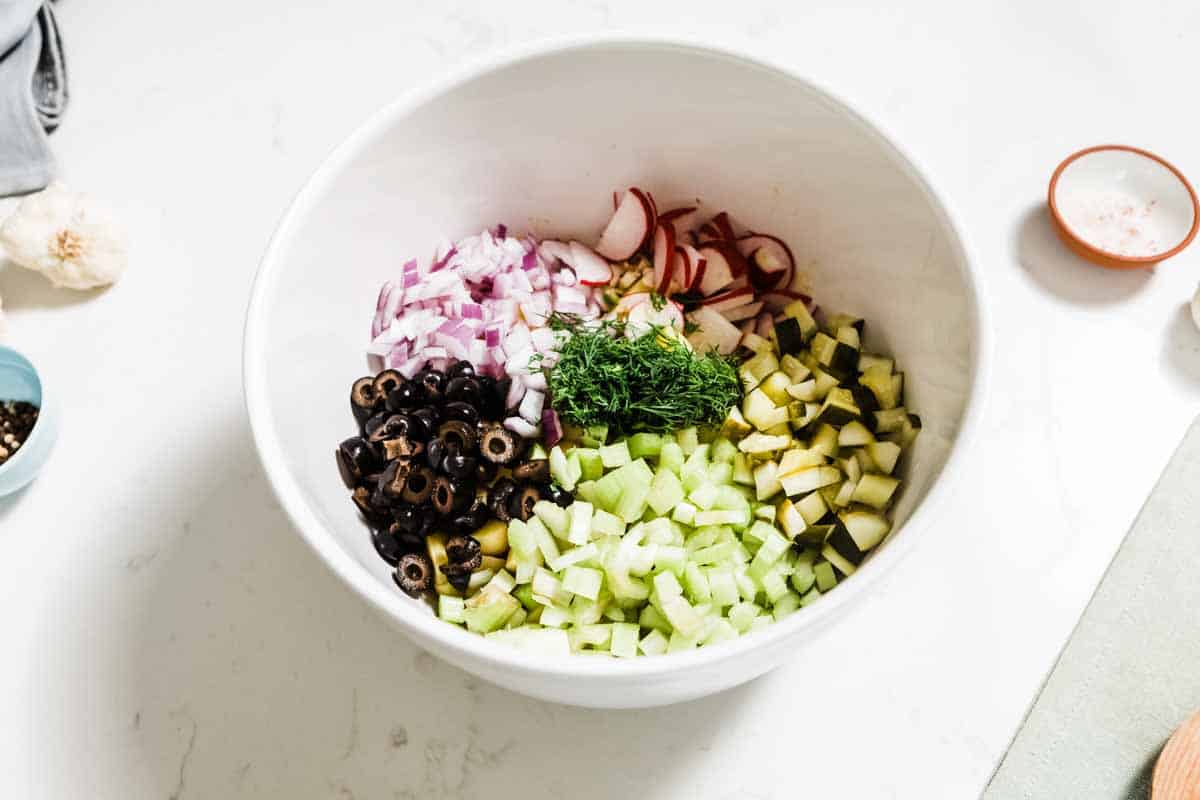 Tips for vegan potato salad recipe
What are your must-have ingredients for potato salad? Mine include dill pickles, fresh dill, and black olives… because those were always in the salads of my childhood. Yet they weren't vegan, so I love the new take this vegan potato salad recipe has on the classic dish.
I don't peel the red potatoes for my salad as boiling them with the skin on helps retain more nutrients. Dijon mustard elevates the flavor in this recipe, so that is my go-to in the dressing.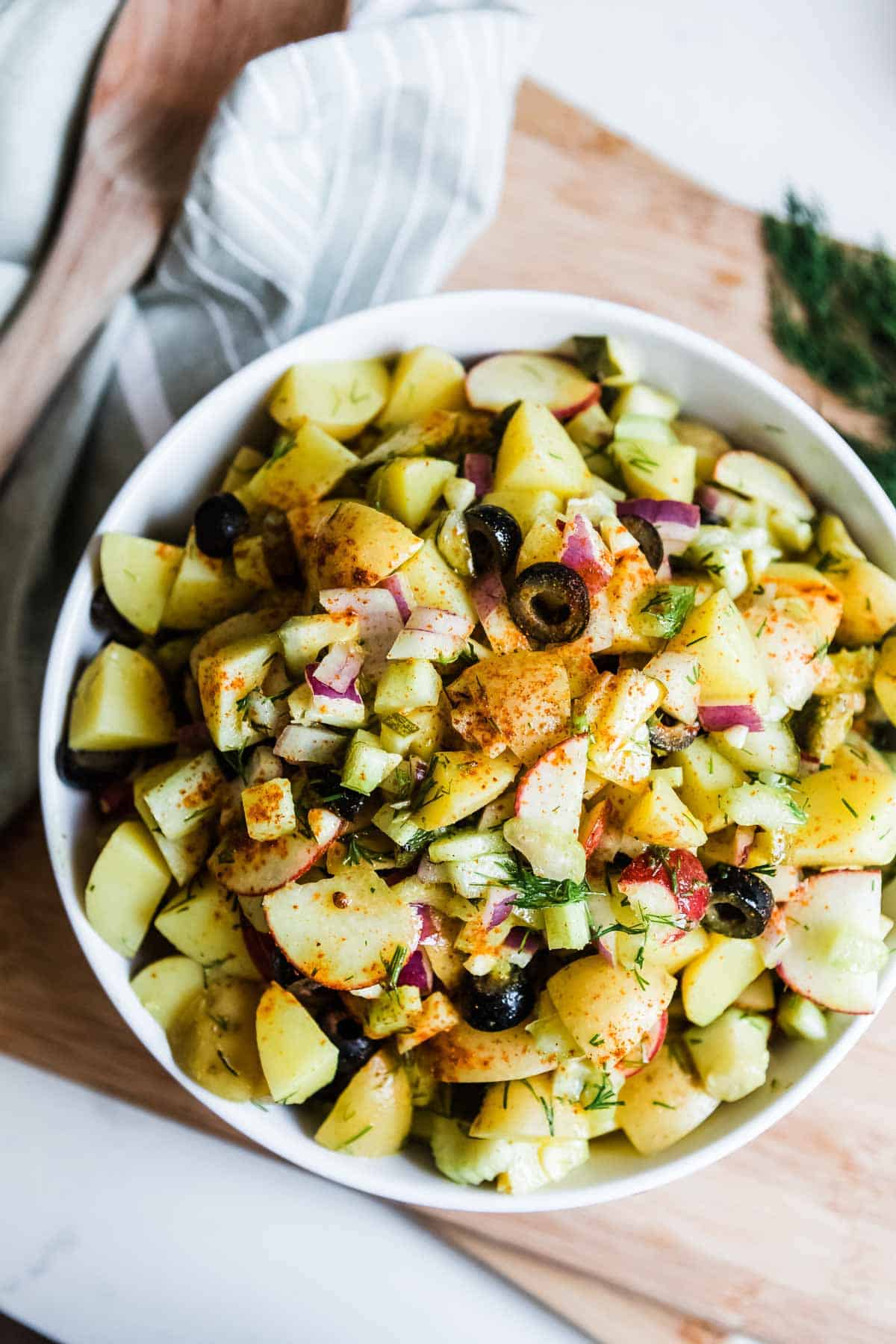 Easy Ingredient Swaps
I love recipes where I can easily sub in what I have on hand, and this potato salad is just such a recipe. If radishes aren't your thing, then swap them with diced cucumbers or corn to keep in a bit of fresh crunch.
If you really want the feel of a traditional potato salad, then swap in a vegan mayonnaise. These tend to be more processed, yet can give you the feel of enjoying your family's fav old recipe.
The pop of color in the red potatoes is super fun, yet feel free to use any potato you want (Yukon golds work great too!). If you really want a fresh change up, try using a white sweet potato… and then let me know how it turns out!
While I love using Claussen pickles for this recipe, I bet a lot of you have great local options you might prefer. I'm a true pickle lover, so tell me your fav kind and I'll give it a try. For a less vinegary taste, try sweet pickles.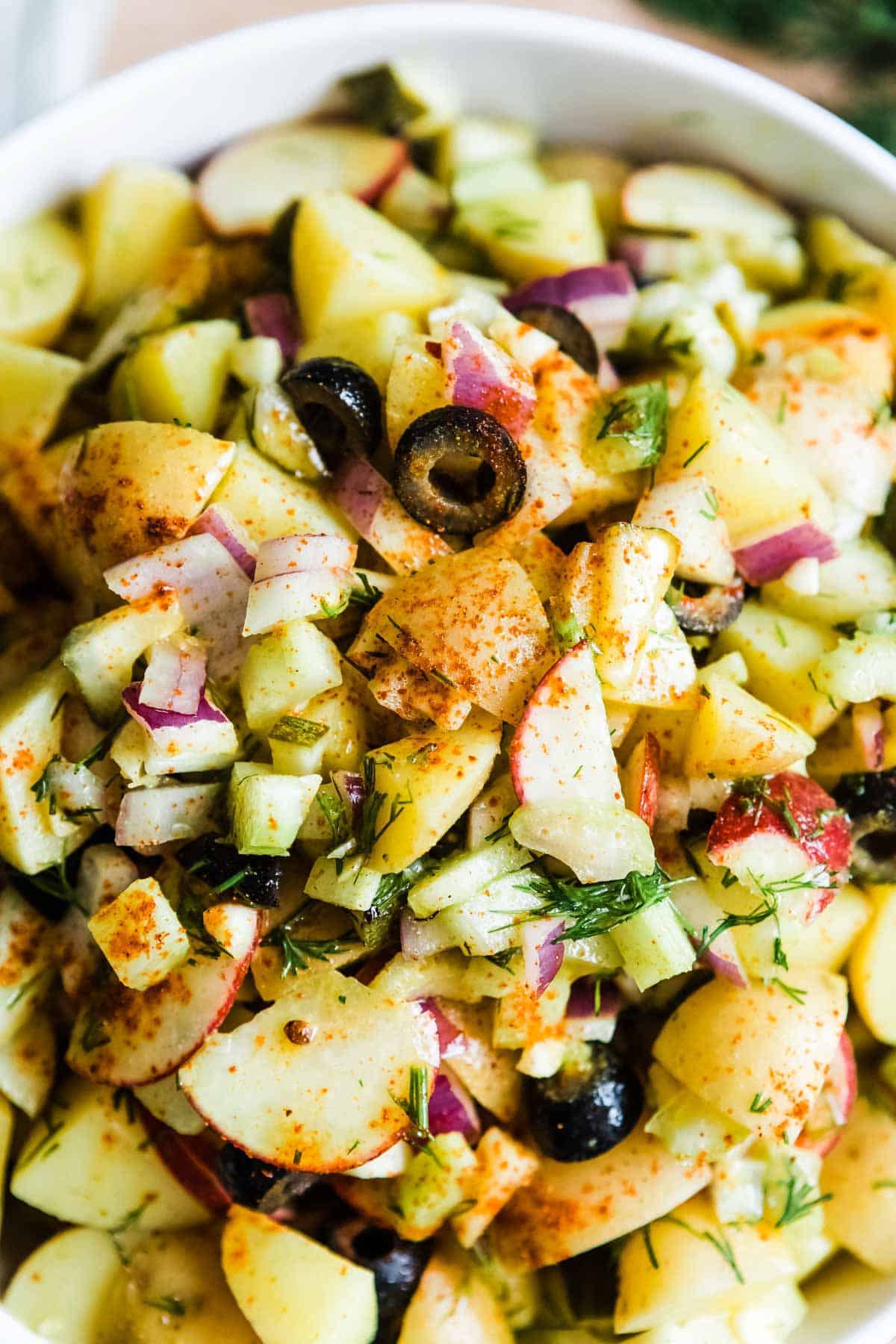 FAQs
Is potato salad vegan?
Traditional potato salad has eggs in it either in the mayonnaise or hard boiled. My potato salad swaps the mayo for a delicious olive oil based dressing, and loads up on fresh veggies.
Do I serve potato salad hot or cold?
I've had it both ways! The potatoes are cooked, yet I like mine to chill a bit in the fridge before serving. Honestly, letting the salad refrigerate overnight before serving will bring out the best flavor.
clock
icon
cutlery
icon
flag
icon
folder
icon
instagram
icon
pinterest
icon
facebook
icon
print
icon
squares
icon
heart
icon
heart
solid
icon
---
---
More scrumptious vegan BBQ recipes
I've got so many great vegan recipes you can share at your next backyard BBQ. From side dishes to mains, pick the flavors that you want and get cookin':
Don't forget to make this vegan potato salad and let me know in the comments how it turned out!