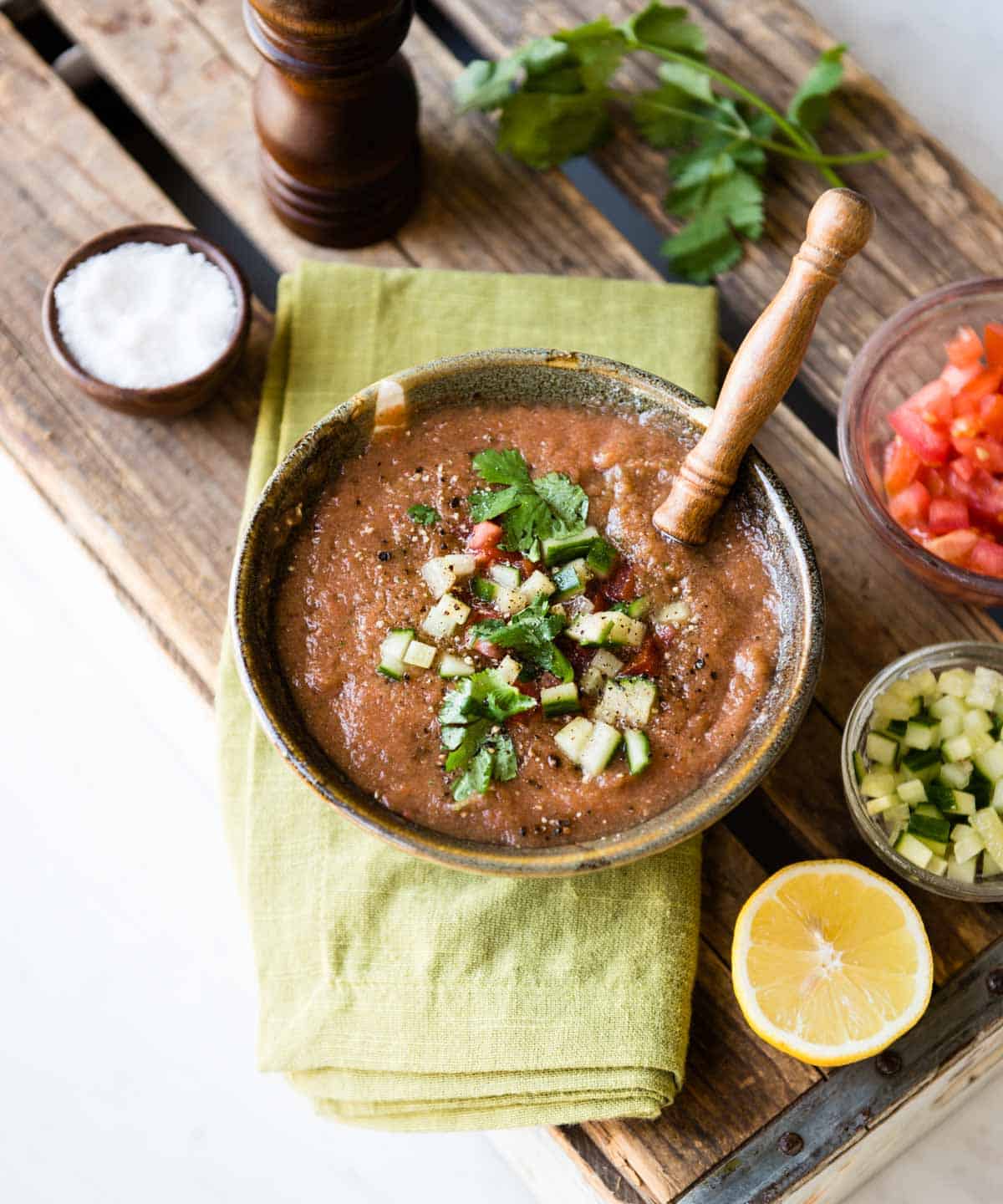 This gazpacho soup recipe is like many of our smoothie bowls… just with a veggie twist!
So get out your blender to make this 1-pot meal!
Gazpacho is a cold soup made entirely of raw vegetables. But, of course, we had to add a leafy green to our gazpacho recipe, because… it's us! I love how quickly I can get this soup ready to go (and how easy it is to clean up too). Make ahead and store in the fridge for your next get-together with friends. They'll be so impressed!
Health Benefits of Gazpacho
For this recipe, we focused on romaine as the leafy green, which is something we don't often use. Here's why we used it in this gazpacho recipe:
Packed with vitamin A: powerful antioxidant that's influential to your brain function, skin, heart, kidney, lungs, vision, and immune health.
High amounts of folate: This is a b-vitamin that's needed to create blood cells in bone marrow, and convert carbohydrates into energy.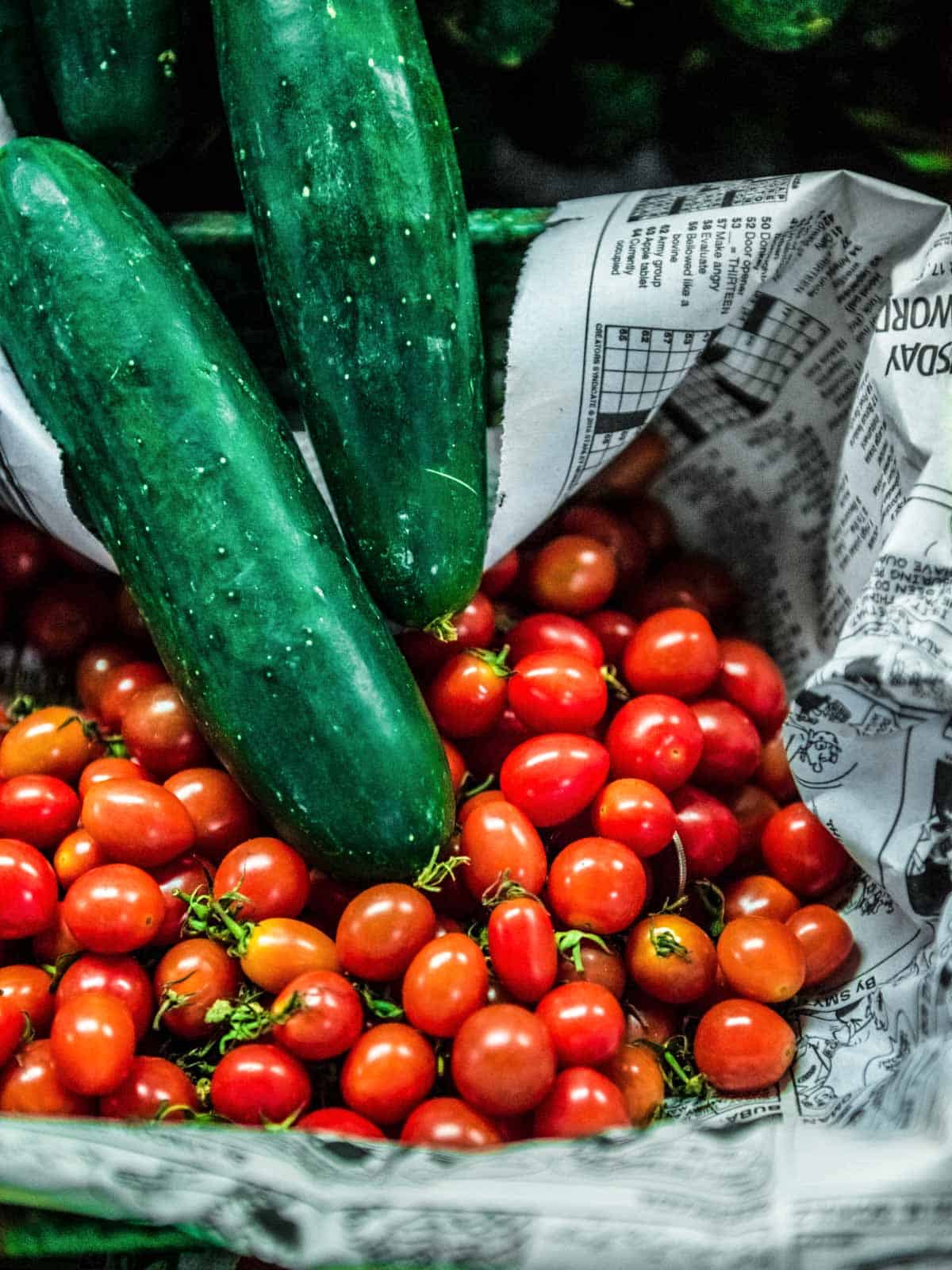 Where did gazpacho originate from?
If we did an Ancestry DNA test on gazpacho, we'd discover it's from the southern regions of Spain. According to the L.A. Times, the addition of tomatoes – making it the modern gazpacho soup recipes we know and love today – came when Columbus first brought tomatoes back to Spain in the 15th century.
Over the years, different world cuisines have adopted this chilled soup, adding different ingredients and toppings. In Spain where it originated, they add croutons and hard boiled eggs.
Our easy gazpacho recipe adds a leafy green of course! Romaine is great for your heart and lower in calories, making it the perfect addition to this blended beauty.
Raw vegetable health boost
You might be wondering: "Why make a gazpacho recipe (cold soup) instead of a warm soup?"
Cooking food isn't bad at all! But sometimes our body needs an extra boost of nutrients that you get from raw vegetables. The cooking process can reduce the efficacy of some ingredients. In fact the National Institutes of Health is continuing to research the effects of different types of cooking vegetables and whether it affects the vitamin content of those veggies.
Plus, without the extra step of cooking – making a gazpacho soup recipe is quick and easy!
If you're feeling like you want even more vegetables and fruits in your diet, I'd love for you to check out our 21-day plant-based whole foods cleanse.
FAQs
Make this gazpacho recipe!
I hope you enjoy this Italian treat and how it makes you feel. For more veggie-based blended recipes, check out these:
Fire up that blender and get tasting! Let us know if you make our refreshing gazpacho soup recipe or one of the other blended flavors above and let us know in the comments below.
clock
icon
cutlery
icon
flag
icon
folder
icon
instagram
icon
pinterest
icon
facebook
icon
print
icon
squares
icon
heart
icon
heart
solid
icon
---
---