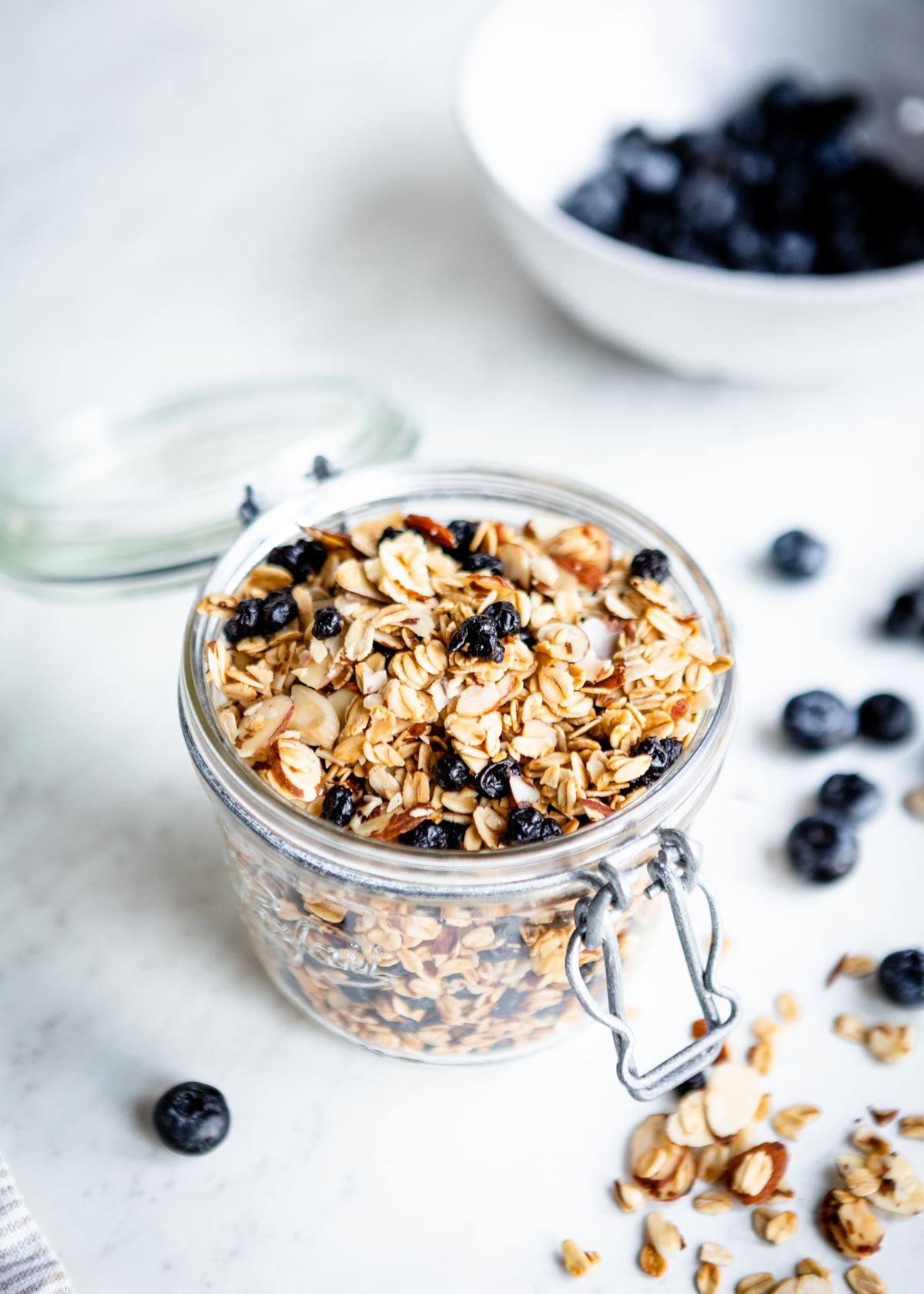 I8217;m a granola lover. It8217;s an easy snack to take on trips, it easily elevates yogurt and smoothie bowls and it can be filling. Yet granola can get unhealthy super quick. So I created this healthy granola recipe so that you can have your granola and eat it too! This gluten-free granola is so easy to enjoy you may have to double the batch just to share it.
Granola is one of my specialties and I debuted my famous granola in my first 21-Day Cleanse as a filling snack option. I then created another recipe for my cookbook, Simple Green Meals and now I8217;m back at it for the blog.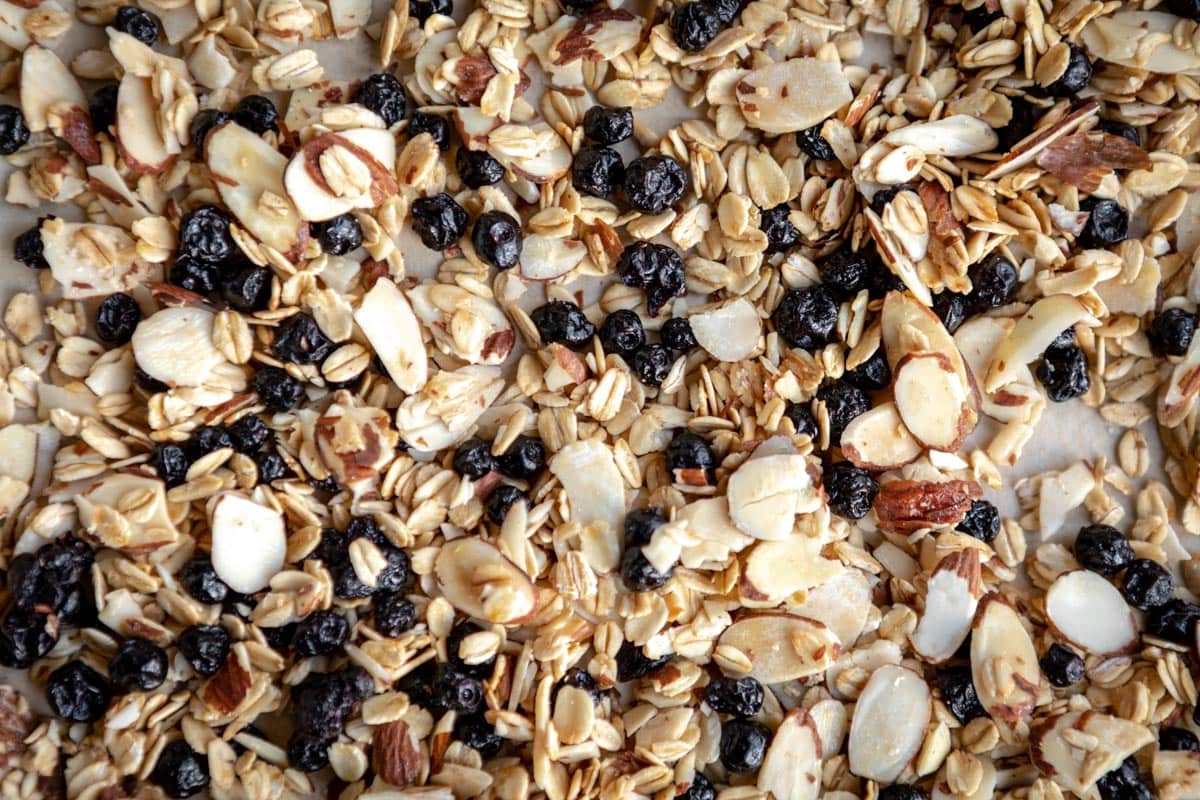 Tips for Gluten-Free Granola
One of the reasons I love granola is that it8217;s so easy to make. You basically dump everything in a bowl, mix well, spread out on parchment and bake. Here are a few tips for the best granola: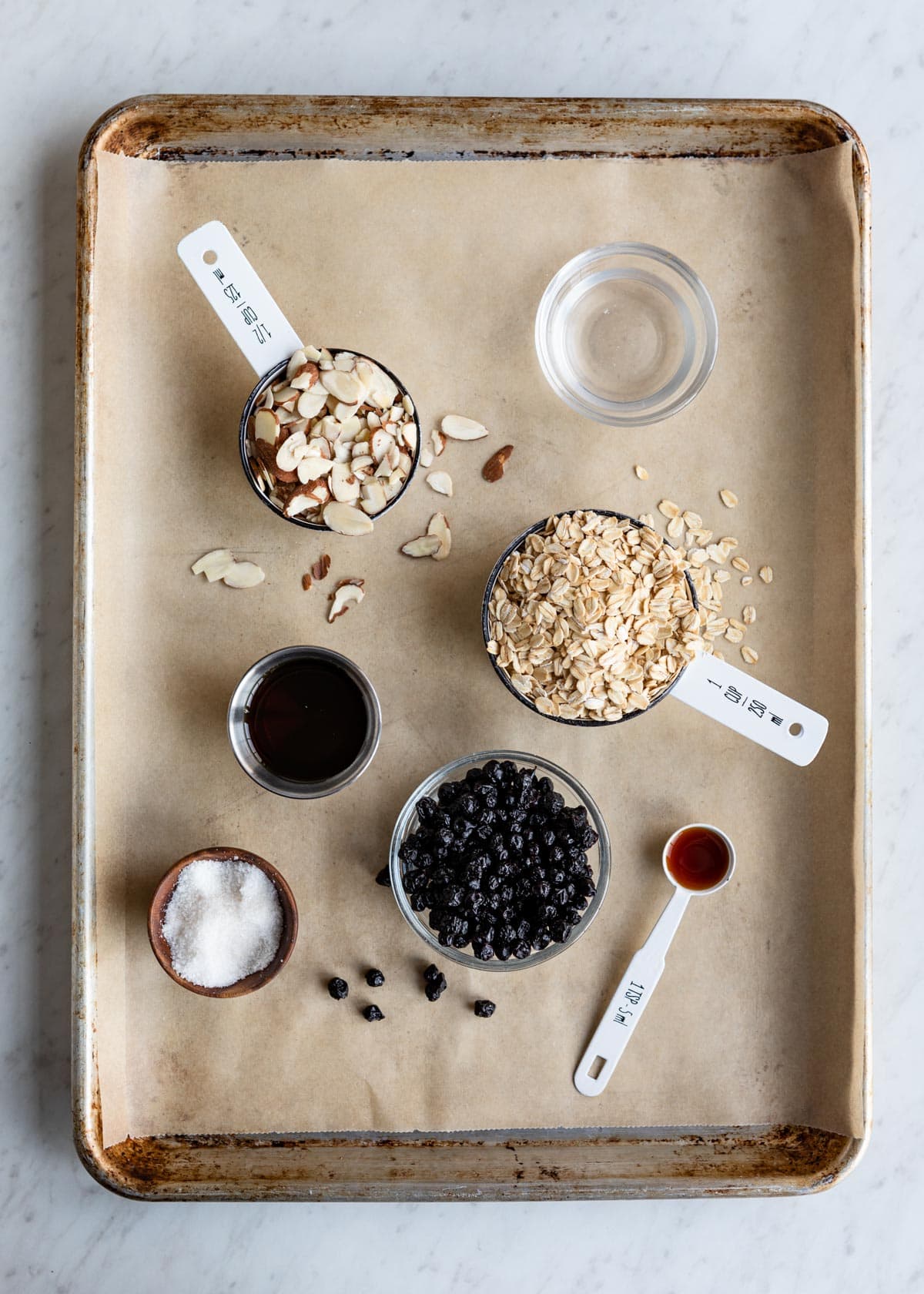 Healthy Granola Ingredients
Gluten-free rolled oats8211; Make sure that the nutrition label reads gluten-free if you want these in your granola. Rolled oats offer a protein punch for this healthy snack option.
Almonds8211; Nuts and seeds provide healthy fat and a bit of plant-based protein which make this the ultimate healthy snack.
Coconut oil8211; This healthy fat is a high-heat oil that helps toast up the other ingredients while also providing necessary fat to round out the carbs and protein.
Dried fruit8211; Look for dried fruit without added sugar. I love dried blueberries for this granola recipe as they are naturally sweet and slightly tart.
I went the simple route with this recipe, so feel free to spice it up to your liking. This healthy granola recipe never tastes the same twice and that8217;s why I love it!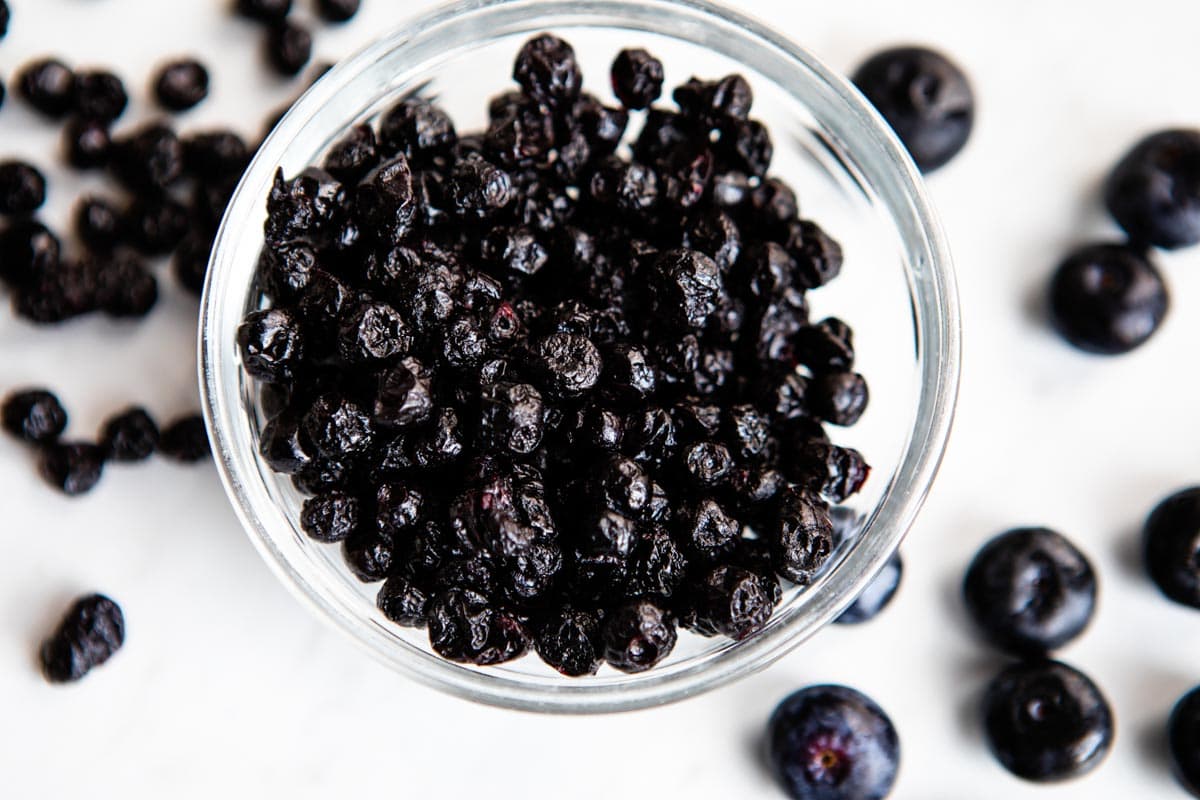 Easy Ingredient Swaps
Feel free to use the dried berries of your choice, or omit them completely to cut down on the sweetness. You can also half the maple syrup or swap it with honey for a different flavor.
If coconut oil isn8217;t your thing then use avocado oil (it has less of a taste than olive oil).
Swap the almonds with the nuts or seeds of your choice. Pecans are also amazing in this recipe. You can also use ¼ cup almonds and ¼ cup of another nut/seed.
To turn this basic mix into a seasonal favorite add in pumpkin pie spice for a fall-flavored version. Ring in summer by adding dried strawberries or dried pineapples.
Healthy Granola FAQs
How do you make healthy granola?
I mix together gluten-free rolled oats, sliced almonds, sea salt, melted coconut oil, maple syrup, vanilla extract and dried blueberries for the granola of my dreams. Dress it up with the dried fruit and spices of your own.
Is healthy granola good for weight loss?
It can be! Cut back on the natural sugars in this granola recipe by halving the maple syrup. Make this as a filling healthy snack or pair it with yogurt for a nutritious breakfast choice.
How do you pick healthy granola?
Most store-bought granolas are loaded with sugar and additives. The 8216;healthy8217; ones are SUPER expensive! So I ditch the store and opt to make my own. It8217;s super easy (1 bowl and 15 minutes of baking. That8217;s it!) and then flavor it the exact way I want. You can make a batch for the whole week and have a healthy snack or breakfast in a jiffy.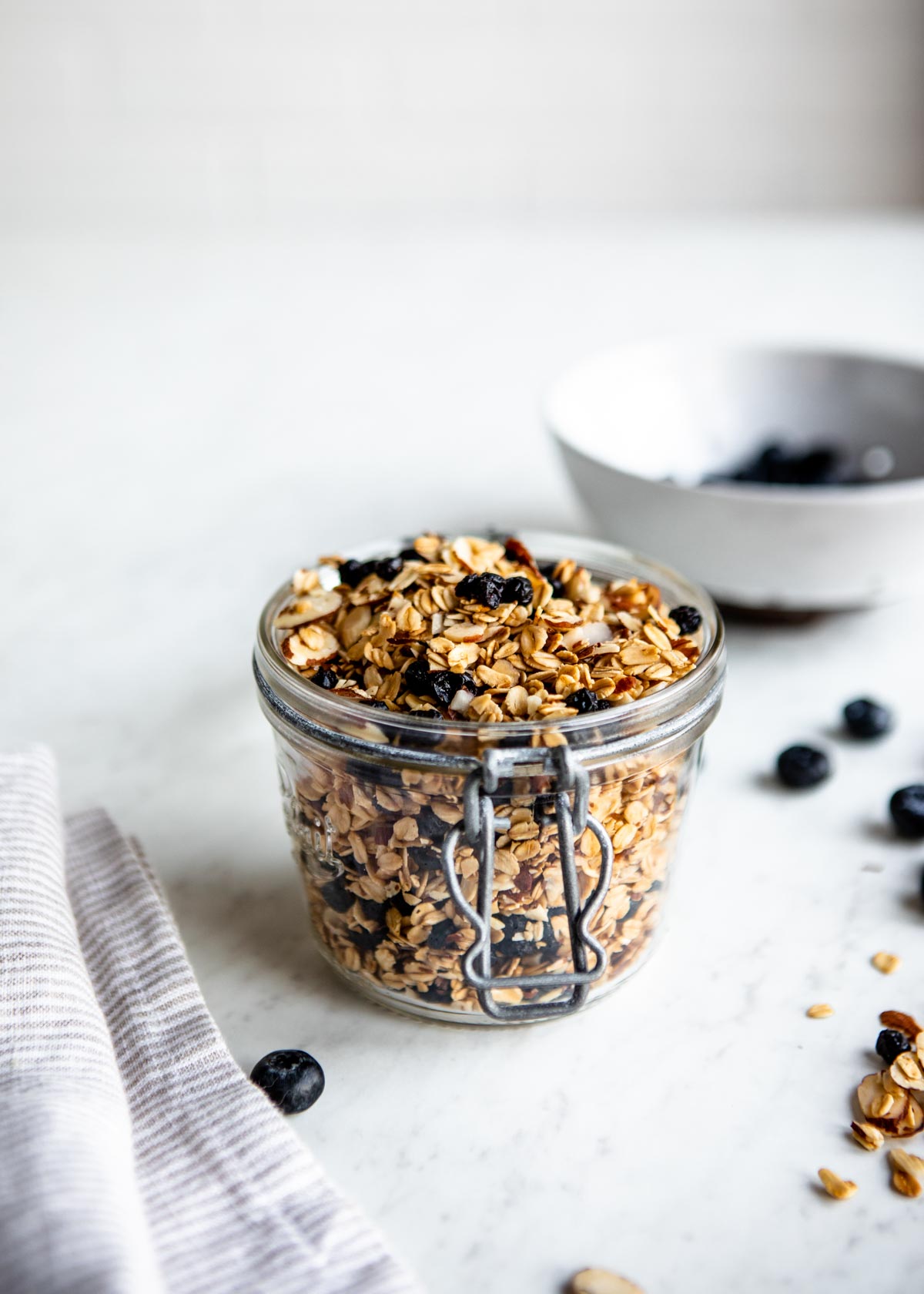 How to Use Granola
Or just eat straight from the bowl! My granola is a great on-the-go option. How are you gonna use this healthy granola recipe? Leave a comment and let me know.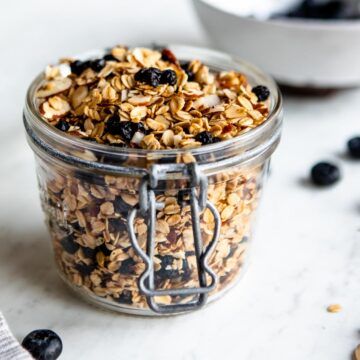 Healthy Granola with Blueberries
This gluten free granola recipe can be used as a smoothie bowl or yogurt topper, eaten as-is or enjoyed with a plant milk for a decadent cereal. Enjoy straight from the oven or store in an air-tight container to enjoy all week long!
Nutrition (estimated)
Calories: 310kcal (16%) Carbohydrates: 40g (13%) Protein: 7g (14%) Fat: 14g (22%) Saturated Fat: 4g (25%) Polyunsaturated Fat: 3g Monounsaturated Fat: 6g Trans Fat: 1g Sodium: 7mg Potassium: 373mg (11%) Fiber: 7g (29%) Sugar: 18g (20%) Vitamin A: 1IU Calcium: 79mg (8%) Iron: 2mg (11%)