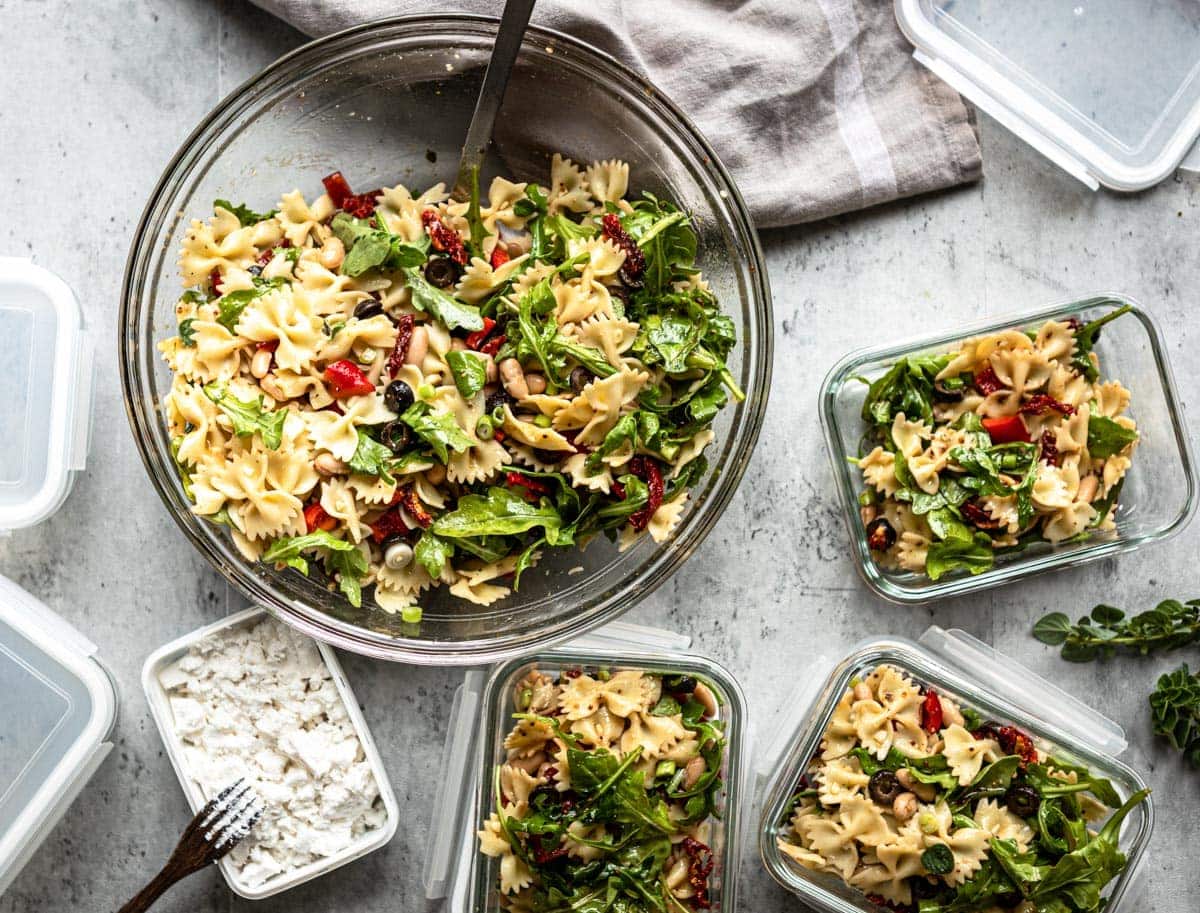 I have a hard time eating leftovers for lunch every day. Instead, I8217;m always on the hunt for easy yet tasty lunches that don8217;t take much prep work. I know that sounds like a unicorn, but it8217;s not! My healthy pasta salad checks all the boxes (and has a good amount of protein as well). Feel free to keep it a vegan pasta salad with the vegan feta or toss in your favorite cheese if you can tolerate it.
I set out to create this healthy pasta salad after Rawkstar Jennifer told me she was looking for quick and healthy recipes that her high schooler could take to school. I love how the different flavors mix in this recipe without meat or dairy.
Healthy Pasta Salad Recipe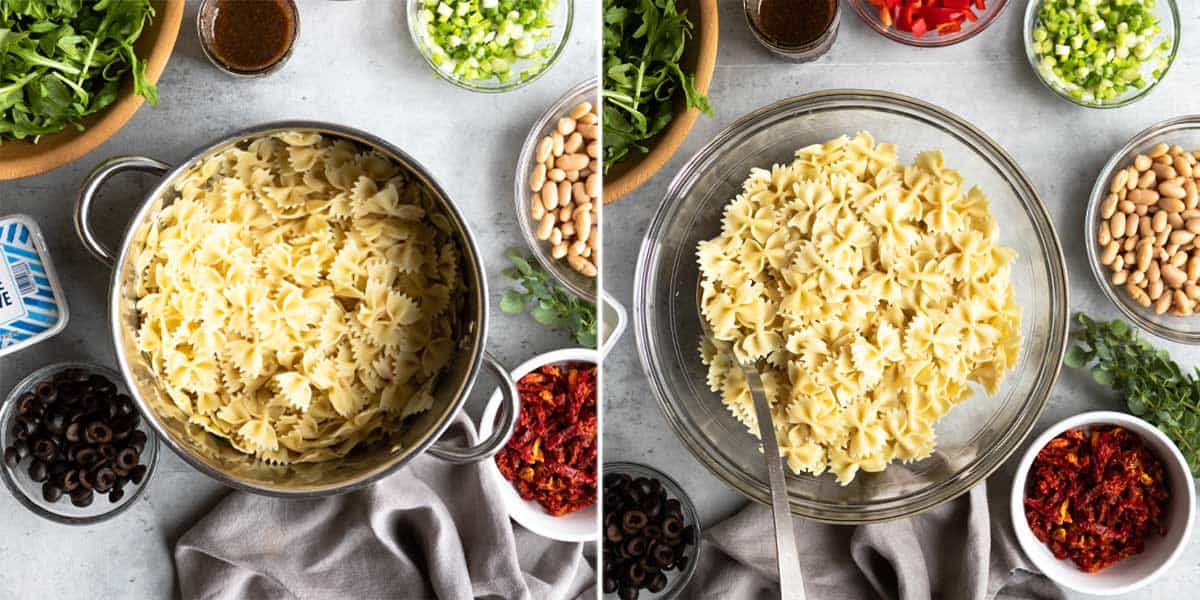 Follow cooking directions on pasta package, allowing pasta to remain slightly undercooked. This will help keep the pasta from falling apart in the salad. Drain and rinse with cold water until pasta is completely cool, then drain well again.

While the pasta is cooling, mix all the Basic Vinaigrette ingredients together in a bowl until combined.

Place cooled pasta into a large bowl and add the vegetables and herbs. Gently toss. Drizzle Basic Vinaigrette over the pasta salad and gently toss again. Cover and refrigerate until ready to serve.
If meal prepping, transfer the salad to airtight containers and store it in the refrigerator until ready to use.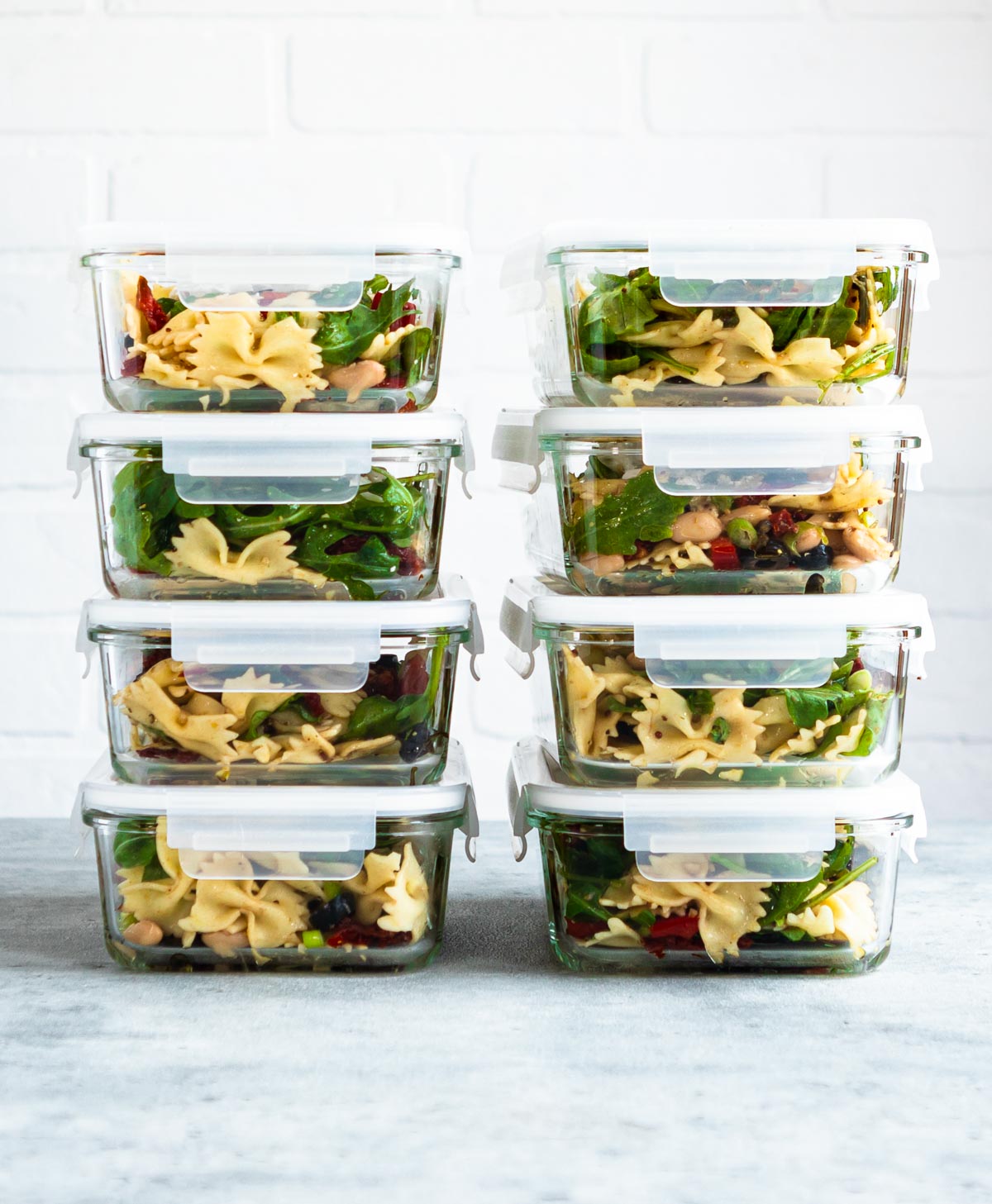 While I created this healthy pasta salad with lunch in mind, it works great as a shareable side at a potluck or family meal as well.
Tips and Tricks to the Best Pasta Salad
Toss the salad well in the dressing as this helps it keep well in the fridge. Store in individual serving airtight containers to grab when you need to quickly. If you like your greens extra fresh, then wait to add those until you8217;re ready to eat, so they don8217;t wilt.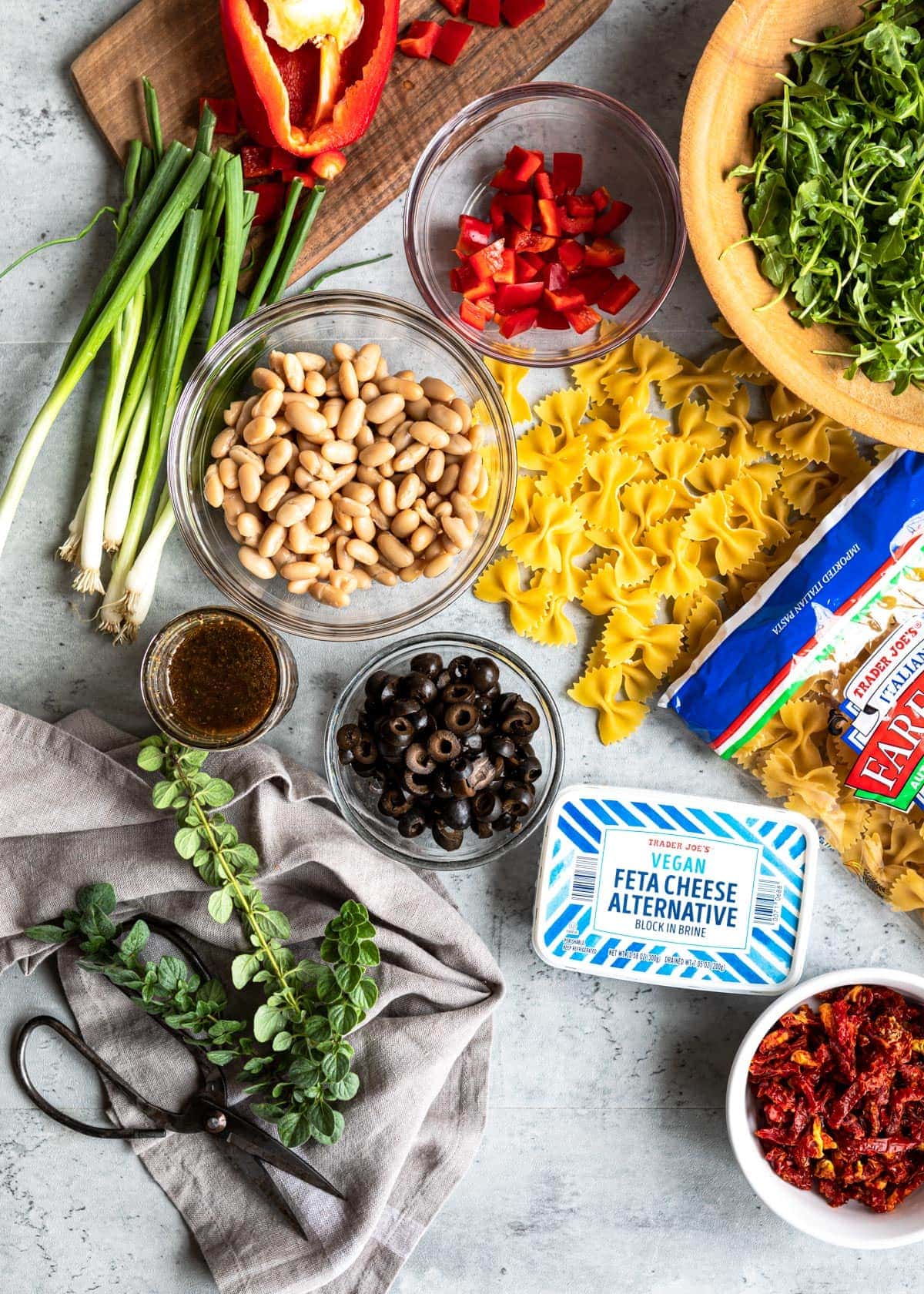 Ingredient Swaps
Probably my favorite part about this healthy pasta salad lunch is how much you can customize it to your taste preferences! Here are a few swaps I suggest if you want to try them:
Swap olive oil with avocado oil.
Swap red wine vinegar with the vinegar of your choice.
Use your preferred pasta type, or use gluten-free.
Cannellini beans can be swapped with another kind of legume (black beans, kidney beans or chickpeas are great swaps).
Add the veggies of your choice! Radishes or cucumbers are great additions.
Feel free to add nuts or seeds for an extra crunch.
I have a hard time eating the same thing over again, even when it8217;s as delicious as this vegan pasta salad. So you8217;ll find mine with a slight variation every time I make it, and that8217;s totally fine.
Commonly Asked Pasta Salad Questions
Is pasta salad bad for you?
It doesn8217;t have to be! Ditch the store-made pasta salads made with additives and processed ingredients. Home make one instead with loads of fresh greens and a light, oil-based dressing.
How long does pasta salad stay fresh?
My salad should stay fresh in the fridge up to 5 days since it is oil-based. Dairy or mayo-based salads will keep fewer days.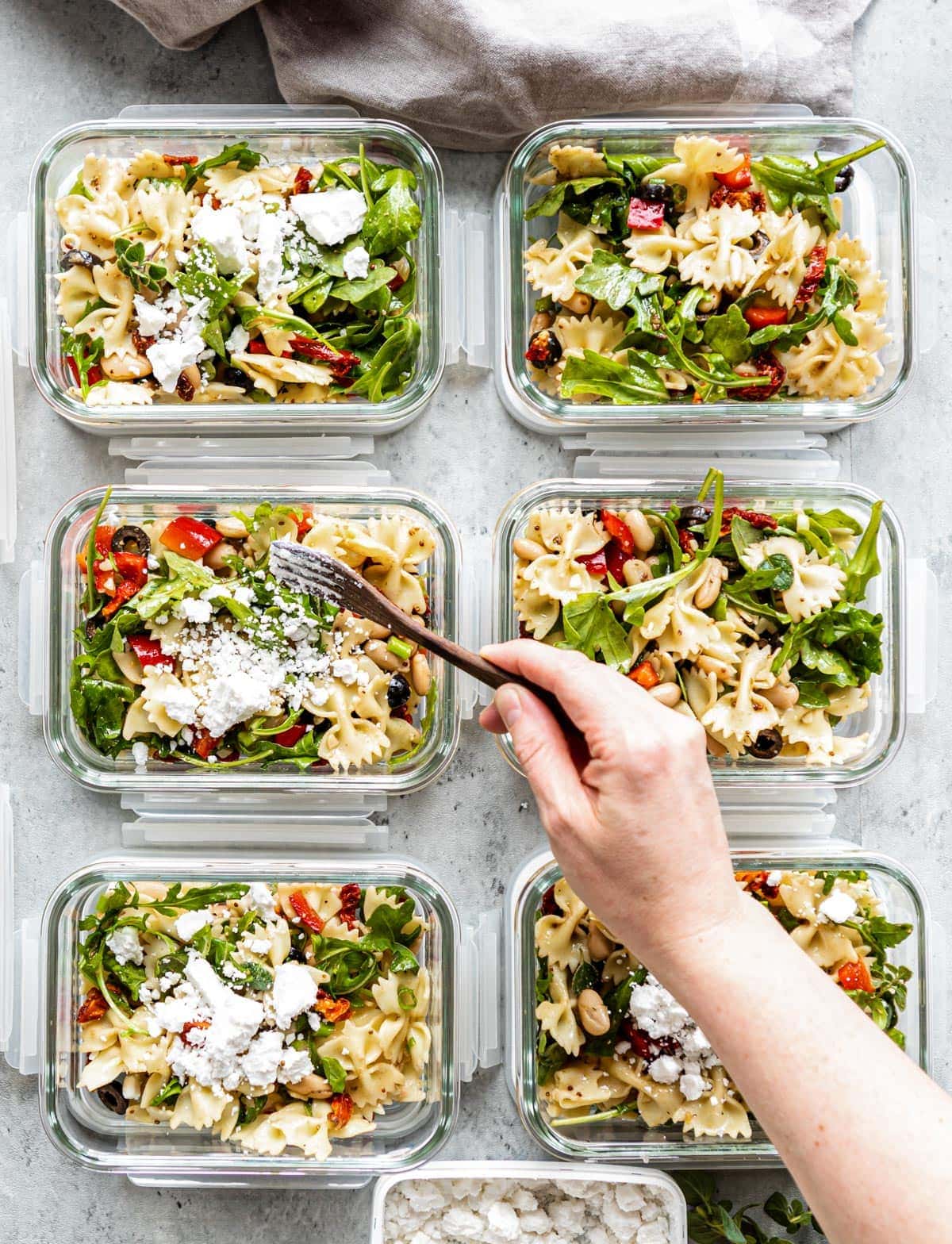 Easy Vegan Lunches
If you don8217;t use leftovers to fuel your lunch, you need to make or buy them every day. I love batching easy recipes for lunch that we can grab throughout the week. Here are a few of my favorites, along with the healthy pasta salad below:
Thai Lettuce Wraps8211; make the filling and cut the veggies ahead of time, then portion out into containers.
Tomato Soup8211; This recipe pairs so well with a variety of sandwiches or can be eaten on its own.
Take the guesswork out of lunch when you double or triple a recipe, then save it for the days ahead. The vegan pasta salad below is filling and doesn8217;t even need to be heated up to enjoy. Don8217;t forget to tell me how you like it!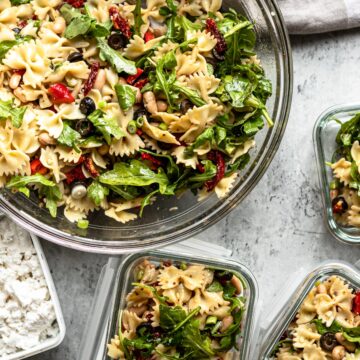 Healthy Pasta Salad
Whether you8217;re in need of an easy week of lunches or a delicious potluck recipe to share, this vegan pasta salad is for you!
Nutrition (estimated)
Calories: 483kcal (24%) Carbohydrates: 42g (14%) Protein: 12g (24%) Fat: 23g (35%) Saturated Fat: 3g (19%) Polyunsaturated Fat: 2g Monounsaturated Fat: 15g Sodium: 1652mg (72%) Potassium: 733mg (21%) Fiber: 8g (33%) Sugar: 9g (10%) Vitamin A: 1535IU (31%) Vitamin C: 28mg (34%) Calcium: 117mg (12%) Iron: 5mg (28%)