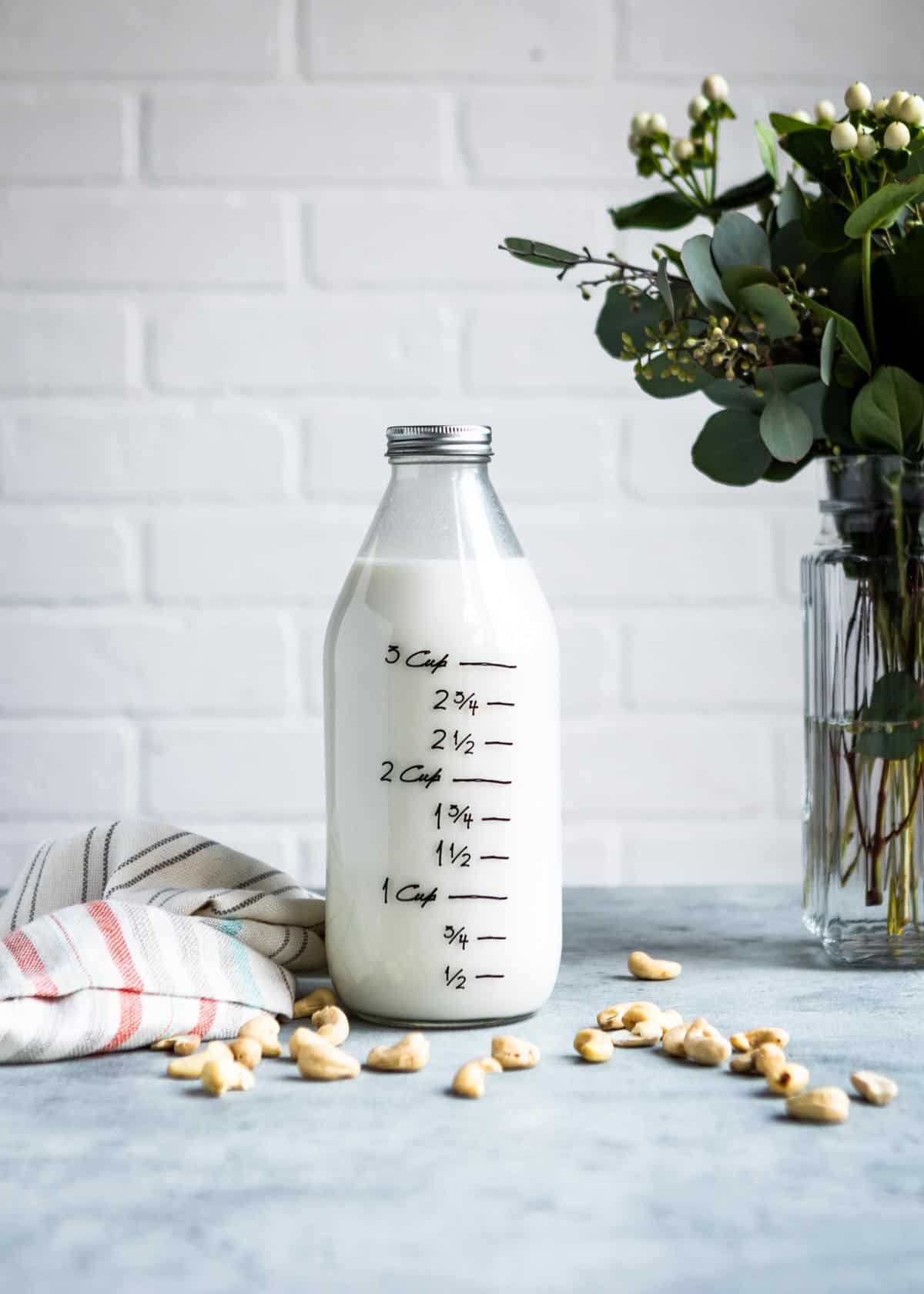 Looking for a super creamy, almost taste-free, dairy alternative for your smoothies? My two-ingredient nut milk recipe is a winner! I8217;m teaching you how to make cashew milk, as well as which nut wins the cashew milk vs. almond milk debate. Sweetened or unsweetened, this easy recipe should definitely make it into your weekly rotation.
Like many of you probably did, I immediately started buying almond milk when I turned to dairy-free alternatives for smoothies, baking and more. However, I always found it lacking in creaminess and it had a little too much aftertaste for me. My cashew milk recipe gives you the best, cleanest plant milk you can find with the creaminess you crave.
Cashew Milk Recipe

Place cashews in a medium bowl and cover with plenty of filtered water. Allow cashews to soak for several hours or overnight.

Drain the soaking water from the cashews and place it in a blender with 3 cups of filtered water and a pinch of sea salt. Blend until very smooth.

Place a fine-mesh sieve lined with cheesecloth over a bowl or large measuring cup, or a special nut milk bag. Slowly pour the blended milk through the sieve or into the bag, allowing it to drip below before adding more so it doesn't overflow. Gather up the sides of the cheesecloth or nut milk bag and twist as you gently squeeze to remove as much liquid as possible.
Transfer the strained liquid to a jar or bottle with a tight-fitting lid. Store in refrigerator for up to 3-4 days. Shake bottle or jar well before using.
My recipe makes about 4 cups or 1 quart of milk. To shorten the soaking time, place 1 cup of raw cashews into a cup of hot water and soak for 10 minutes. This will soften up those cashews enough to blend easily.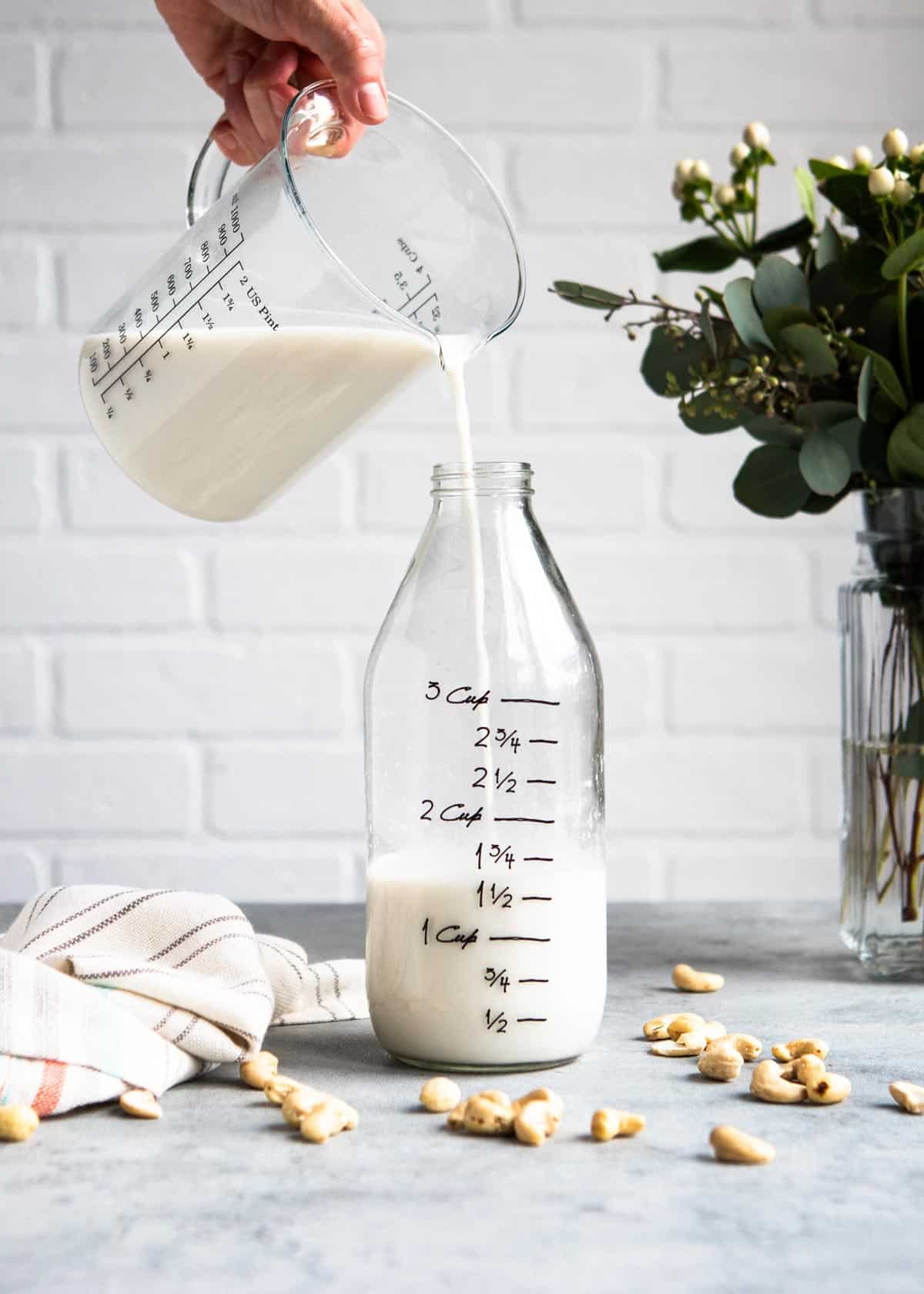 Tips for Creamy Milk
Depending on how thick you like your milk, you may want to add more or less water to this recipe. If you don8217;t know then feel free to make it as-is the first time, then adjust per your preferences in the future.
You can easily sweeten your homemade cashew milk with 1-2 dates and 1 teaspoon vanilla (just add this at the blending stage).
While you can flash soak cashews in hot water, soaking them overnight produces the creamiest finished product. Make sure you use unsalted, raw cashews (not roasted).
Plant Milk FAQs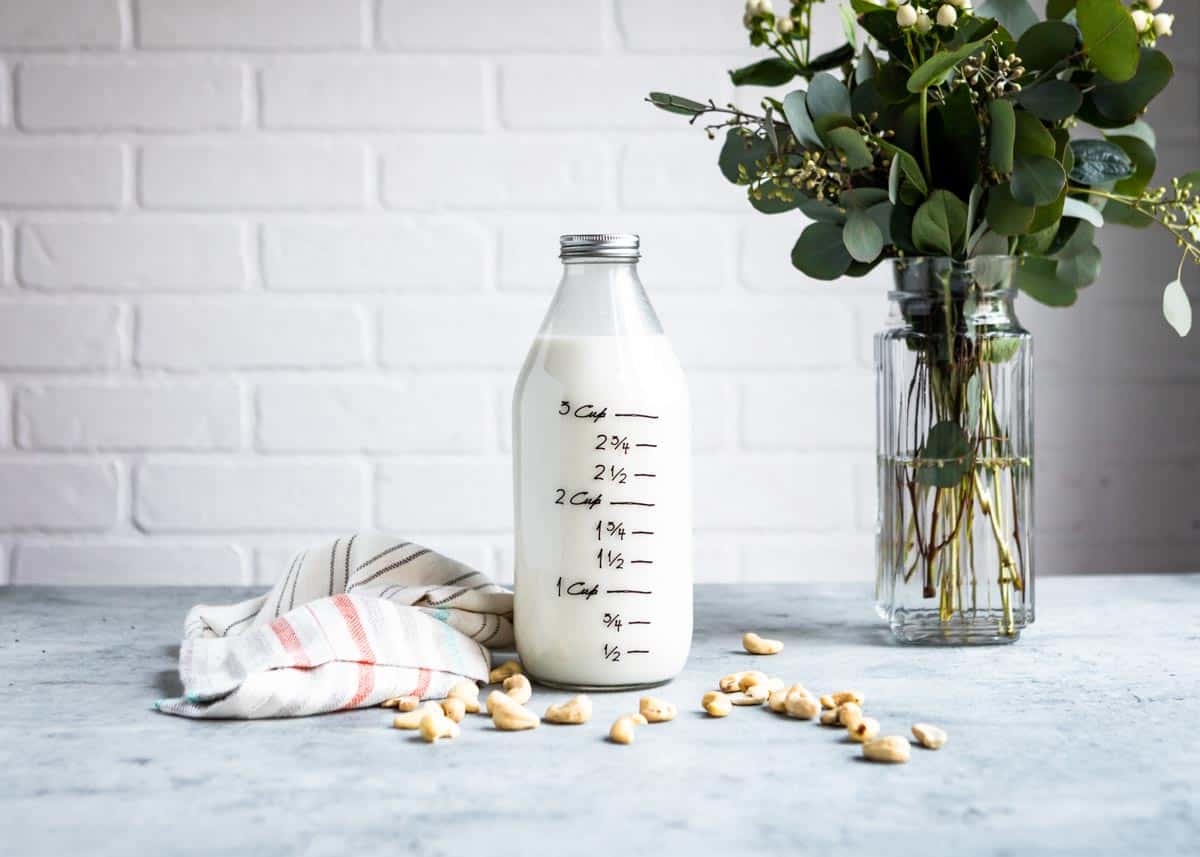 Cashew Milk vs Almond Milk
I8217;m guessing if you8217;ve cooked in the plant space for any amount of time, you8217;ve probably tried almond milk. It is definitely the #1 plant milk of choice among consumers, and it8217;s a great choice! But for me, cashew milk is better for a few reasons.
First, cashew milk tastes better than almond milk because it is virtually tasteless. It doesn8217;t leave a weird aftertaste in a latte as almond does.
Second, cashew milk is naturally creamier than almond milk. If you want a super creamy smoothie then cashew milk is your friend.
Cashew milk vs almond milk nutritionally doesn8217;t have a clear winner. Cashew milk has fewer calories, but they are close in fat, carbs and protein.
Ultimately, try both and decide which one you like best! Then let me know how you settled the debate in the comments below.
Plant Milk Recipes
If you8217;re wondering how to make other kinds of plant milk then I8217;ve got you covered! You can use the recipes below to make almost any kind of plant milk you want. Here are some of my most used recipes:
What8217;s your go-to plant milk? Let me know if you need help making your own. I want this recipe to be a huge success for you!
Don8217;t have time or the desire to make your own milk? Check out my milk guides for the best almond and oat milk on grocery shelves right now.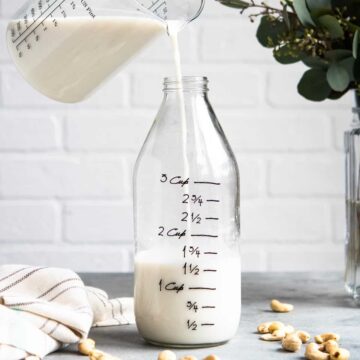 How to Make Cashew Milk
This creamy plant-based milk is ready in just minutes with two ingredients. Turn raw cashews into a delicious beverage for smoothies, baking and more. It8217;s so simple you won8217;t by milk ever again!
Nutrition (estimated)
Calories: 178kcal (9%) Carbohydrates: 10g (3%) Protein: 6g (12%) Fat: 14g (22%) Saturated Fat: 3g (19%) Polyunsaturated Fat: 3g Monounsaturated Fat: 8g Sodium: 85mg (4%) Potassium: 213mg (6%) Fiber: 1g (4%) Sugar: 2g (2%) Vitamin C: 1mg (1%) Calcium: 17mg (2%) Iron: 2mg (11%)
Cashew Milk in Smoothies
When I first started making smoothies, almond milk was really the only plant milk on the market. Yet in the last 10 years, I8217;ve learned you can pretty much 8216;milk8217; anything. I started experimenting with other fun options like cashews and other nuts and seeds. Here are a few recipes using this creamy, delicious beverage:
You can swap cashew milk in any smoothie recipe that calls for plant milk. Don8217;t forget to drop a comment below and let me know how your homemade milk turned out!