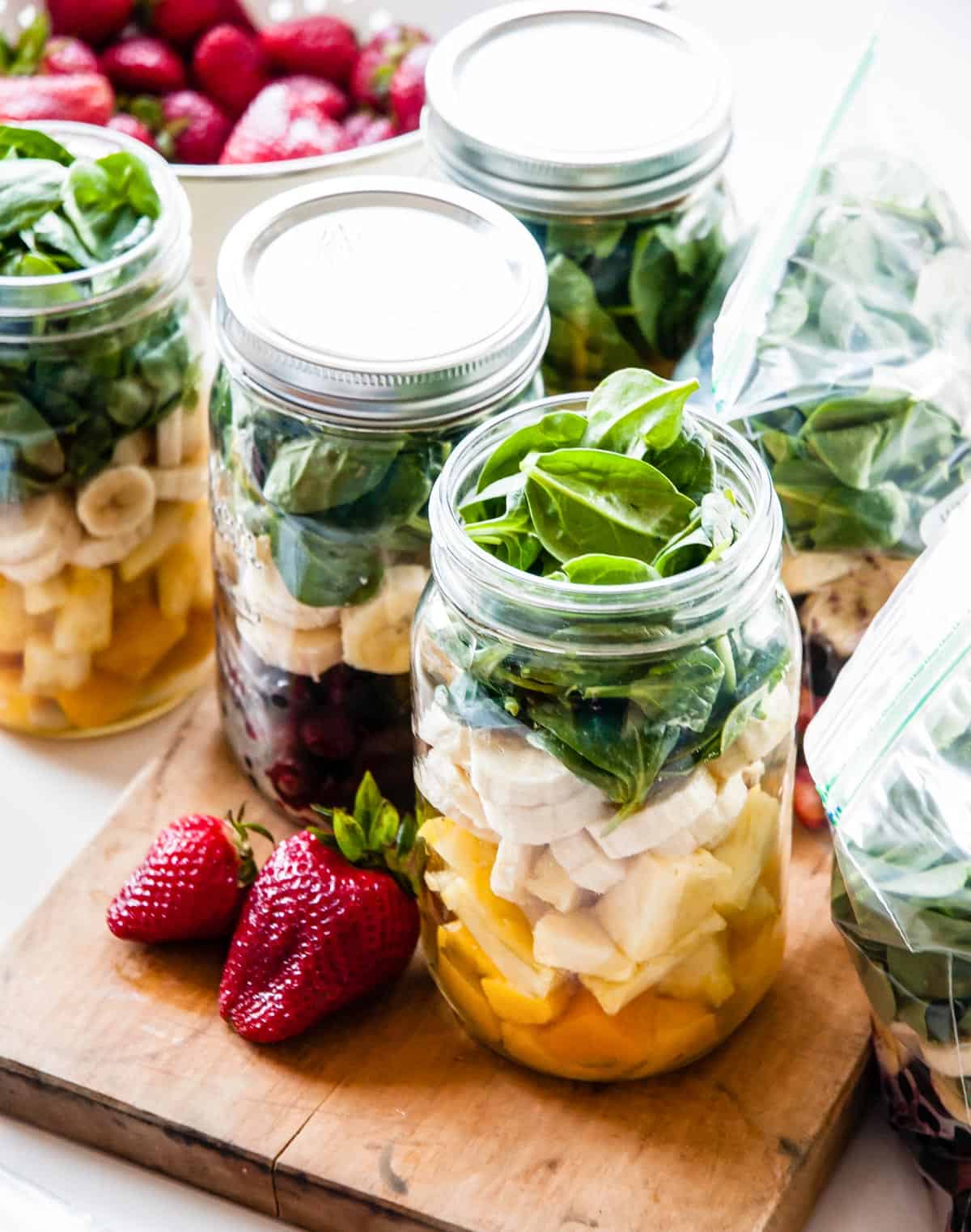 Meal prep smoothies are my jam! I love doing smoothie prep in batches so I make 1 mess at a time and get a week (or month) of ready-to-blend smoothies for my effort. Today I8217;m sharing all my tips and tricks to make ahead smoothies for the week as well as giving you a sample menu + shopping list to get started!
If you love green smoothies AND want to maximize your time + money while making them, then this meal prep smoothies tutorial is for you! I love buying fresh, in season produce yet I don8217;t want it to go bad before I use it all up in my daily smoothie.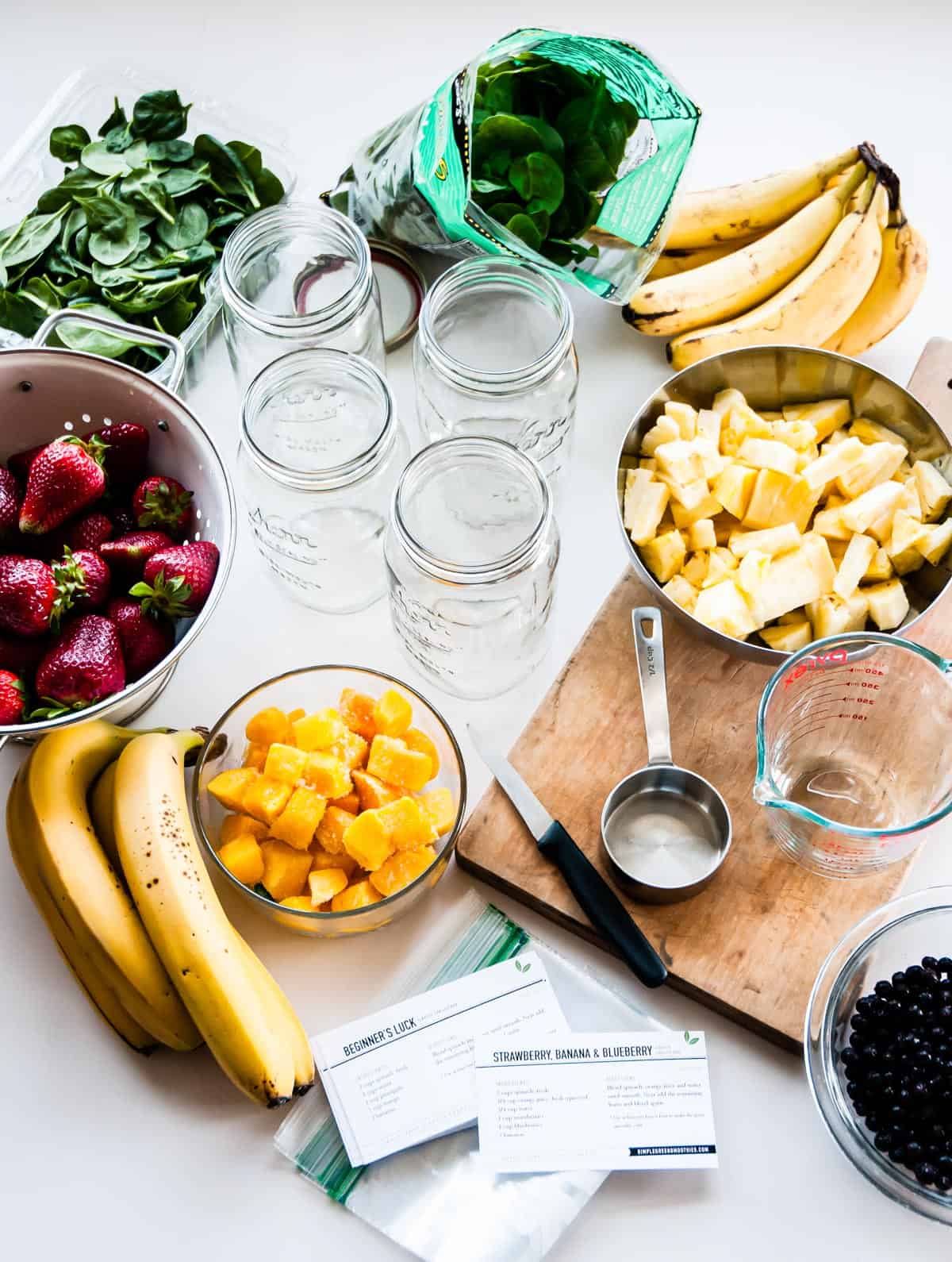 How to Smoothie Prep for a Week
First, gather the following items: measuring cups, quart bags or canning jars (I like wide-mouth jars best!), a permanent marker, your fav fruit + leafy greens, and either my blog or the Daily Blends Smoothie App. These items will make meal prepping smoothies a breeze. Next:
When you8217;re ready to use your meal prepped smoothies, remove smoothie pack from freezer. Add liquid base to container or bag (which helps defrost the fruit slightly). You can also thaw for a few minutes on the counter or in warm water. This helps the fruit/greens come out of the container more easily. Pour into blender and blend until smooth.
Prep smoothies for the week, month, quarter8230; whichever length of time fits your time and lifestyle (and space!) best. I took the 7-day Smoothie Challenge recipes and prepped for an entire month!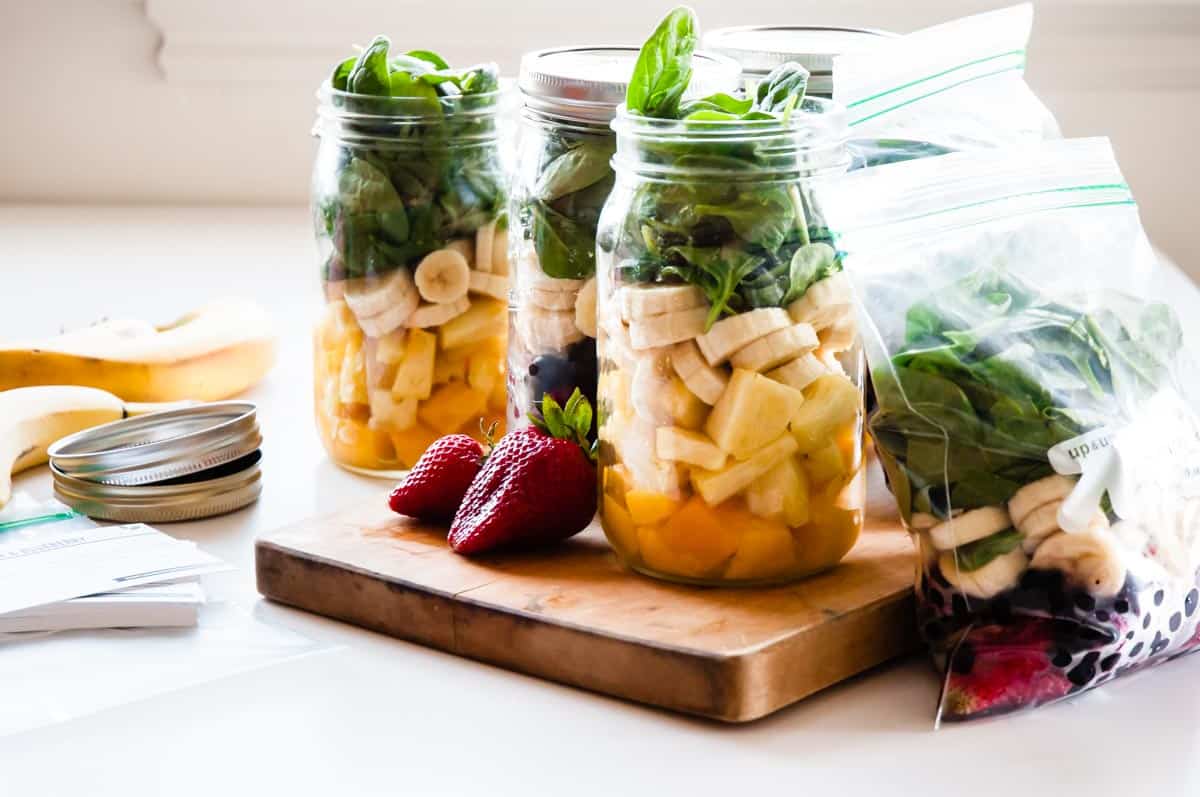 Tips for Make Ahead Smoothies
Have any more tips for meal prepping smoothies? Drop a comment below and let us all know!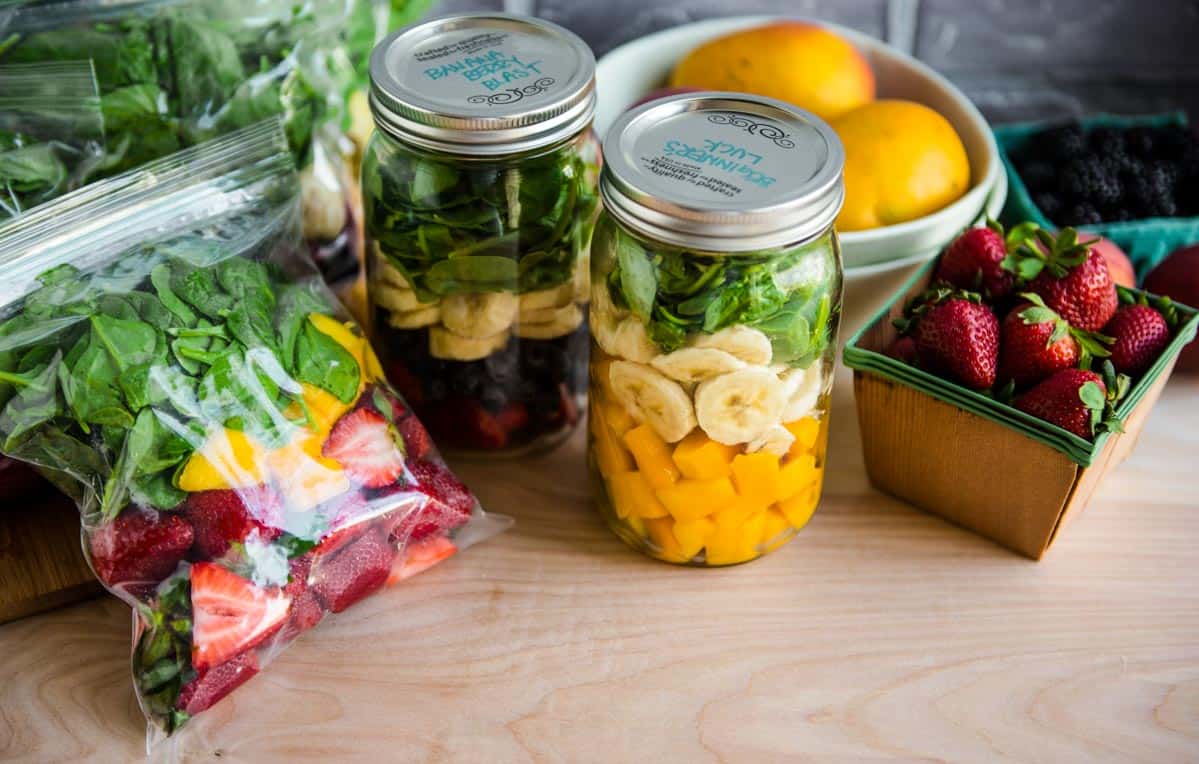 Sample Smoothie Prep Menu
If you8217;re looking for some make ahead smoothie recipes to get started, try out this plan:
For this round of meal prep smoothies, I stuck with tropical smoothies that have similar ingredients so that I can buy in bulk. Here8217;s the shopping list to prep the above 7 smoothies:
| | | |
| --- | --- | --- |
| | 7.5 cups Spinach | 3 Bananas |
| | 1.5 cups Mango | 1 Avocado |
| | 1 Lemon | 2 tablespoon Chia Seeds |
| | 4 Oranges | 2.75 cups Coconut Water |
| | 3 cups Pineapple | 2 cups Water |
If you want to simplify your shopping list further, swap coconut water for regular water (which you don8217;t need to purchase), and you can meal prep smoothies for a whole week with 8 ingredients.
For this list I would pick up my supplies at Trader Joe8217;s and opt for frozen mango + pineapple, while choosing fresh for the remaining ingredients. Since avocado is only needed in 1 recipe, I8217;d just add it into a few other smoothies for a healthy fat boost.
Common Questions Around Smoothie Prep
Are smoothies good if you make them the night before?
Yes! While smoothies start to lose some nutrients about 15 minutes after blending, you can definitely blend one the night before. Just give it a good shake before you start to drink.
Can I food prep smoothies?
Yes! Simply add your fruit/veggies and leafy greens to a mason jar or freezer-safe container and freeze! When you8217;re ready to make a smoothie, thaw slightly on the counter then dump into your blender along with the liquid of your choice + any superfood boosts you want and blend. This is a great way to make sure your ingredients don8217;t go bad.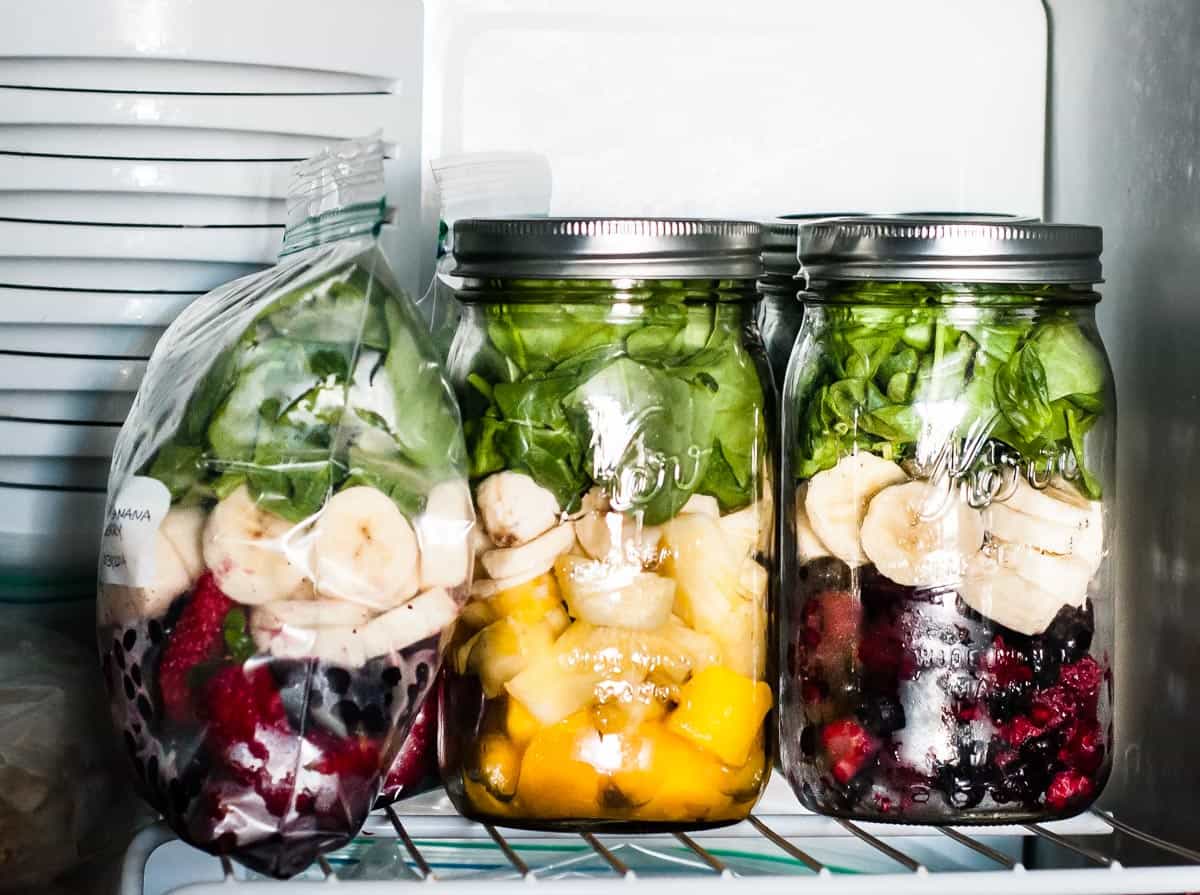 Prepping Blended Smoothies
Did you know that you can even freeze already blended smoothies? For real! Make sure you use freezer safe containers, and leave space when filling them, as liquid expands when frozen. Put in the fridge the night before you want to drink, carefully defrost in warm water or just toss it into a cooler if you8217;re taking it with you.
I love smoothie prepping blended smoothies for road trips. They act as ice packs for snacks + are perfectly chilled but defrosted when I8217;m ready to enjoy them.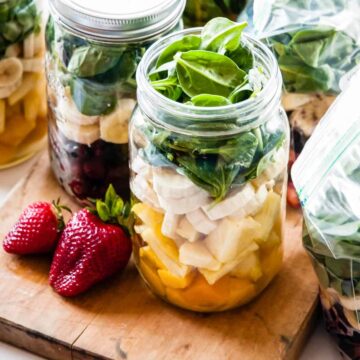 Meal Prep Smoothies
Make smoothies in half the time with my make ahead smoothie prep guide. You can use this process to prep for a day, a week or even a month– depending on how much space you have in your freezer!
Instructions
When ready to use
Remove smoothie pack from freezer. Add liquid base to container or bag (which helps defrost the fruit slightly). You can also thaw for a few minutes on the counter or in warm water. The fruit and greens will come out of the jar/bag easier too.