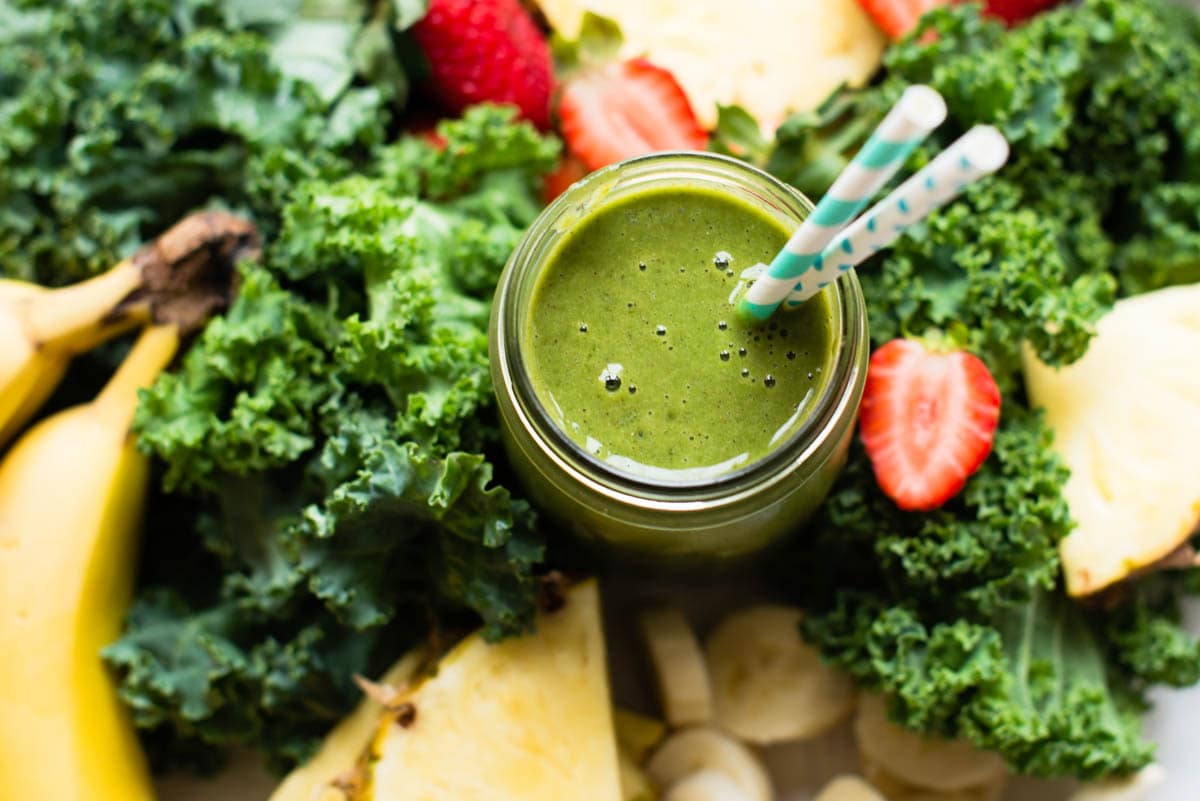 This Kale Banana Smoothie features the leafy green superstar blended with an array of fruit. It will have you saying 8220;Oh Kale Yeah!8221;
This is one of my most popular green smoothie recipes. The combination of fruits and kale make for a very healthy way to add some plant-based power into your day. I know kale may be a scary ingredient, yet this recipe is such a great way to introduce a new leafy green into your routine. Rotating greens in that daily smoothie is a must, so use this smoothie as the gateway to a new fav vegetable.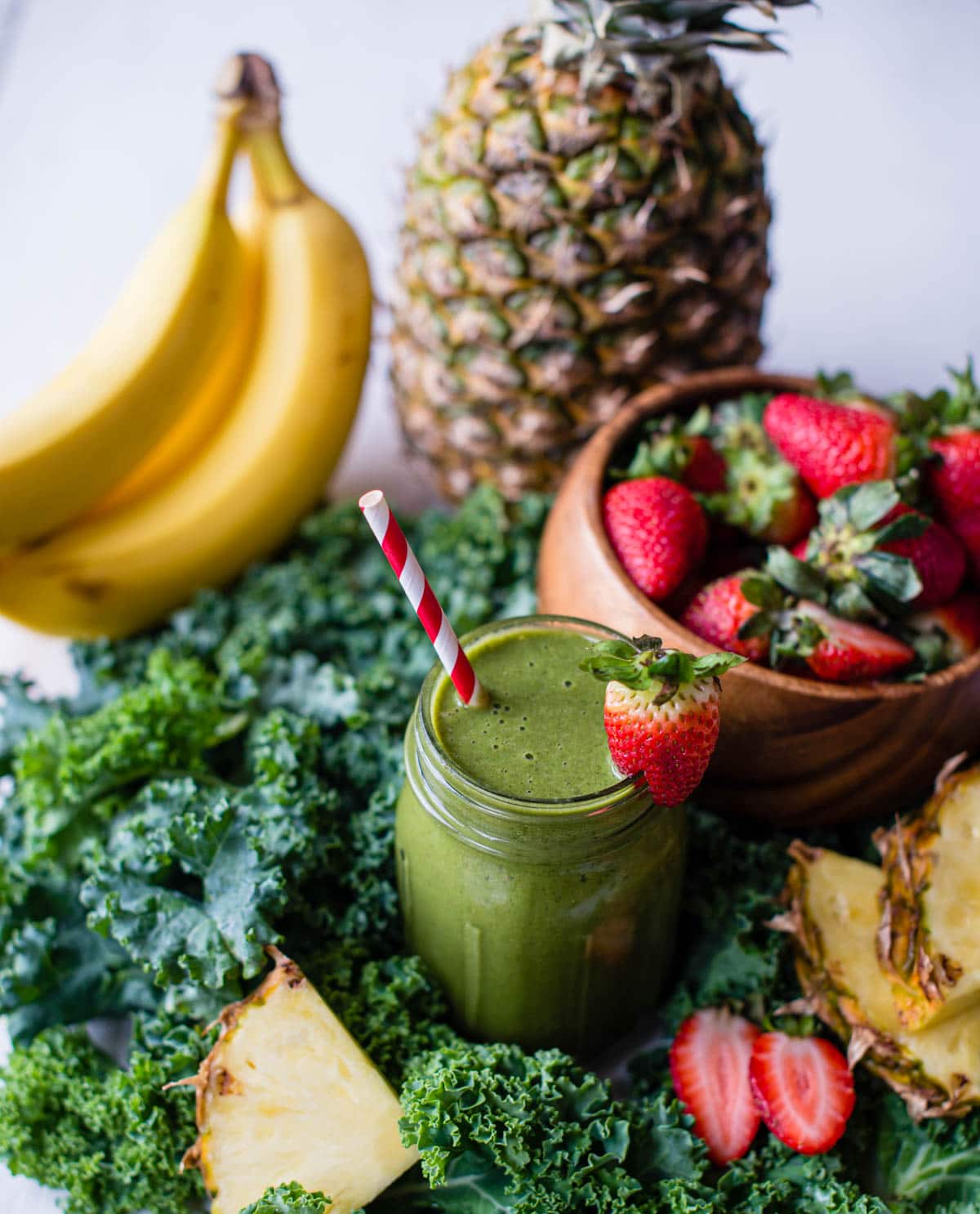 How to Use Kale in a Smoothie
Kale is an excellent smoothie ingredient yet STOP before you just toss the whole stalk in your blender. Kale has a strong, bitter taste, but it doesn8217;t have to stay this way. Massage the leaves between your fingers while washing to tenderize it8230; this actually works! Also, remove the leaves from the stalk and don8217;t add the stalk to your blender. It has the most bite.
I want you to enjoy this kale banana smoothie to the fullest, so follow the simple tips above to sip the smoothie of your dreams.
Kale Banana Smoothie Ingredient Swaps
If you aren8217;t ready for a fully kaled-out smoothie, then use ½ cup kale + ½ cup spinach. You can also use baby kale, which is a bit more mild.
To lower natural sugar yet keep the creaminess in this smoothie, replace the banana with ½ an avocado, or ½ cup of frozen cauliflower.
Replace the strawberries with raspberries or cherries.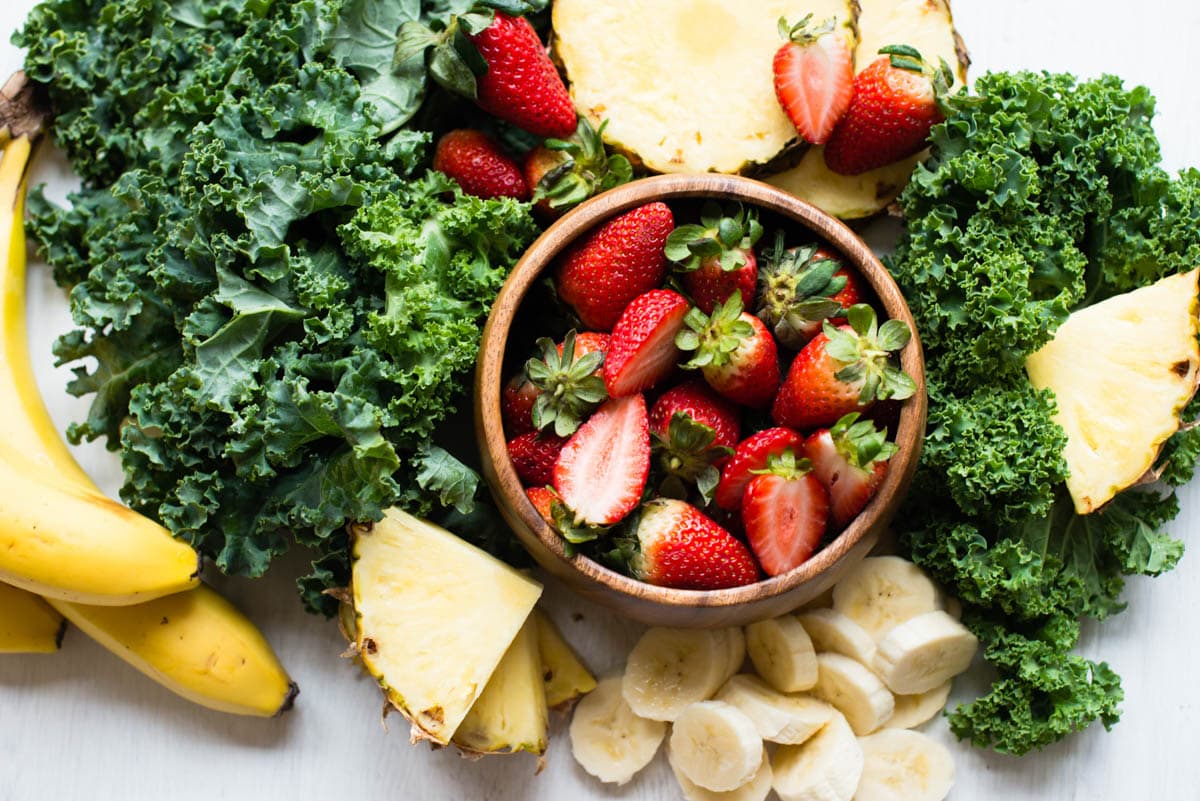 How to Lower Natural Sugar in Smoothies
Even though smoothies are made with 100% whole food, plant based ingredients, the fruit can still be high in natural sugar. If you are sensitive to natural sugar, there are a variety of ways to help your body process those tasty sweet fruits:
Always add leafy greens to your smoothie8211; Leafy greens provide protein, fiber and a number of nutrients that will help your body easily process natural fruit sugar.
Boost your smoothie with protein8211; adding a plant based protein powder that contains both healthy fat, fiber and protein will help your body break down the sugar from fruits as well.
Swap fruits naturally high in sugar with low sugar fruits8211; In this kale banana smoothie, swap ½ the banana for ¼ an avocado (or 1 whole banana with ½ an avocado). Your smoothie will be less sweet, but also lower in sugar. Stick to berry smoothies to really lower the natural sugar content.
Kale Banana Smoothie FAQs
Is it okay to put raw kale in a smoothie?
Yes! Wash the kale well, and massage the leaves while you wash it (this tenderizes them). De-stem before adding to your blender to cut down on the bitterness.
How do you get the bitterness out of kale?
Massaging kale is an easy way to cut down on the bitterness. While washing the leaves, massage them through your fingers until tender. Also make sure to de-stem the kale as the stem is pretty bitter.

Recipes Using Kale
Now that you bought a bunch of kale for this smoothie, what are you gonna do with the leftovers?! I8217;ve got some great recipes using this superfood ingredient.
You might want to buy some more kale for all these gorgeous recipes! Don8217;t forget to try the kale banana smoothie below, then leave a review letting me know how you liked it!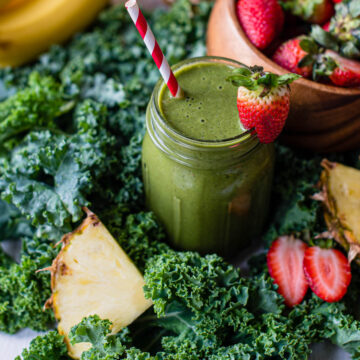 Kale is protein and fiber-rich, and a leafy green superstar. We also call this kale banana smoothie 8220;Oh Kale Yeah!8221;
Nutrition (estimated)
Calories: 214kcal (11%) Carbohydrates: 52g (17%) Protein: 5g (10%) Fat: 1g (2%) Saturated Fat: 1g (6%) Polyunsaturated Fat: 1g Monounsaturated Fat: 1g Sodium: 41mg (2%) Potassium: 940mg (27%) Fiber: 7g (29%) Sugar: 31g (34%) Vitamin A: 6844IU (137%) Vitamin C: 249mg (302%) Calcium: 155mg (16%) Iron: 2mg (11%)