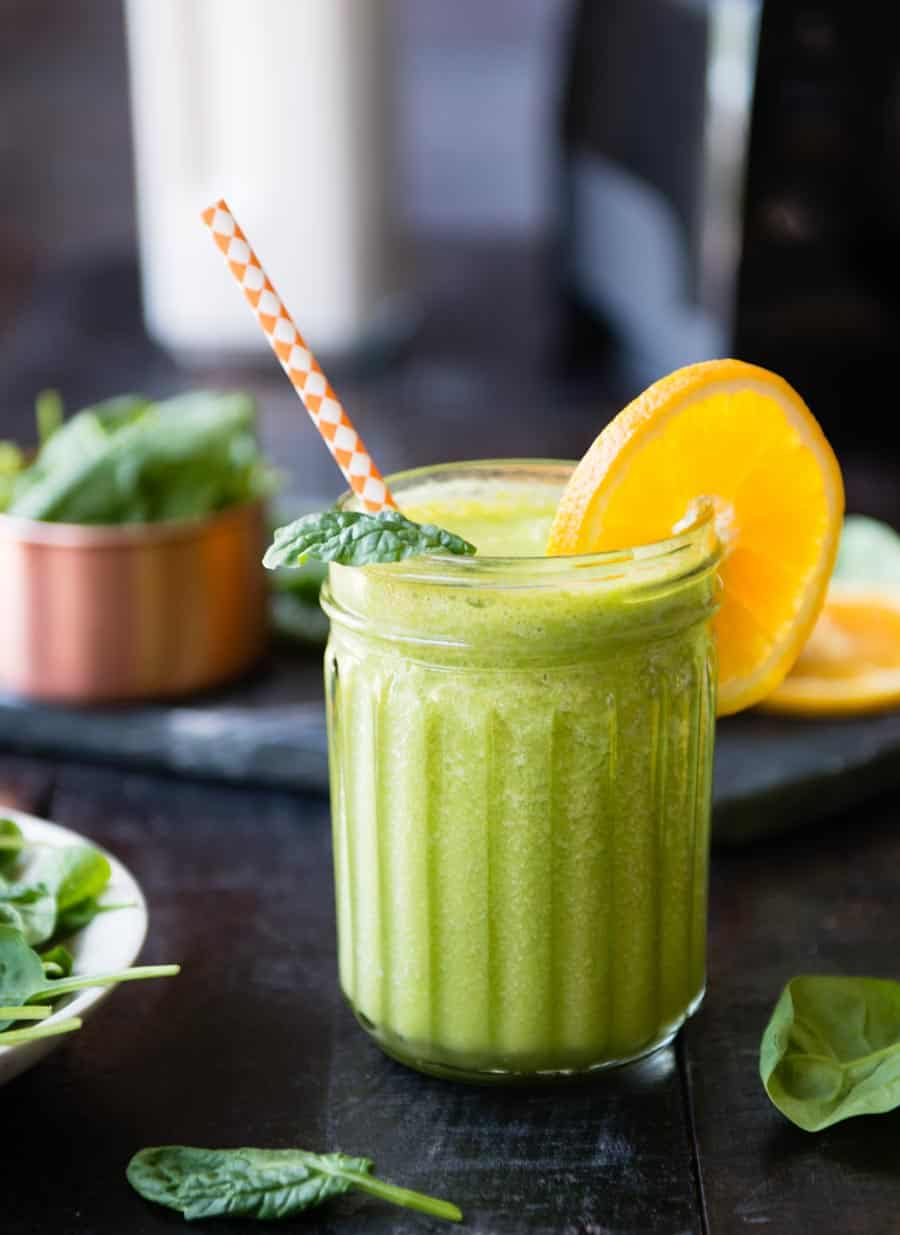 I originally created this spinach banana smoothie for my Simple Green Smoothies cookbook. It is a super hydrating smoothie with loads of natural vitamin C that we can all use this winter. Despite its green color, this spinach orange smoothie can definitely be placed on the brunch menu; it is certainly a crowd pleaser!
I love the tart lemon with the sweet orange and banana. The ingredients really balance each other out well in this fun creation. Boost with a plant protein powder and ride the happiness wave you8217;ll get after the first sip.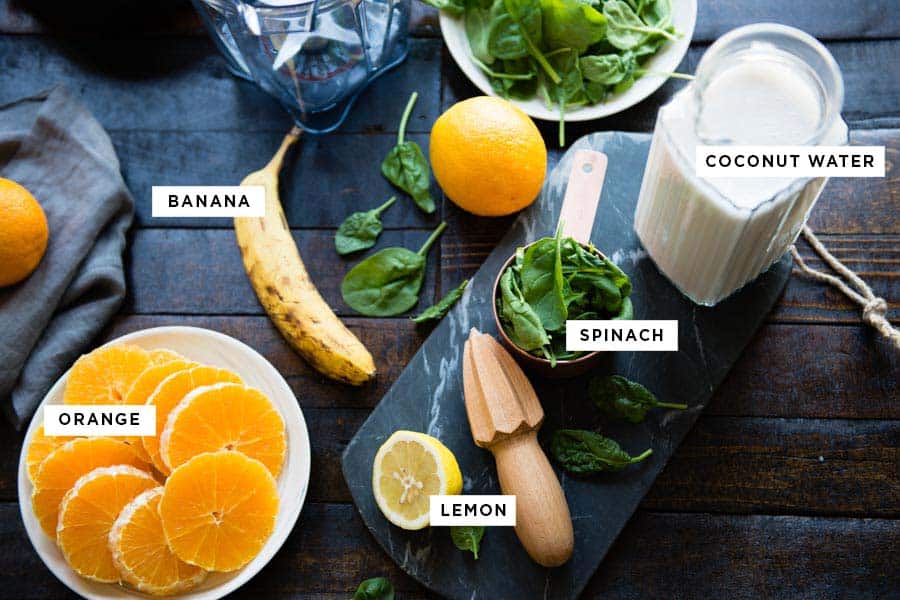 How to Blend a Spinach Banana Smoothie
Oranges are interesting smoothie ingredients because they act as both liquid and fruit. So I add them into the first of 2 blends:
If you8217;re using a high-powered blender, it should easily blend up the citrus. Yet if you are using a non-high powered blender, you might have a slightly pulpy finished product. Still delicious!
Tips for the Perfect Blend
It8217;s hard to blend up citrus fruit completely. They8217;ve got stringy membranes and weird white stuff on them even AFTER you take off the peel! It8217;s also hard to get a creamy smoothie when using oranges and lemons because they are so dang watery. So how do I get a smooth 8216;n creamy spinach orange smoothie?
First, use the less is more method when blending citrus. By that I mean use a small amount of liquid to start, then add more if needed. Second, add a creamy ingredient for that smoothie-like texture: banana, avocado, cauliflower, yogurt or cashews work.
Third, use my 2 blend method to help break down the ingredients in batches. This gives your blender time to break down the orange before adding the lemon to the spinach banana smoothie below. Now go enjoy that creamy smooth beverage like a pro.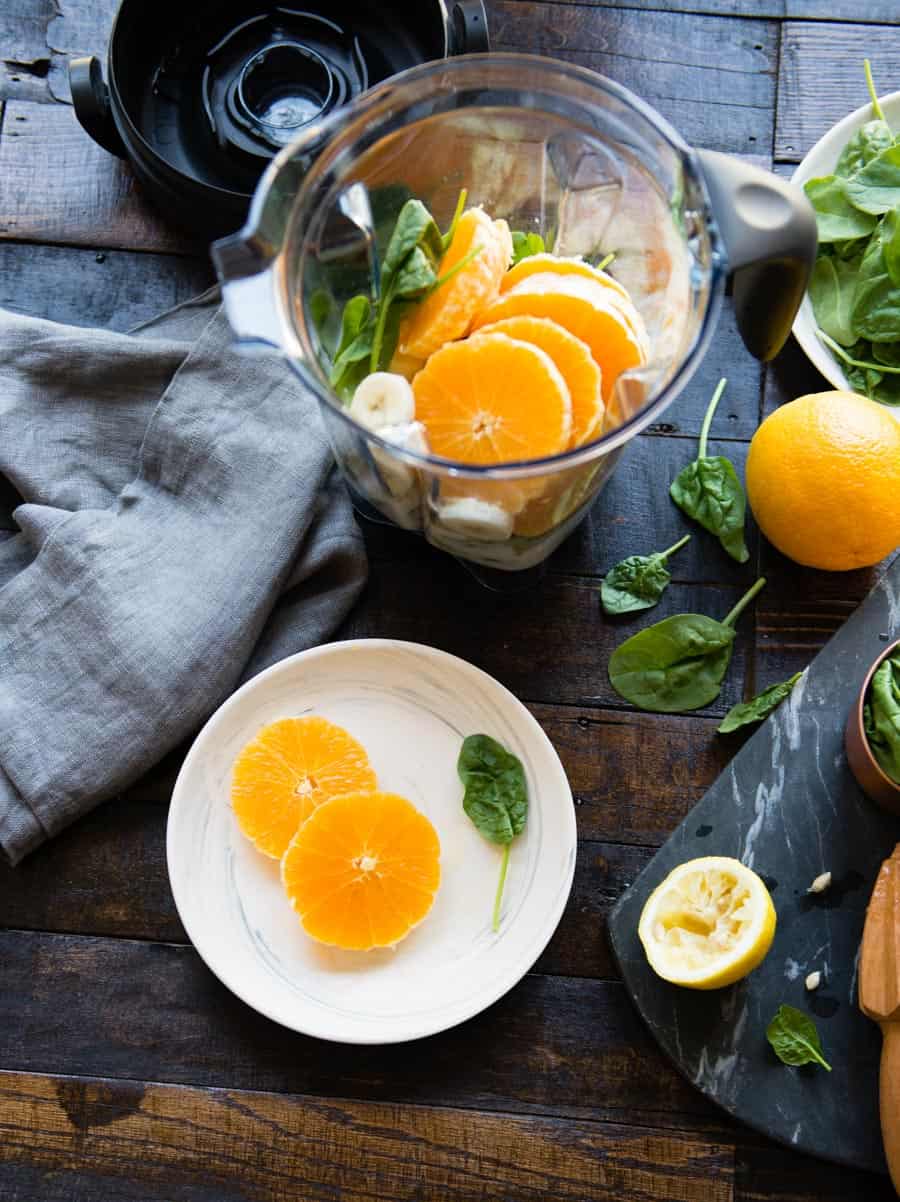 Are banana and spinach a good combination?
Yes! For those new to green smoothies, bananas can really help balance out the earthy taste of spinach. Spinach is fairly mild so while you might notice it slightly in your smoothie at first, I hardly notice it anymore as a smoothie veteran.
Does spinach lose nutrition when blended?
Very few nutrients are lost when blending spinach, so no need to worry! Blended spinach is still a superfood of vitamins, minerals, protein and fiber. Now juiced spinach does lose that precious fiber content, which is why I prefer to blend vs juice.
How does a banana benefit a smoothie?
Bananas are cream machines. They add natural sweetness, a creamy texture, act as a thickener, and pump up the potassium in smoothies. They do have natural sugar, yet not as much as you might think! When they aren8217;t too ripe (I8217;m talking major brown spots), bananas are actually pretty low on the glycemic index.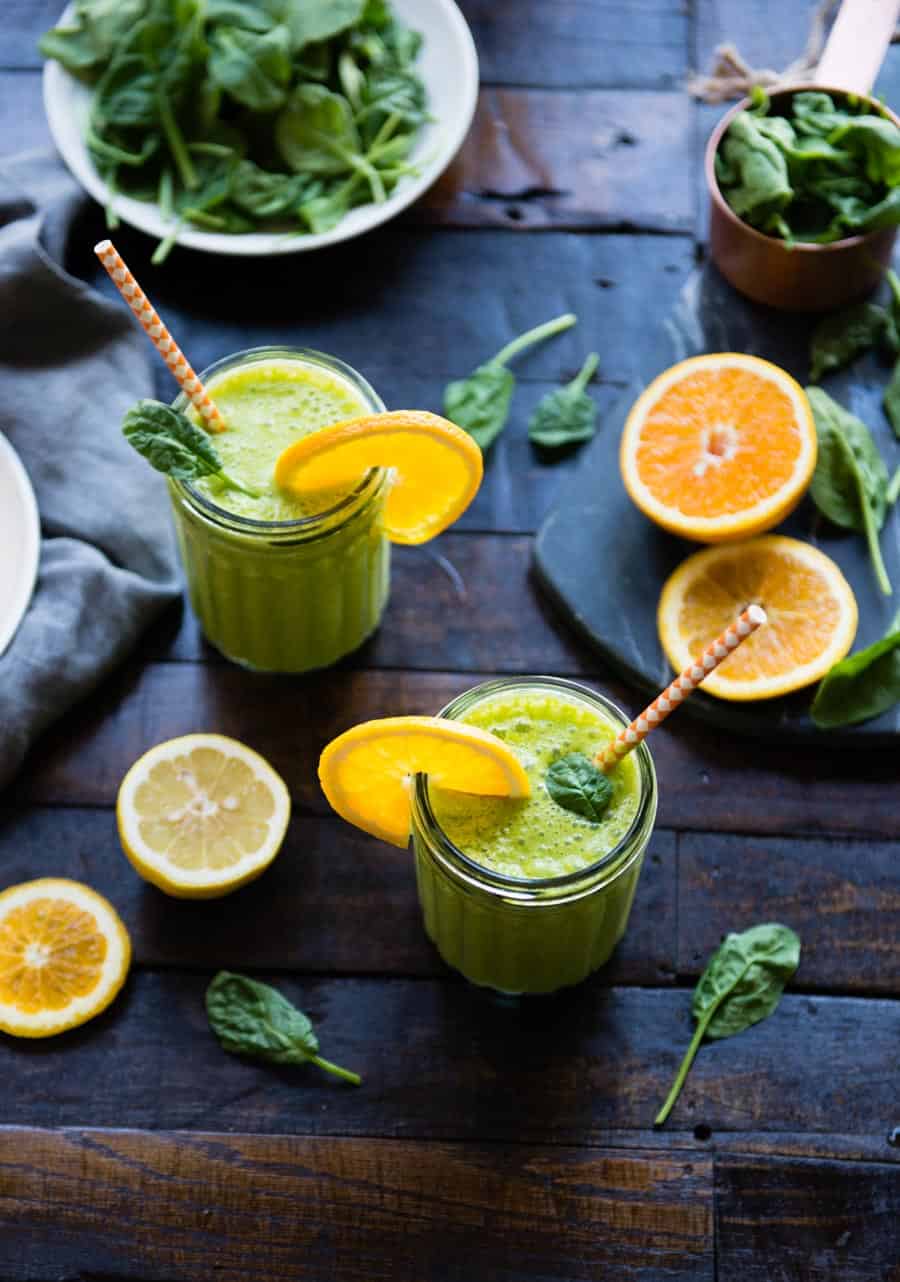 To Peel or Not To Peel Citrus
Peeling citrus fruit is the most common way of consuming them. Both the rind and pith (the white part between the fruit and the rind) are super bitter so it can be tempting to eliminate them ASAP. But hold up! You might actually want to blend some of it into this spinach orange smoothie.
Health Benefits of Orange Peel
The rind of citrus fruits contains powerful antioxidants, bioflavonoids, vitamin C, calcium, potassium and a phytochemical called 8220;limonene,8221; which is being studied in cancer prevention and indigestion.
Orange peels specifically contain calcium, copper, magnesium, vitamin A, folate, and other B vitamins and dietary fiber. As a general rule, if you decide to eat the peel of your fruits and vegetables, give them a good wash and scrub to remove dirt or other things. Start by adding a small part of the peel to this spinach banana smoothie, then add more as you start to love it.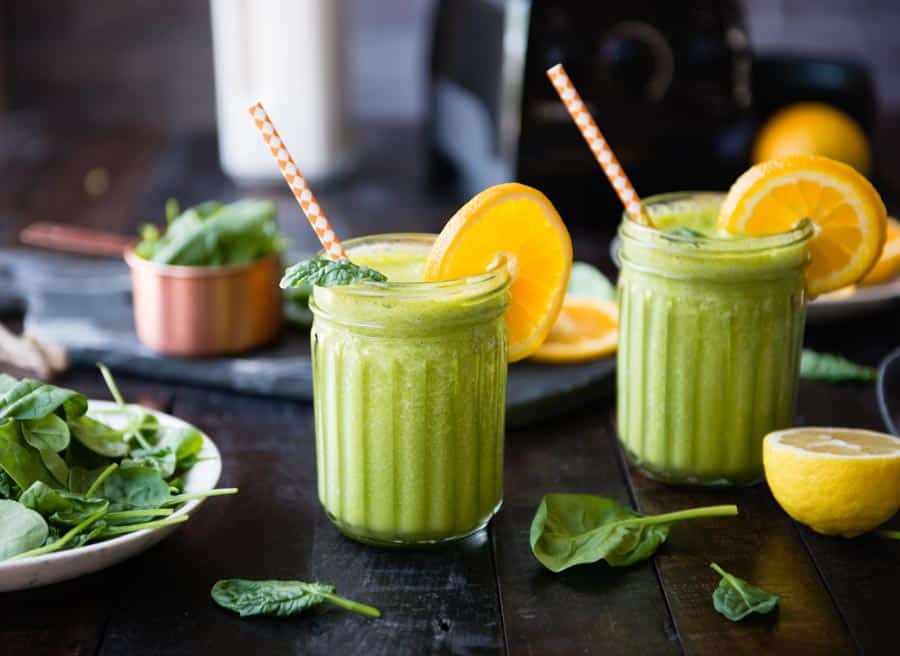 You8217;re about to see how big my love is for all things citrus. I keep coming up with different combos of my favorite citrus fruits and tossing them in the blender. Check out these great recipes for inspiration:
Green smoothies
Fruit Smoothies
Whether it8217;s full of leafy greens or something else, a smoothie is pretty much always a good idea. And a smoothie with citrus is sure to be a winner! Let me know your thoughts on this spinach banana smoothie below8230; and tell me which citrus fruit is your favorite!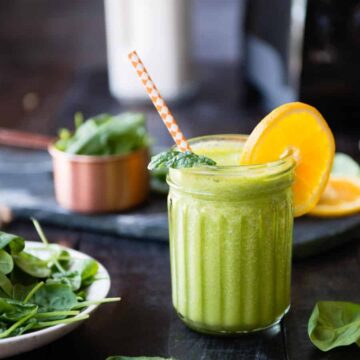 Orange Spinach Banana Smoothie
This spinach banana smoothie is a healthy citrus gem.  It8217;s refreshing and filling all at once—making it a great meal replacement. Feel free to add a scoop of plant-based protein powder to boost it all the way. This orange smoothie is also known as Orange Jewels from my best-selling recipe book, Simple Green Smoothies.
Nutrition (estimated)
Calories: 171kcal (9%) Carbohydrates: 42g (14%) Protein: 5g (10%) Fat: 1g (2%) Saturated Fat: 1g (6%) Polyunsaturated Fat: 1g Monounsaturated Fat: 1g Sodium: 214mg (9%) Potassium: 1140mg (33%) Fiber: 9g (38%) Sugar: 26g (29%) Vitamin A: 3157IU (63%) Vitamin C: 116mg (141%) Calcium: 142mg (14%) Iron: 2mg (11%)