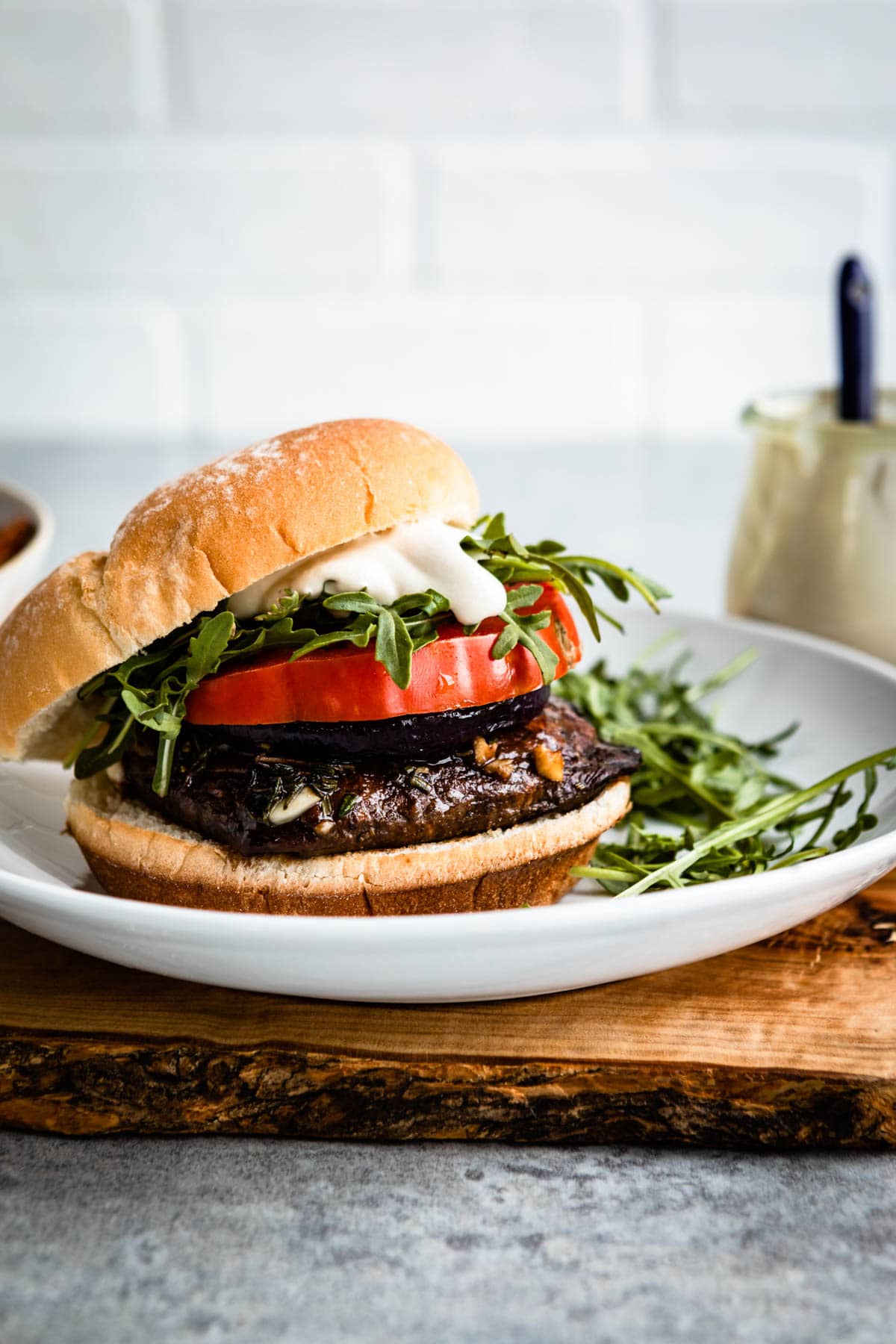 It8217;s officially grilling season, and I8217;m here for it! This summer I8217;m staying satisfied with these grilled portobello mushroom burgers. They are meaty and marinated, and I love 8217;em.
Summer is the time when fresh produce abounds, so take full advantage with colorful pasta salad, fresh potato salad, crunch coleslaw and more.

Tips for Grilling Portobello Mushrooms
Don8217;t rinse directly under the faucet. That8217;s right, grilling great mushrooms starts BEFORE they go on the grill. Mushrooms shouldn8217;t be rinsed directly under water. Instead, use a damp cloth or paper towel to rub them clean before marinating.
Marinate well! Grilled portobello mushroom burgers lose a lot of liquid while cooking, so make sure that flavor is locked in. I like to marinate them overnight to make sure they are well coated.
Grilling mushrooms is easier than it looks, I promise! Follow the above steps and you might be eating portobellos on the regular.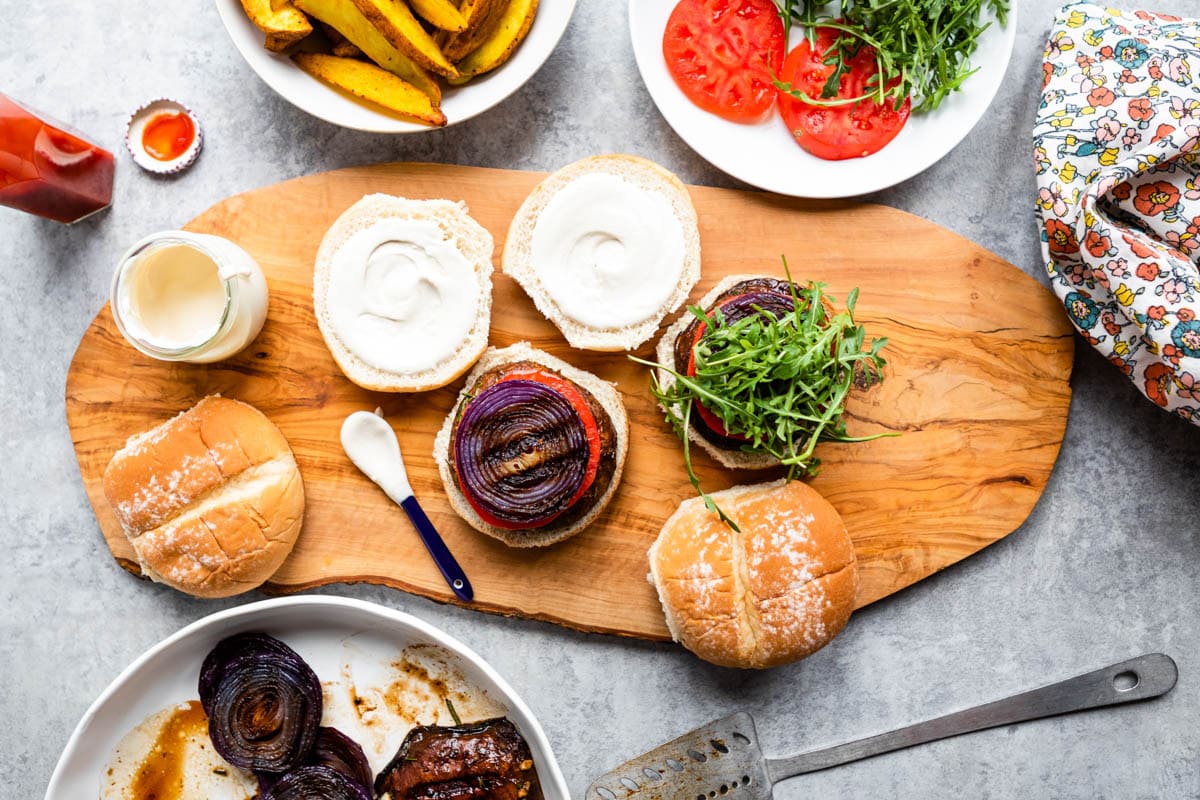 Mushroom Burger Toppings
Because these grilled portobello mushroom burgers are already elevated in taste due to the simple marinade, I want the toppings to be elevated as well. I love the peppery kick of fresh arugula (yet you can use the leafy green of your choice).
Also, I8217;m already using the grill for the mushrooms, so I like to toss on some sliced red onions as well and get a nice grilled flavor for this topping too.
Ketchup and mustard may be the standard fare for grilling, yet I can8217;t get enough of this plant-based garlic lemon aioli recipe. It was originally created for my kale caesar salad, yet it works wonders on this veggie burger.
Finally, no burger is complete without a vibrant, beefsteak tomato straight from the garden. You can also use vine-ripened tomatoes, though they are a bit smaller.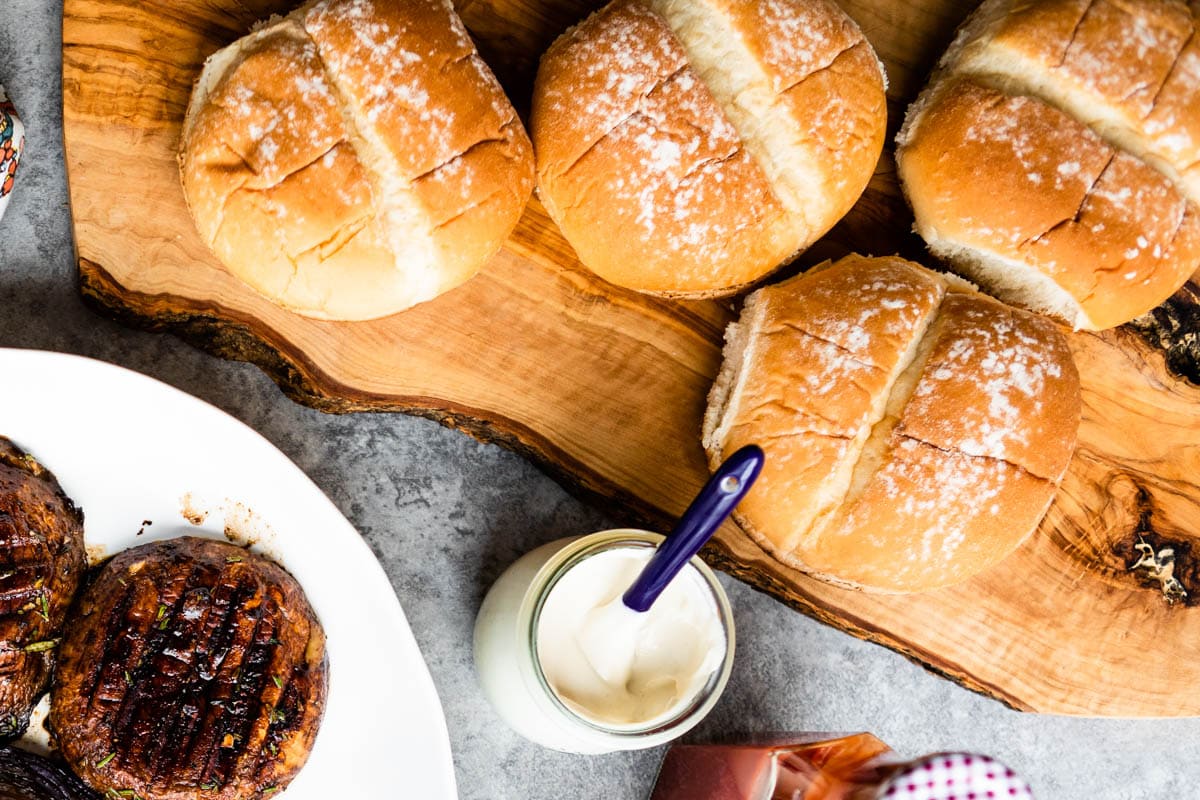 Plant-Based Bun Options
If your body can tolerate a regular hamburger bun, then go for it (potato buns work great for these portobello mushrooms). If you8217;re like me, gluten causes a lot of inflammation throughout my body. If I8217;m craving the texture and experience of a true burger then I8217;ll grab a gluten-free bun, but you can also use a head of lettuce to create a lettuce 8216;bun8217; that8217;s equally delicious.
Feel free to deconstruct your burger and lay it out on a bed of arugula with the toppings of your choice. It will taste excellent this way as well! What8217;s your favorite way to eat mushroom burgers?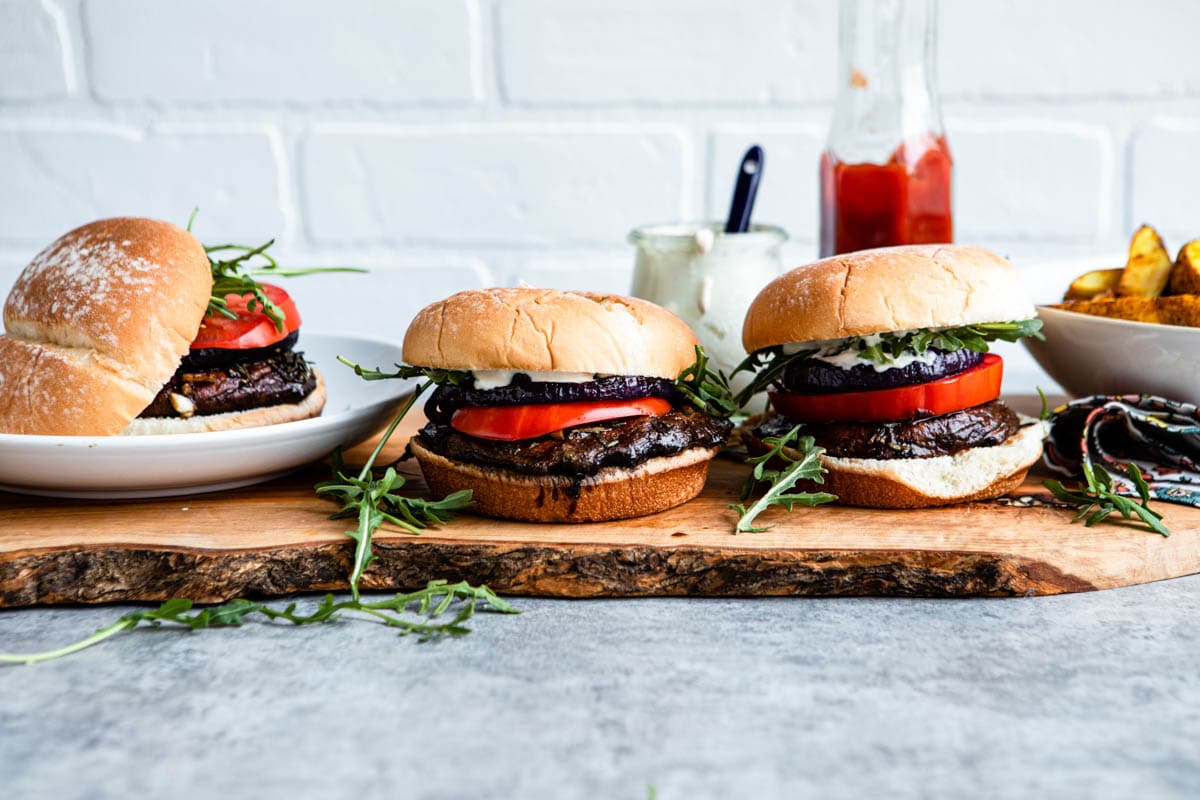 Mushroom Burger Common Questions
How do you prepare a portobello mushroom?
Mushrooms absorb water, so to rinse them off just use a damp towel or cloth to remove any excess dirt from the outside. Remove the stem and scoop out the gills before marinating.
Can you eat the gills of a portobello mushroom?
You can, however, the gills tend to be more fibrous and have a woody taste so it8217;s better to scrape them out.
What8217;s in a portobello mushroom burger?
I marinate my mushrooms in a balsamic vinegar mixture to flavor them, then grill them alongside purple onions. You can use a regular burger bun, gluten-free bun, or lettuce wrap, plus whatever toppings you choose. I love topping my burgers with arugula, tomato, grilled red onion and garlic aioli.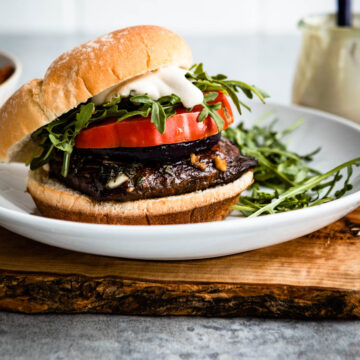 Portobello Mushroom Burgers
These marinated portobello mushroom burgers are the perfect, hearty main dish for all your summer parties. They are surprisingly easy to make and delight both meat and plant eaters!
Nutrition (estimated)
Calories: 410kcal (21%) Carbohydrates: 56g (19%) Protein: 6g (12%) Fat: 20g (31%) Saturated Fat: 4g (25%) Polyunsaturated Fat: 2g Monounsaturated Fat: 11g Trans Fat: 1g Sodium: 457mg (20%) Potassium: 573mg (16%) Fiber: 5g (21%) Sugar: 15g (17%) Vitamin A: 597IU (12%) Vitamin C: 12mg (15%) Calcium: 79mg (8%) Iron: 2mg (11%)
Summer Main Dishes
I8217;ve added many of my favorite summer recipes to the blog to help you enjoy a plant-based summer like no other. Besides my portobello mushroom burgers, here8217;s what I like to bring to parties all season long:
And don8217;t forget about the side dishes! With these recipes, you8217;ll be set for a summer full of incredibly delicious food made with plants.