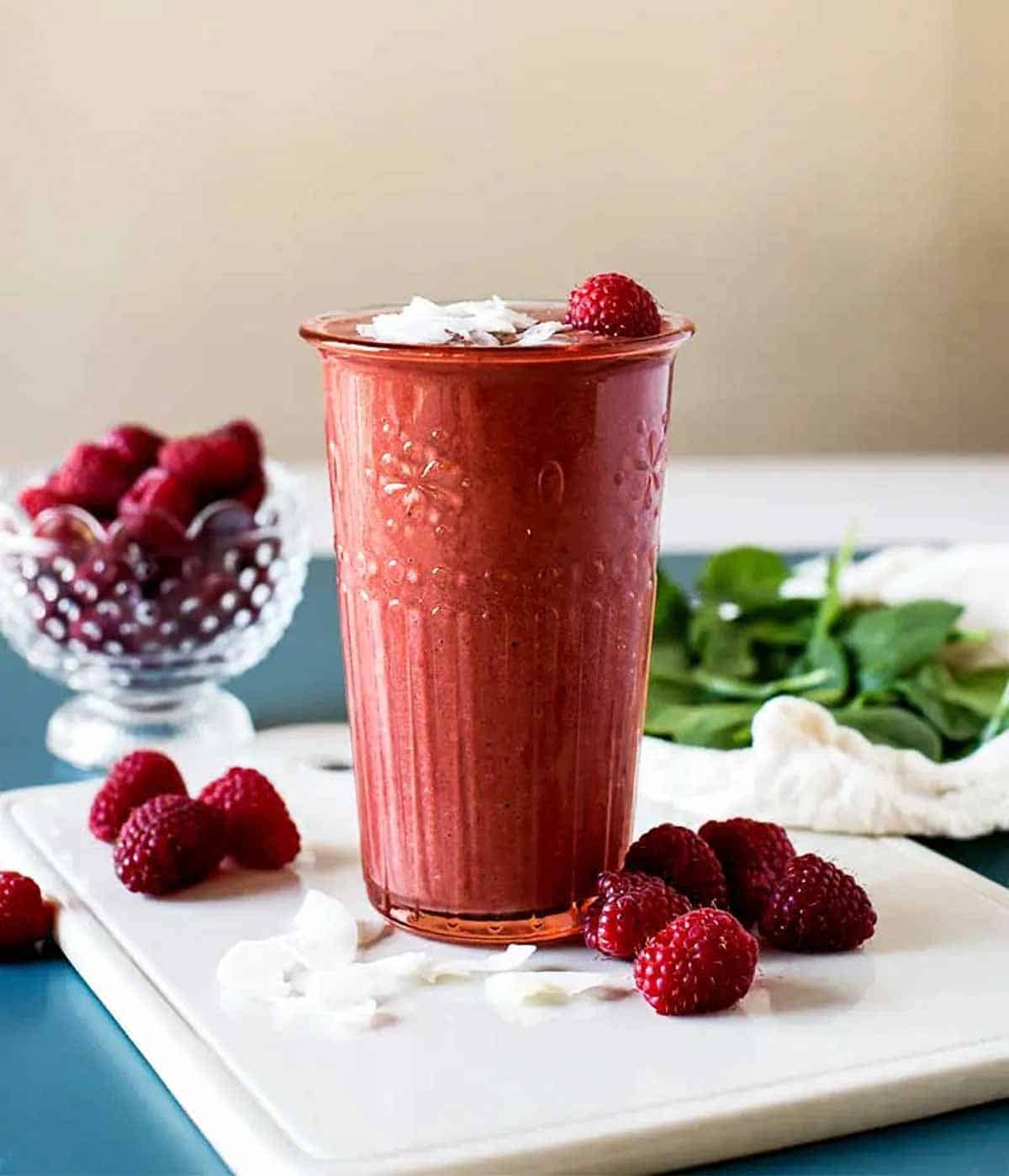 What's not to love about raspberries? Their color! Their cool bumpy shape! The taste – oooh that delicious taste!
And did I mention how good for you those tiny deep pink berries are? They contain vitamins C + E, omega 3 fatty acids, potassium and antioxidants. Honestly, I can't wait to get blending this raspberry smoothie! Let's go!
Discover what's inside this Raspberry smoothie
Blending a tasty smoothie takes the right ingredients as well as the right formula to turn out well. Over the years, I've learned what works best when it comes to taste, texture and nutrients. That is to say, using yummy fruits to help hide the extra healthy greens within is a huge win for your health. Take a look at what makes up this raspberry smoothie recipe…
Bright, tart raspberries
I used fresh ones for the photo, yet normally I use frozen raspberries. Consequently, they chill the smoothie and are almost always more affordable. Lower in calories and sugar, high in antioxidants and fiber – the raspberries in this smoothie are a powerhouse ingredient. Those antioxidants (signaled by the rich red color) can help prevent cancer and other diseases. In addition, vibrant colored raspberries make this particular concoction such lovely color and taste like summer relaxation in a glass!
Raspberries ::
Naturally lower in sugar than many fruits + higher in fiber and nutrients. That's a total win-win!
Creamy coconut milk
Coconut milk makes this raspberry smoothie creamy + satisfying. If you give it a blend, then you'll see that it turns this ordinary fruit smoothie into a decadent dessert drink. In addition, the healthy fats from the plant based coconut milk will help curb your appetite and assist your body in absorbing the nutrients of the fruit and veg you're consuming.
On the other hand, using my coconut milk smoothie cubes in this raspberry smoothie recipe is another great option. The cashew nuts and MCT oil in these cubes provide an additional bump in healthy fats, making for an even more filling icy cold drink.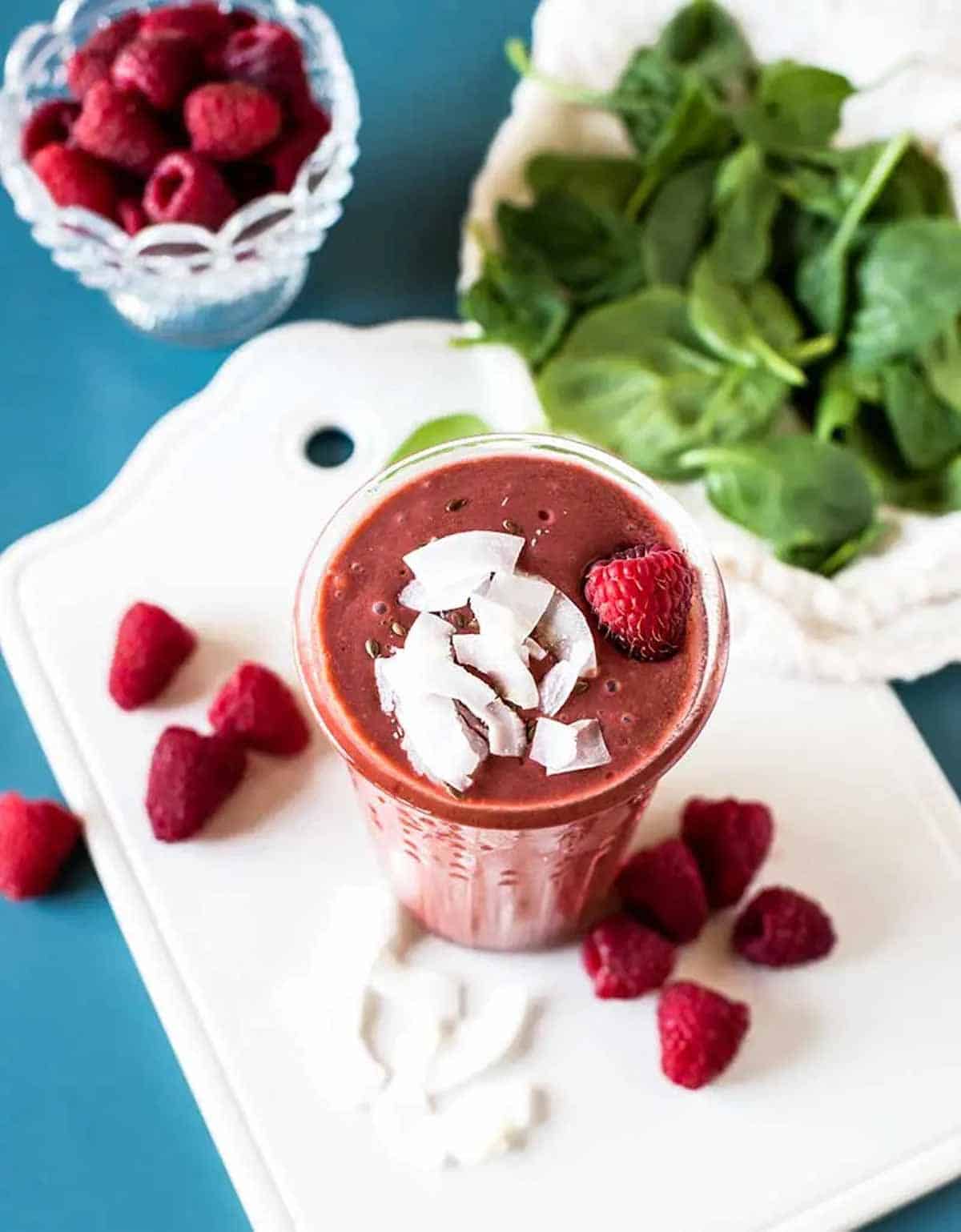 Iron-Rich Spinach
Spinach is the hero in this raspberry smoothie recipe! I mean, if you think about it those little green leaves kinda look like plant version of tiny superhero capes. Just me? Okay, but seriously – you won't taste this leafy green at all!
With spinach you reap all the benefits of phytonutrients, but none of the strong taste of greens. Phytonutrients are (glad you asked!) powerful antioxidants that help fight damage at the cellular level in your body. Spinach also helps slow the absorption of the fruit sugars into your blood stream because it's high in fiber.
Heart healthy flaxseed
Lastly, I tossed in a spoonful of flax seed to boost your omega 3's and healthy fats, which are lignans. It's important to include lignans in your diet, and flaxseeds are an excellent source. Lignans may reduce your risk of heart disease, stroke, cancer, and diabetes. 
Also, flaxseeds are just the thing to include for a bit of protein when you're craving something fruity, sweet + healthy. They can be added to all kinds of smoothies – not just this raspberry recipe!
Another quick, easy way to add protein containing flaxseed to this raspberry smoothie is with Protein Smoothie Boost. All of the nutrition, none of the fillers or artificial sweeteners – Protein Smoothie Boost pops in a bonus of 10g of clean protein to any smoothie. That's thanks to the organic hemp, chia and flaxseed it contains in my perfectly proportioned and smooth blending formula. I made this with you in mind, smoothie lover!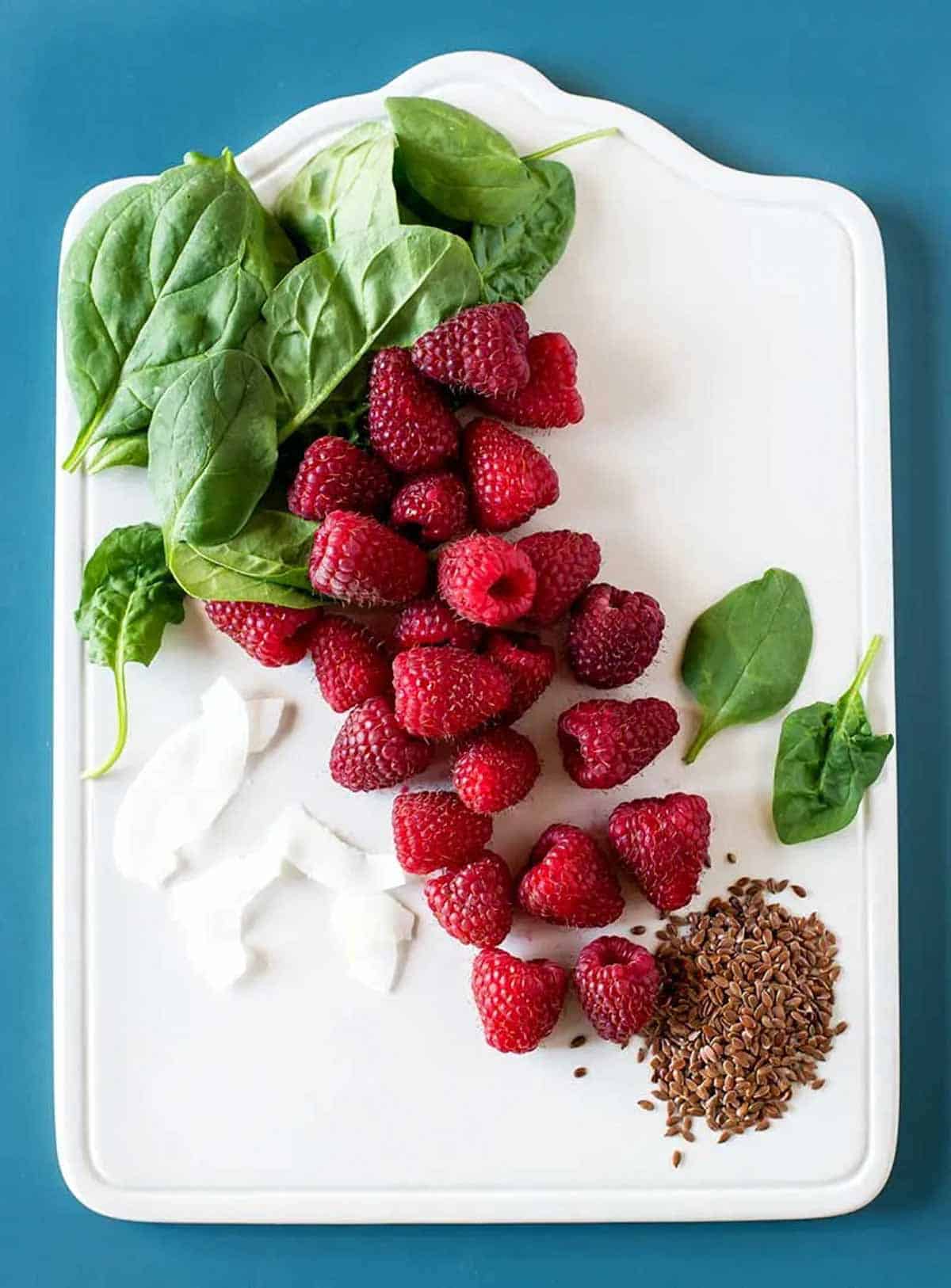 Which liquid base is best?
This raspberry smoothie recipe features a coconut milk base. Just as I mention above, this is to add healthy fat to keep you fuller longer. As a result, your raspberry smoothie will be creamier too.
However, what if you're looking to reduce the calories and aren't needing as much healthy fat? You can totally swap out the 1 cup unsweetened coconut milk for 1 cup water or other plant based milk of your choice (like almond or oat milk) instead.
More summer berry recipes
Looking for more ways to rawk berries in your daily life? Have fun exploring these yummy summer berry combos while you relax poolside. And don't forget to invite me! #friendswithpools
Strawberry vegan milkshake
Blueberry spinach smoothie
Smoothie bowl recipes
Strawberry banana smoothie
Fresh blackberry smoothie
FAQs
Before you blend this raspberry smoothie
Not sure if your blender can handle the greens? I already did the research for you! Check out The Ultimate Blender Guide for details on countless blenders. Most importantly, I looked for the best ones to blend quickly, get rid of leafy chunks and provide tons of value for the price.
Happy blending! Be sure to hit us up with a comment below and let us know what you thought!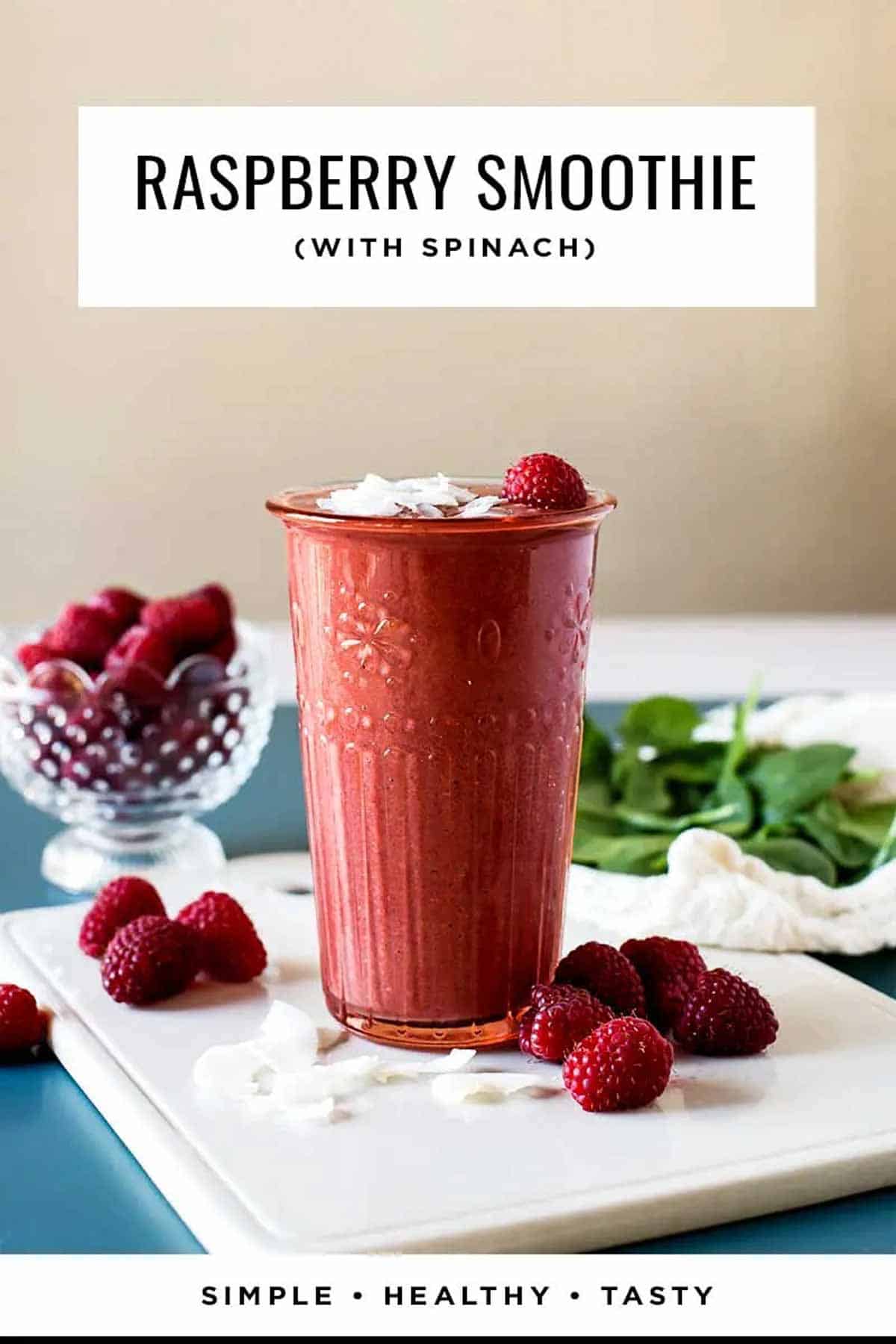 clock
icon
cutlery
icon
flag
icon
folder
icon
instagram
icon
pinterest
icon
facebook
icon
print
icon
squares
icon
heart
icon
heart
solid
icon
---
---
Make this Healthy Raspberry Smoothie Recipe!
I really hope you blend this and love it! Above all, it's a simple treat that really nourishes the body and satisfies a sweet tooth. Comment below with any questions or ideas you have!