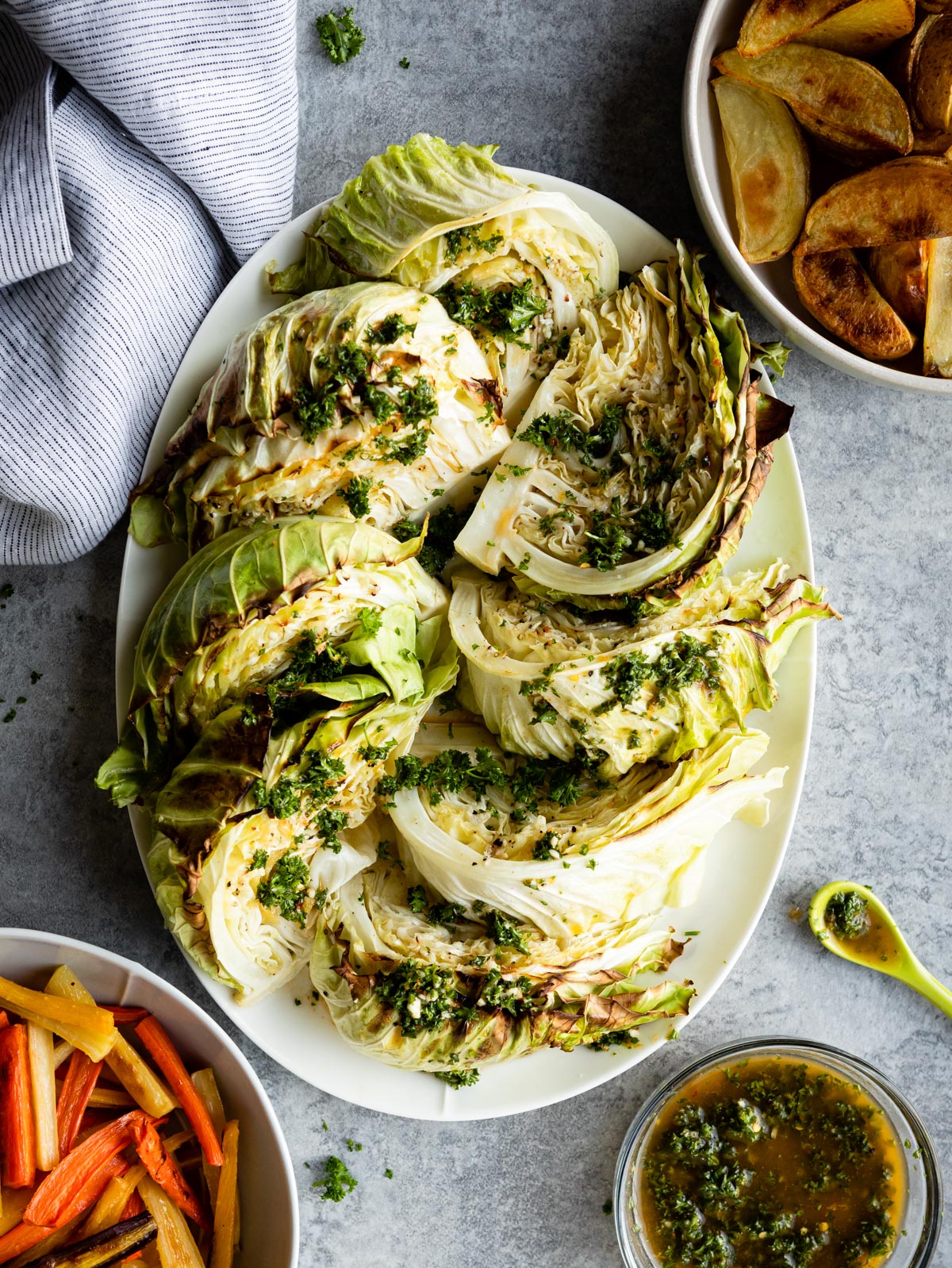 Today8217;s recipe definitely brings me back to my childhood. I grew up in an Irish-Polish family with a deep love for St. Patrick8217;s day. It8217;s probably why I8217;m all about pickles, horse radish sauce and sauerkraut. Today, I8217;m sharing my version of a childhood recipe, Roasted Cabbage Wedges.
This recipe is full of flavor thanks to the sauce, has incredible texture (especially when you blacken the edges) and is really good for you. I can8217;t wait for you to try it!
How to Roast a Head of Cabbage
I know many of you have a love/hate relationship with cabbage, and I don8217;t blame you! If you grew up on boiled, soggy cabbage then you are missing out. This recipe is 100% crispy and comforting.

Cabbage is full of tightly layered leaves. Before you chop it and toss it into the oven, be sure to soak those wedges in a bowl of water for a few minutes to pull out any excess dirt.

Since I8217;m roasting on high heat, I want to use an oil that won8217;t burn. Avocado oil is a rich oil that is perfect for this recipe. You8217;ll use it in the sauce as well.
Bake until the outside is toasty. The cabbage edges should be browned. If you like a black char then feel free to broil for a few minutes just before removing (watching it closely!).
Picking the Right Cabbage
I use cannonball cabbage for this recipe. It roasts perfectly on the outside while turning tender in the middle. Yum! I find purple cabbage too thick for this recipe, yet if that8217;s what you8217;ve got on hand then go for it!
What is your favorite type of cabbage? Leave a comment and let me know. I8217;d love to try this recipe out on a new variety!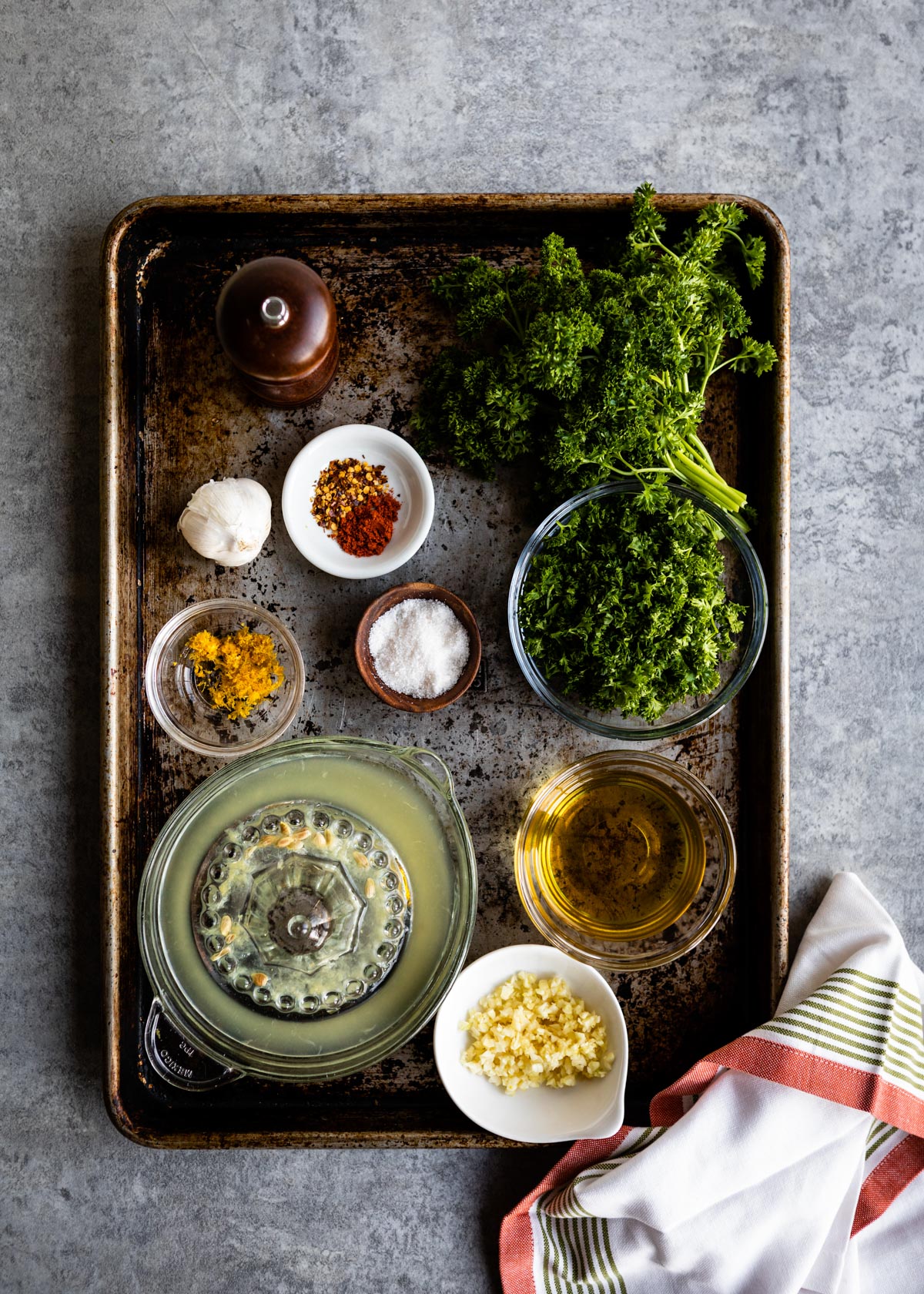 Seasoning Roasted Cabbage Wedges
While you can season your cabbage wedges however you want, I find my parsley sauce the perfect edition to this roasted dish. I also season with garlic, sea salt and pepper before roasting to enhance the natural flavors as well.
If spice isn8217;t your thing then just omit the red pepper flakes. You can even keep them in a side dish for anyone who wants to add some to their individual portion.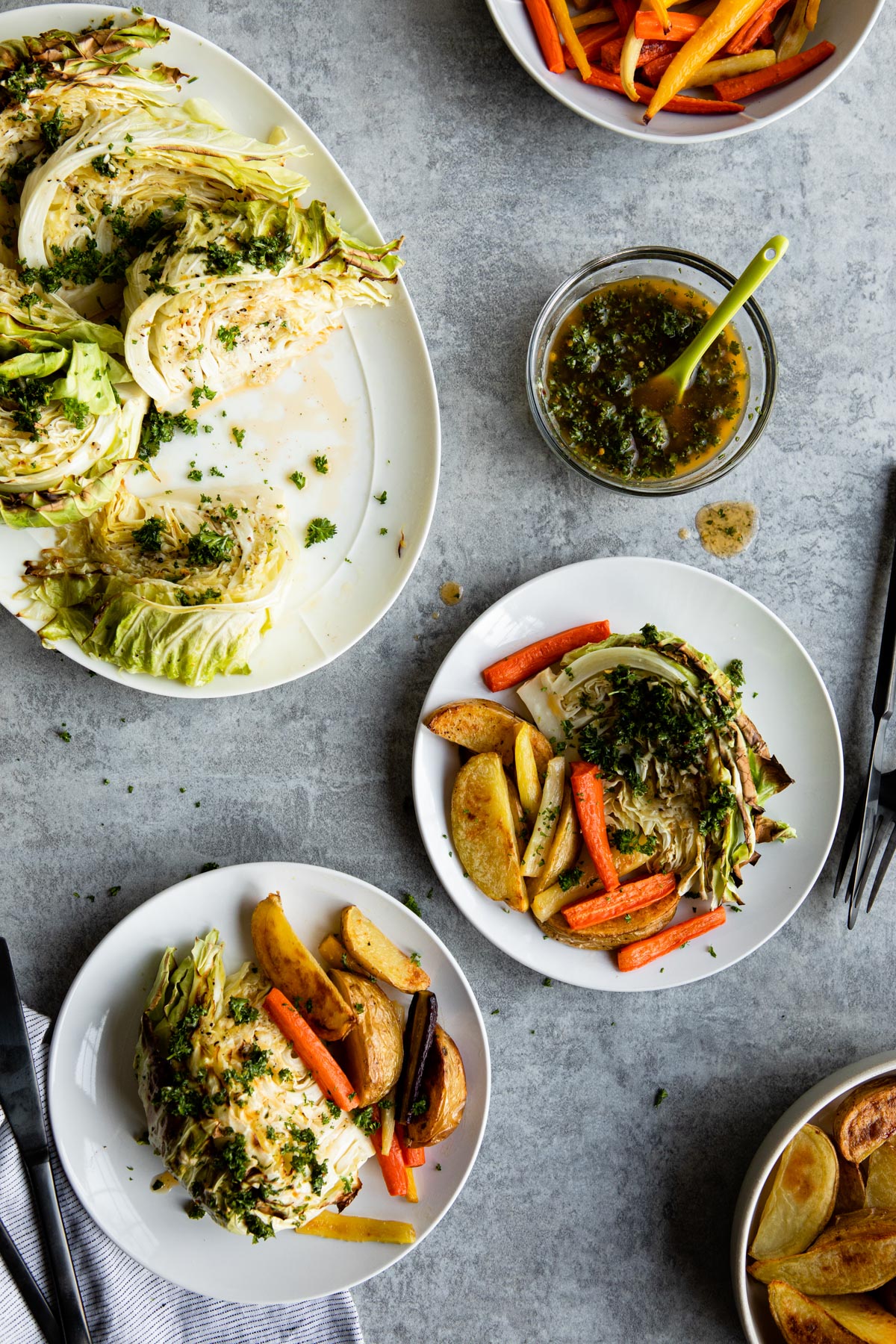 Roasted Cabbage FAQs
What is a healthy way to eat cabbage?
My roasted cabbage recipe is a great way to incorporate delicious cabbage into your diet. It8217;s made with real ingredients and no weird additives. You can use less healthy fat than I do with the avocado oil, and spice it exactly how you want.
How do you make cabbage more tender?
I use a brush when adding avocado oil to cabbage before roasting it. This allows for better coverage between the tight leaves and results in a crispy on the outside, tender on the inside dish.
How do you cut a head of cabbage?
I use a large knife with a pointed end. That way I can seamlessly slice through the head of cabbage (on a cutting board, of course!) without having to hack at it. Start with the cabbage on its side, meaning the core is facing you and not touching the cutting board. Slice in half, cutting through the core. Once you8217;ve halved the cabbage, you can more easily cut it into wedges. I leave the core in when roasting cabbage to help keep the leaves all together. It8217;s easy to remove once you8217;re ready to serve it.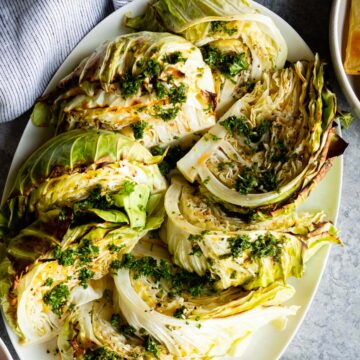 Roasted Cabbage Wedges
I grew up on roasted cabbage so it8217;s a staple in my St. Patrick8217;s Day celebrations with my family. Enjoy this simple yet comforting recipe and start a plant based tradition with your family, too!
Notes
Leaving the core intact while baking helps prevent the wedges from falling apart before you8217;re ready to serve them. 
I recommend using cannonball cabbage (the green head you typically see at the grocery store) in this recipe for the best results. 
Nutrition (estimated)
Calories: 192kcal (10%) Carbohydrates: 16g (5%) Protein: 4g (8%) Fat: 14g (22%) Saturated Fat: 2g (13%) Polyunsaturated Fat: 2g Monounsaturated Fat: 10g Sodium: 633mg (28%) Potassium: 491mg (14%) Fiber: 6g (25%) Sugar: 8g (9%) Vitamin A: 1534IU (31%) Vitamin C: 107mg (130%) Calcium: 117mg (12%) Iron: 2mg (11%)

Easy Vegetable Recipes
I hope you love this recipe as much as I do. I know part of it is nostalgia, yet it8217;s also just a good dish! If you8217;re looking for more ways to easily incorporate veggies into your meals then check out some of these great options: