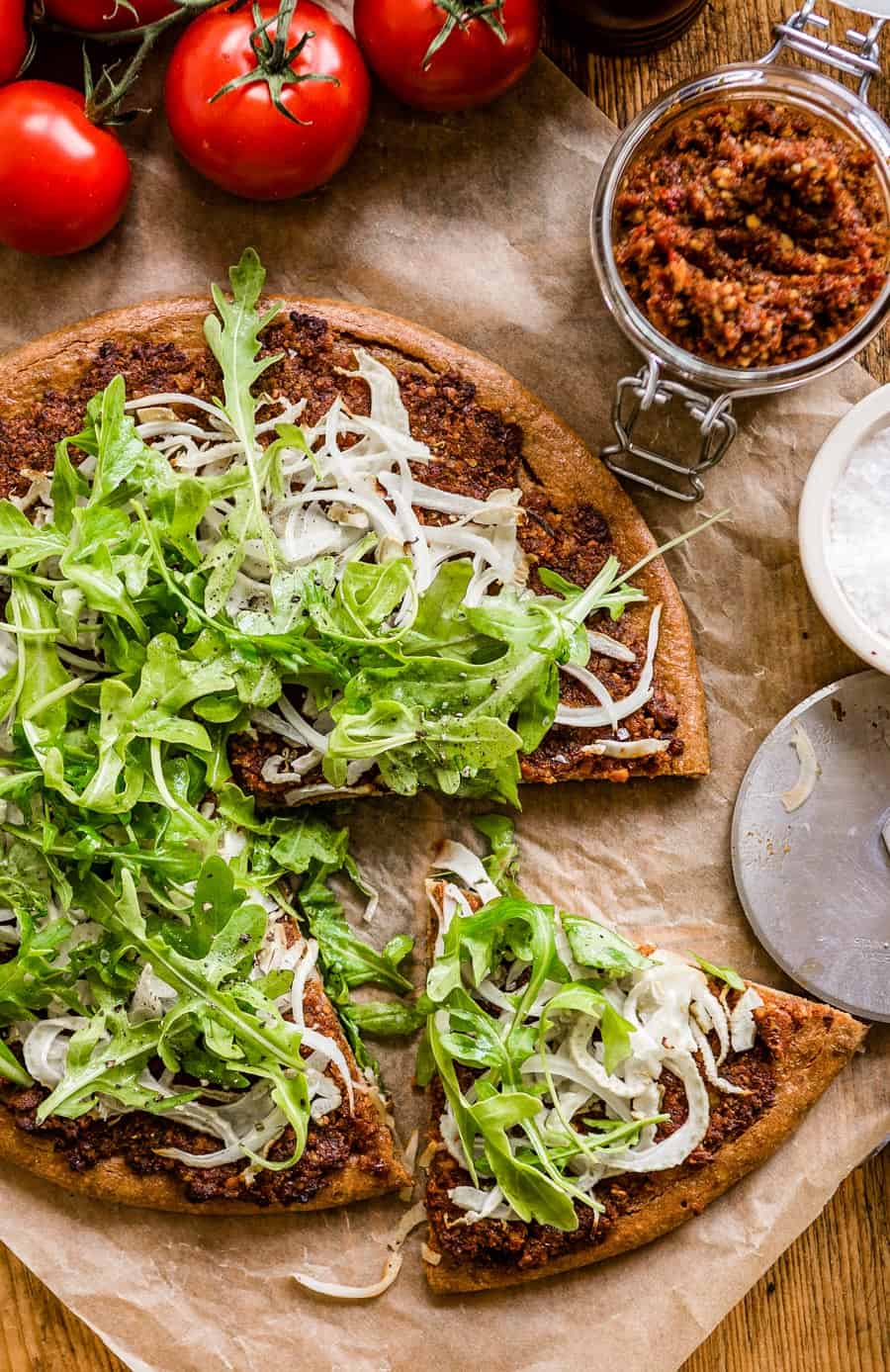 Pizza is a staple in our household and Savory Plant-Based Pizza is one of our favorites! You can find this as well as 100+ recipes in my new book, Simple Green Meals. 
Friday nights in the Hansard household are my favorite. Why? Because it8217;s pizza night! We have school, work, baseball practice, gymnastics, and a ton of obligations through the week, so Ryan and I decided to set aside a night for our little family to unwind and reconnect8230; and what better way than with pizza?!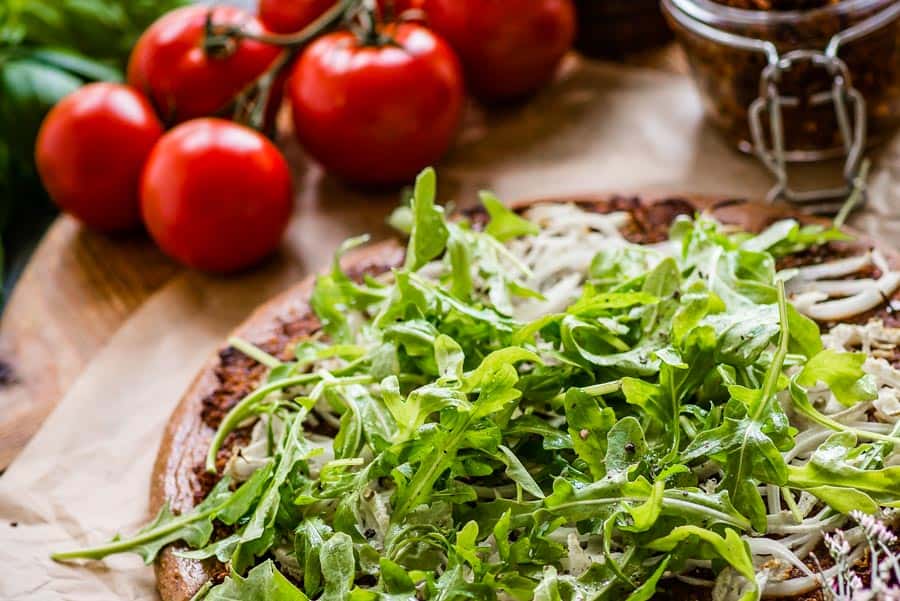 Plant Based Pizza Recipe
Traditional homemade pizza takes a bit of time and patience, as does my recipe. So read through the instructions before you make it, and give yourself time to really enjoy this delicious plant based take on a Friday night classic:
Gluten-Free Crust
The crust for this pizza recipe is not your typical gluten-free crust. No gluten-free flour or yeast. It8217;s literally quinoa, water and seasoning. And yet it8217;s got a dense texture that is crispy on the outside, doughy on the inside. It has weight like regular pizza crust and is quite filling!
If you8217;ve got a fav pizza seasoning, use it in this plant based pizza crust! You can also make this crust ahead of time and freeze. Thaw than add toppings before the last cook time when you8217;re ready to use it.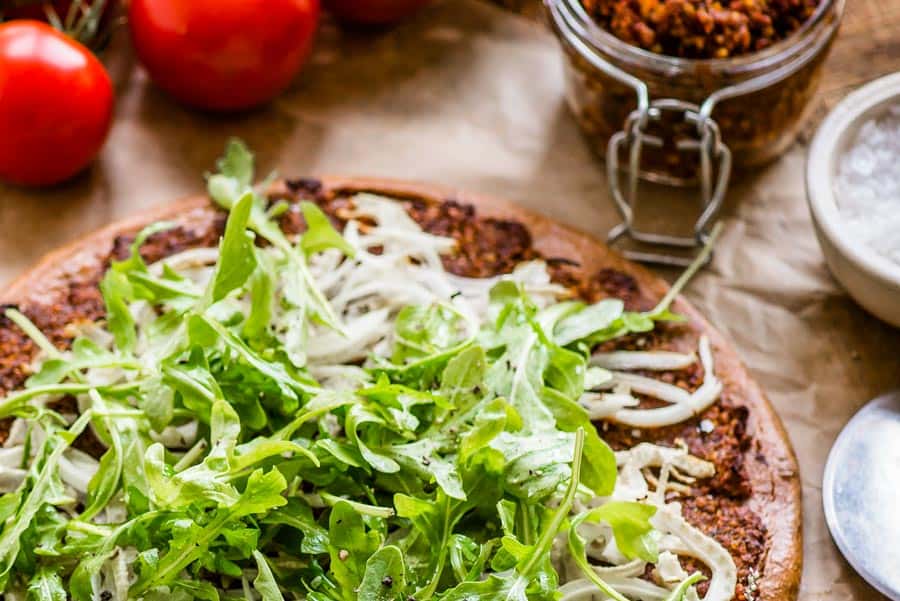 Pizza FAQs
How healthy is plant based pizza?
As healthy as you make it :-). But for real, you can add all the fake cheese + meat you want, yet most products have additives and weird ingredients. My savory plant based pizza recipe is filling and flavorful yet 100% plants and all natural.
Can pizza be plant based?
Easily! Basically just take off the meat + cheese and you8217;ve got a vegan pizza. Yet I take it a step further with my gluten free crust that uses quinoa as the base.
Is vegan pizza good?
Umm8230; yes! Honestly, I8217;m a bit of a pizza snob. So when I set out to create my own plant based recipe without gluten or dairy, it had to be delicious for me to choose it over the traditional stuff. This pizza recipe is flavorful and has the texture I want in a pizza. If dairy doesn8217;t both you, then toss it on! Yet if you want a vegan version, this savory one def hits the spot.
Can You Eat Pizza on a Plant-Based Diet?
Since doing my first 21-day plant-based cleanse, I know my body feels best when I just eat plants. Our kids will always choose a traditional NY style cheese pizza from our local pizza shop, Padula's. Yet I know how I8217;m gonna feel when I eat that so I8217;ve started making my own personal-size plant based pizza for my husband and me to enjoy too. Now, I can enjoy one of my favorite meals without feeling bloated and icky. Ya feel me?!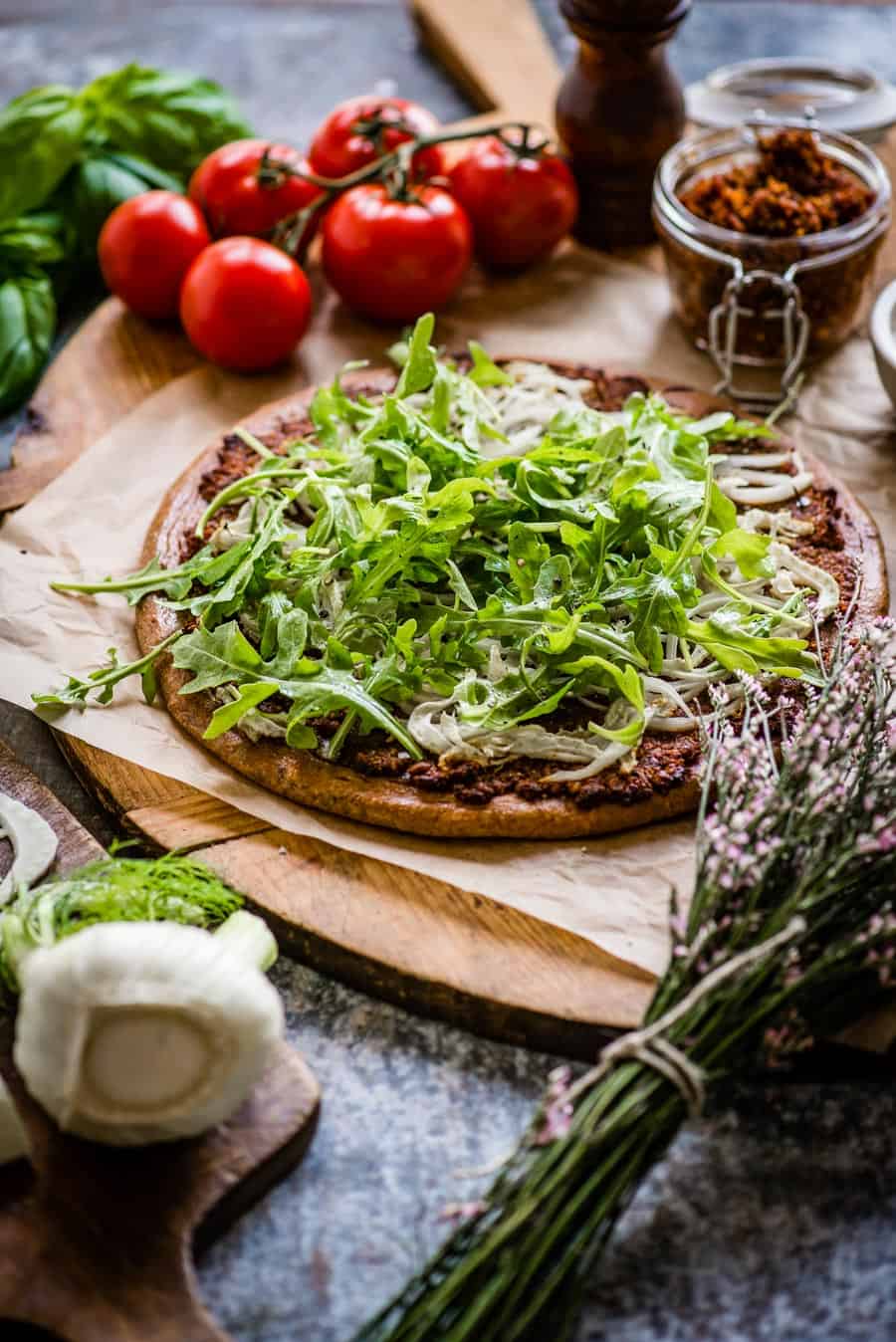 Easy Recipes Using Plants
Add one of these recipes to your meal rotation next week. You might be surprised at how easy a vegetarian dinner is8230; and none of these are leafy salads!
I want my food filling and tasty; I don8217;t have time for bland and empty calories. These recipes help me get in more plants each day while also allowing me to enjoy my meals. I can8217;t wait for you to try this plant based pizza recipe; don8217;t forget to let me know how it turns out!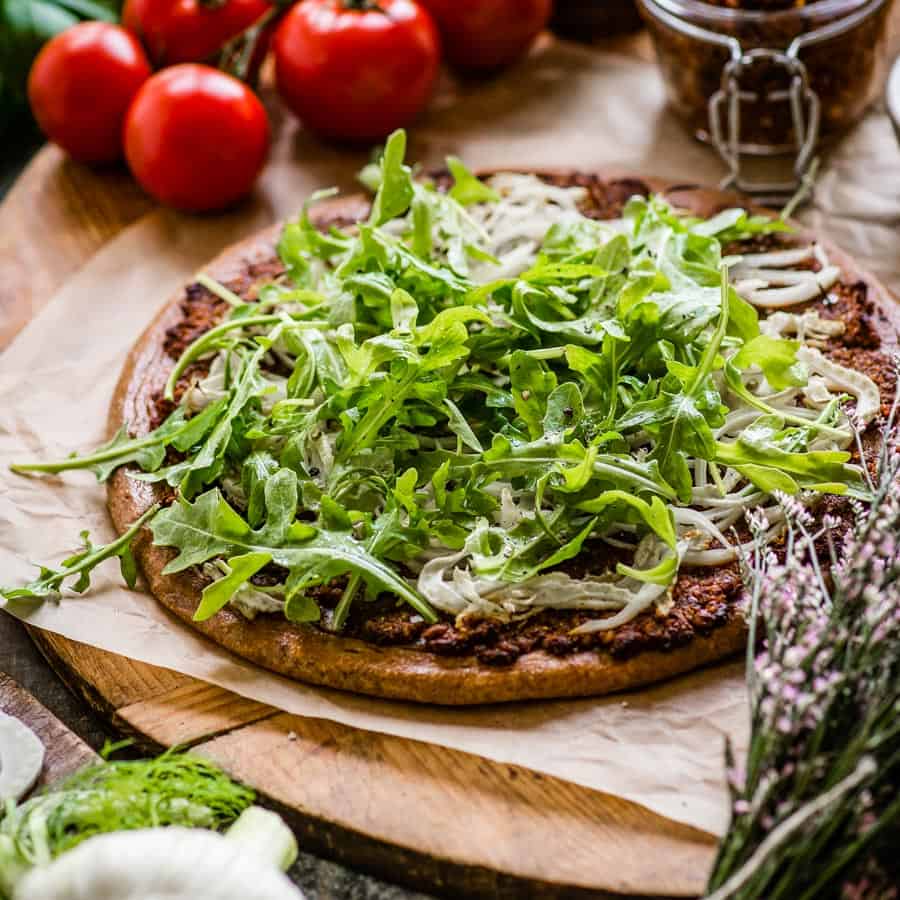 Savory Plant-Based Pizza
A simple quinoa batter makes for a crispy-edged, tender, gluten-free pizza crust that takes almost no effort to make. These toppings are some of my favorites—especially the pesto— but feel free to top with whatever your heart (or tummy) desires.
Instructions
Crust
Drain the pre-soaked quinoa in a fine-mesh sieve and rinse. Transfer to a high-powered blender and add 1⁄4 cup water, the seasoning, salt, and garlic. Puree, adding more water if needed, to make a very smooth batter.

Place a 12-inch cast-iron skillet or a rimmed pizza pan in the oven for 5 minutes. Add the avocado oil, return the pan to the oven, and heat for 5 minutes. Carefully remove the hot pan, and tilt it so the oil covers the bottom evenly. Carefully pour the batter into the center of the pan—don't pour too quickly or the oil could splatter. Spread the batter evenly. It should be 1⁄4 to 1⁄2 inch thick, depending on the pan. (If using a pizza pan, it may not reach all the way to the edges.)
Toppings
Carefully transfer the crust to a rack. Blot off the oil. Remove excess oil from the skillet or pan, leaving just enough to coat the bottom. Place the crust back in the pan and spread the pesto over the crust, then top evenly with the fennel and onion. Bake for 10 to 15 minutes to warm the toppings through.
Nutrition (estimated)
Calories: 855kcal (43%) Carbohydrates: 89g (30%) Protein: 20g (40%) Fat: 48g (74%) Saturated Fat: 6g (38%) Polyunsaturated Fat: 10g Monounsaturated Fat: 30g Sodium: 1235mg (54%) Potassium: 959mg (27%) Fiber: 11g (46%) Sugar: 2g (2%) Vitamin A: 952IU (19%) Vitamin C: 9mg (11%) Calcium: 153mg (15%) Iron: 8mg (44%)