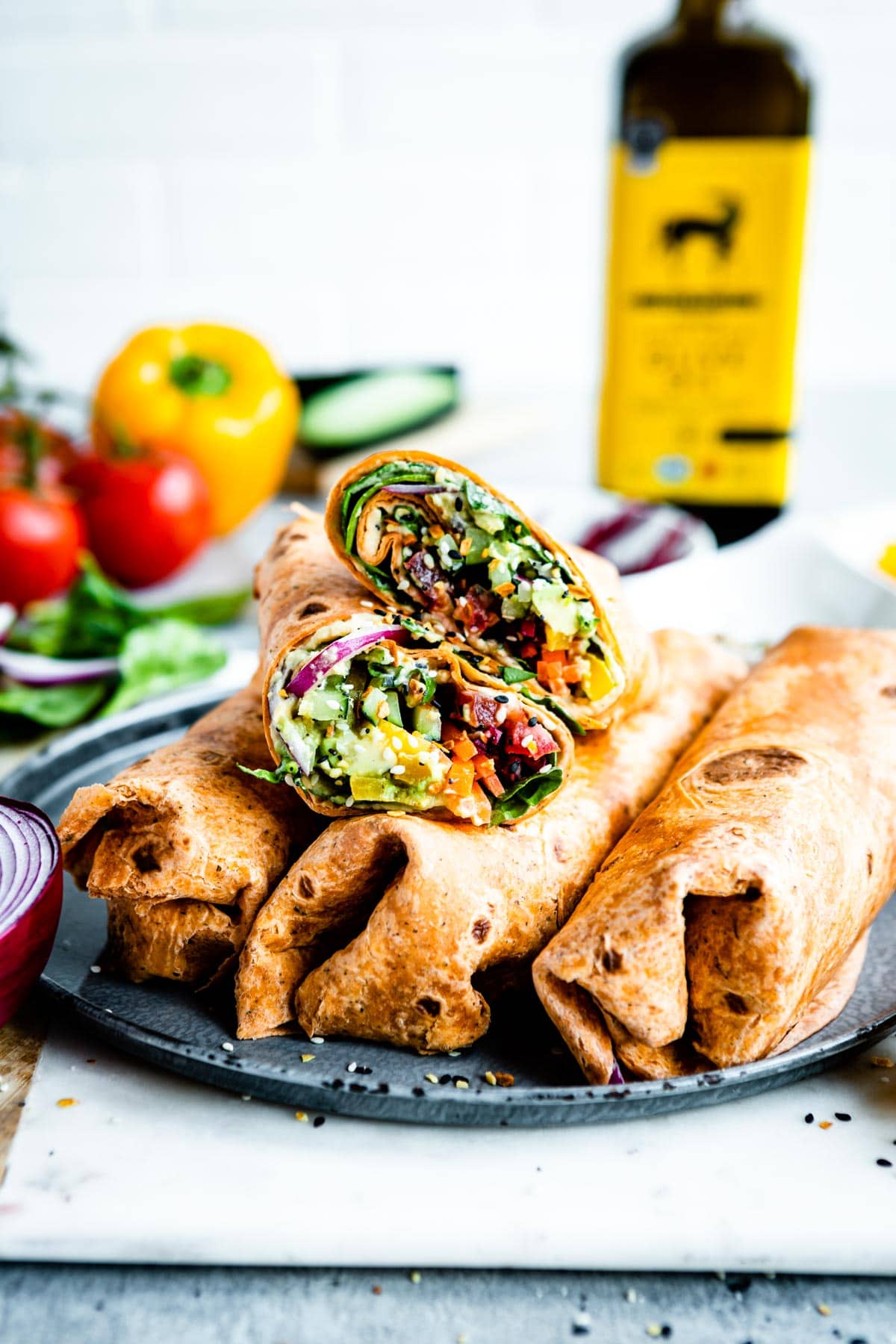 I often get asked what I eat for lunch or how to incorporate veggies into lunch without turning to a salad. I get it! Lunch isn8217;t the time for a three-hour meal prep session. I8217;m sharing my hummus veggie wrap recipe today, a recipe that you can make once and enjoy all week long!
I love the versatility of these wraps. I never make them the same way twice! They are also filling and full of veggies, so you really get to eat the rainbow.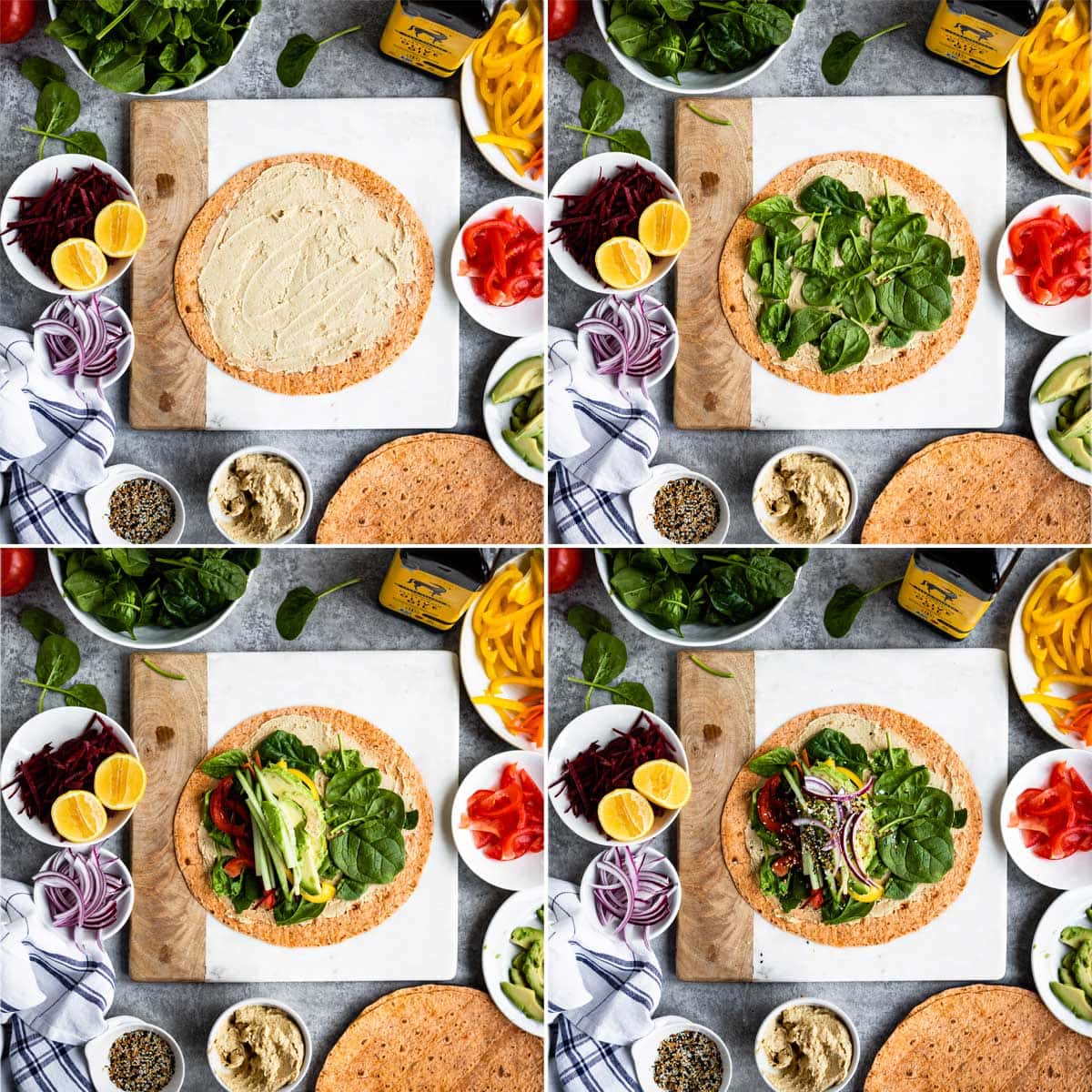 How to Make a Veggie Wrap
The key to a good wrap is leaving about one inch of space at the edge that is hummus and veggie free. That way you8217;ve got something to hold on to when you gather it all up.
I also recommend spreading the hummus out on an empty shell, then adding the spinach so you can spread it evenly. Add the rest of your veggies on just half of the shell so you8217;ve got room to start your wrap.
When you8217;re ready to close up your tortilla, take the empty corner of the side with veggies and pull it overtop the filling. Then tuck that edge under the veggies tightly to keep them secure. After your wrap is finished, use parchment or wax paper to store it so you can easily unwrap and eat a portion at a time.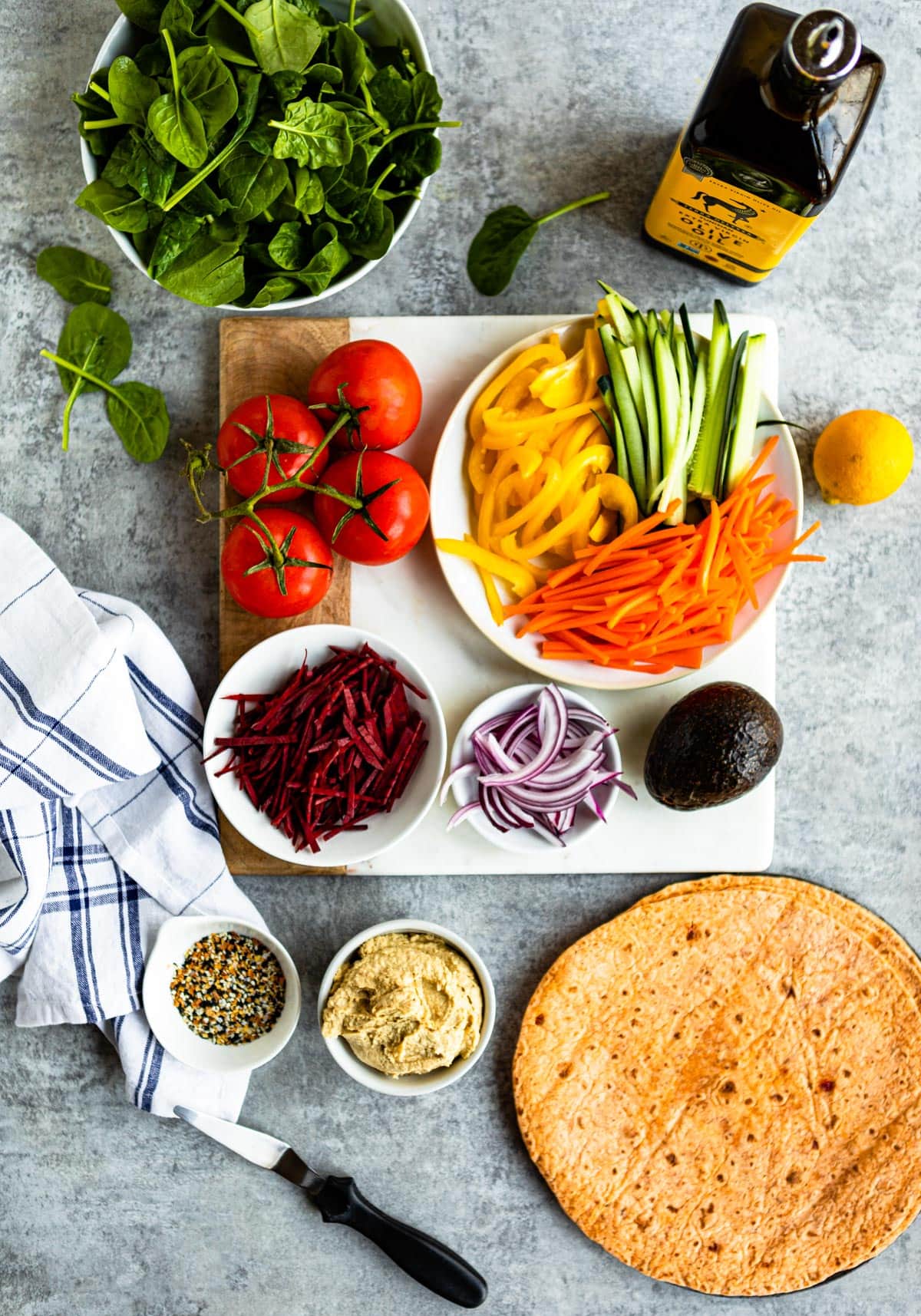 Ingredient Swaps
Sauce swaps: If hummus won8217;t work for you then try spreading coconut sriracha, hemp sauce, pesto or avocado crema on your wrap.
Spinach swaps: Any leafy green works in this recipe. I like swapping spinach with kale, arugula or dark green romaine. Cabbage is another deliciously crunchy option.
Alternative veggies: Tomatoes, avocado slices, zucchini, radishes, sun-dried tomatoes, olives and more work well together. Just use what you have on hand and don8217;t worry about following my hummus veggie wrap recipe perfectly.
Spices: If you really want to up the flavor, add a Greek or Italian seasoning blend. Sea salt and pepper are a classic combo. A bit of garlic salt would also work well.
Wrap Choices
If the flour tortilla shells I used are what8217;s holding you back from this hummus wrap, then use a different option! I also like to use big romaine lettuce leaves, a gluten-free wrap like Siete Grain-free wraps. What is your favorite way to wrap your veggies?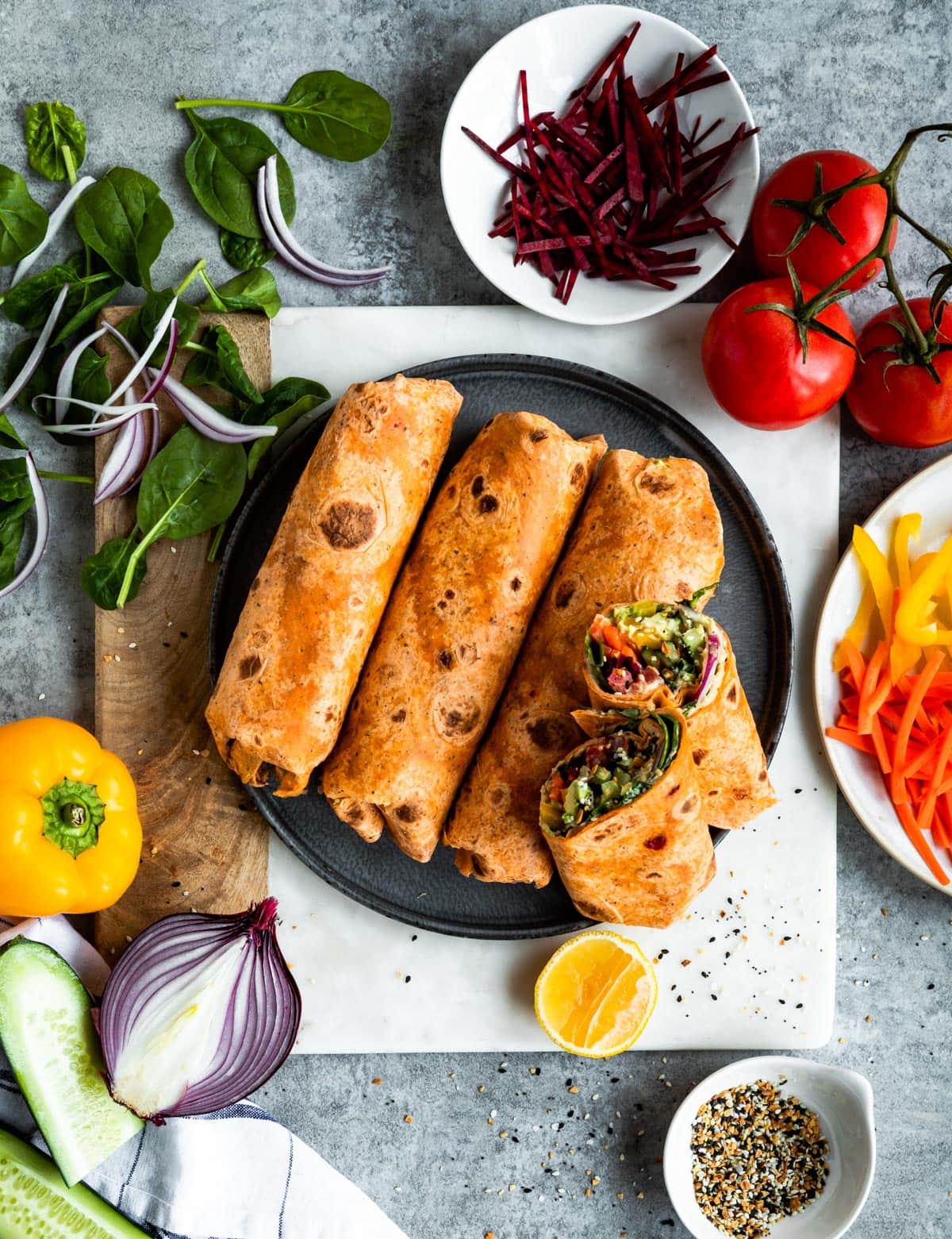 Veggie Wrap FAQs
How do you make a veggie wrap?
I start with spreading the hummus out on the wrap to make sure it is covered evenly, then I add the spinach to spread it out too. Next, I layer on the veggies until I8217;m satisfied. To wrap it well, I leave a one-inch edge around the wrap free from sauce and veggies so I can tuck it in nice and tight. Finally, use parchment or wax paper around the finished product for easy handling and storage.
Is a veggie wrap good for you?
It can be! I fill mine with plants of all kinds along with homemade hummus for a dose of healthy fats to help break down the carbs. Feel free to use lettuce or the gluten-free wrap of your choice to make this lunch work for you.

Easy Lunch Options
I don8217;t like taking the time to 8216;make8217; lunch. It needs to be filling, delicious and easy for me to eat it. Here are some of my go-to lunches. They can be prepped ahead of time and in bulk so that when I8217;m ready to eat, I can grab a few containers and toss together a winner of a meal:
I can8217;t wait to hear how your hummus veggie wraps turn out! Don8217;t forget to rate and review to let me know.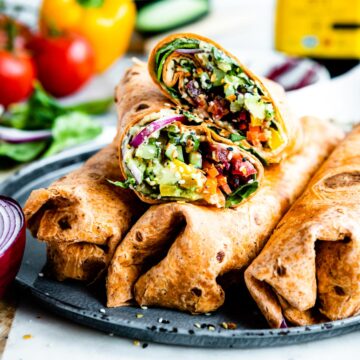 Veggie Wrap with Hummus
Eat the rainbow with this plant protein veggie wrap. It8217;s got crunch, creaminess and flavor. Plus, you can wrap it however you want!
Nutrition (estimated)
Calories: 285kcal (14%) Carbohydrates: 39g (13%) Protein: 7g (14%) Fat: 12g (18%) Saturated Fat: 2g (13%) Polyunsaturated Fat: 2g Monounsaturated Fat: 7g Trans Fat: 74g Sodium: 517mg (22%) Potassium: 385mg (11%) Fiber: 3g (13%) Sugar: 6g (7%) Vitamin A: 3473IU (69%) Vitamin C: 62mg (75%) Calcium: 95mg (10%) Iron: 3mg (17%)