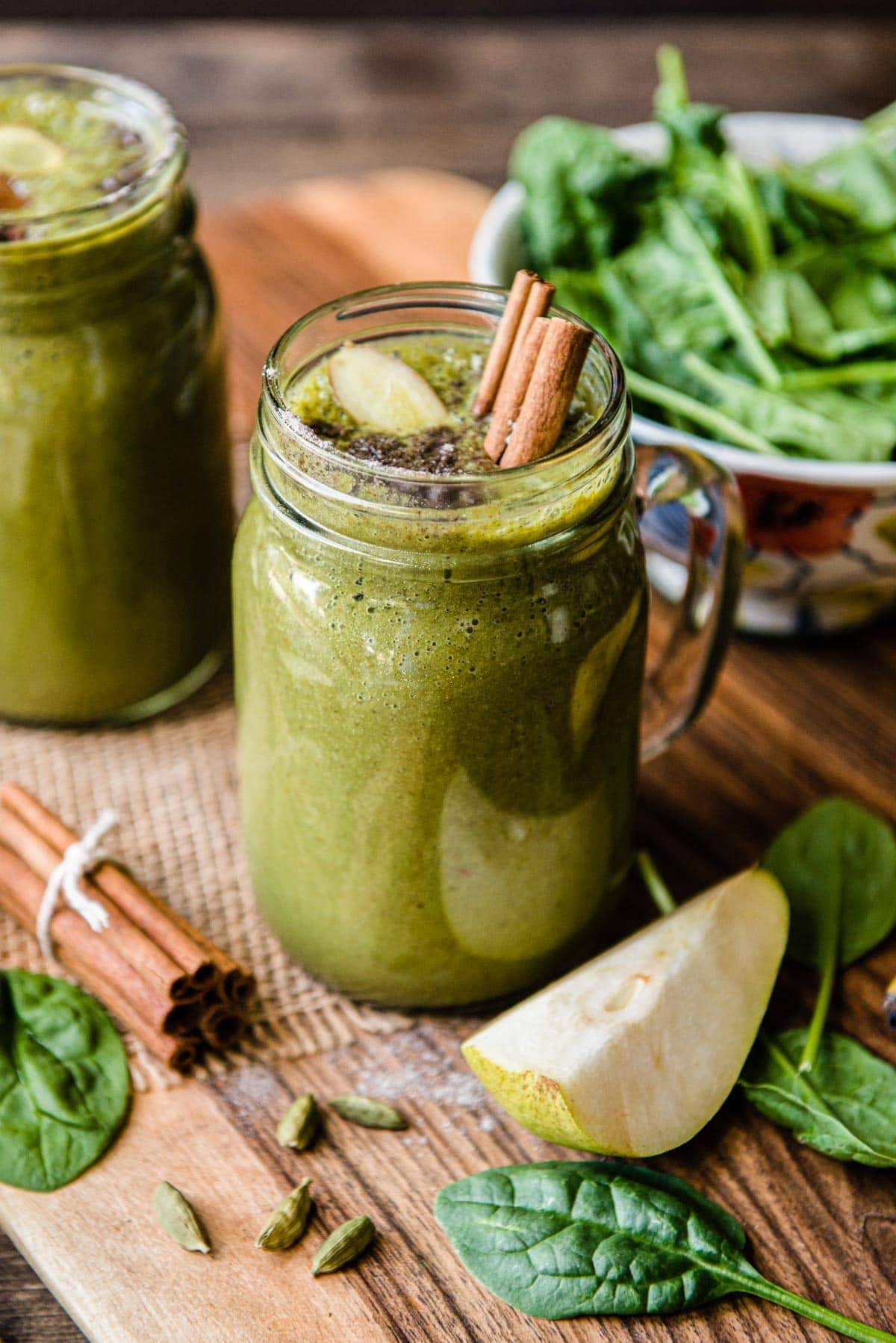 Is it cold where you live? Fall and winter bring chilly temperatures that make it hard to crave a nice, frosty green smoothie when you8217;d rather be sipping something warm and cozy. Brr! Instead of skipping that smoothie altogether, try this warm Chai Smoothie. It brings you all the best in fresh produce and energy-boosting ingredients but also keeps you toasty warm. My chai tea smoothie might just be your go-to drink this winter!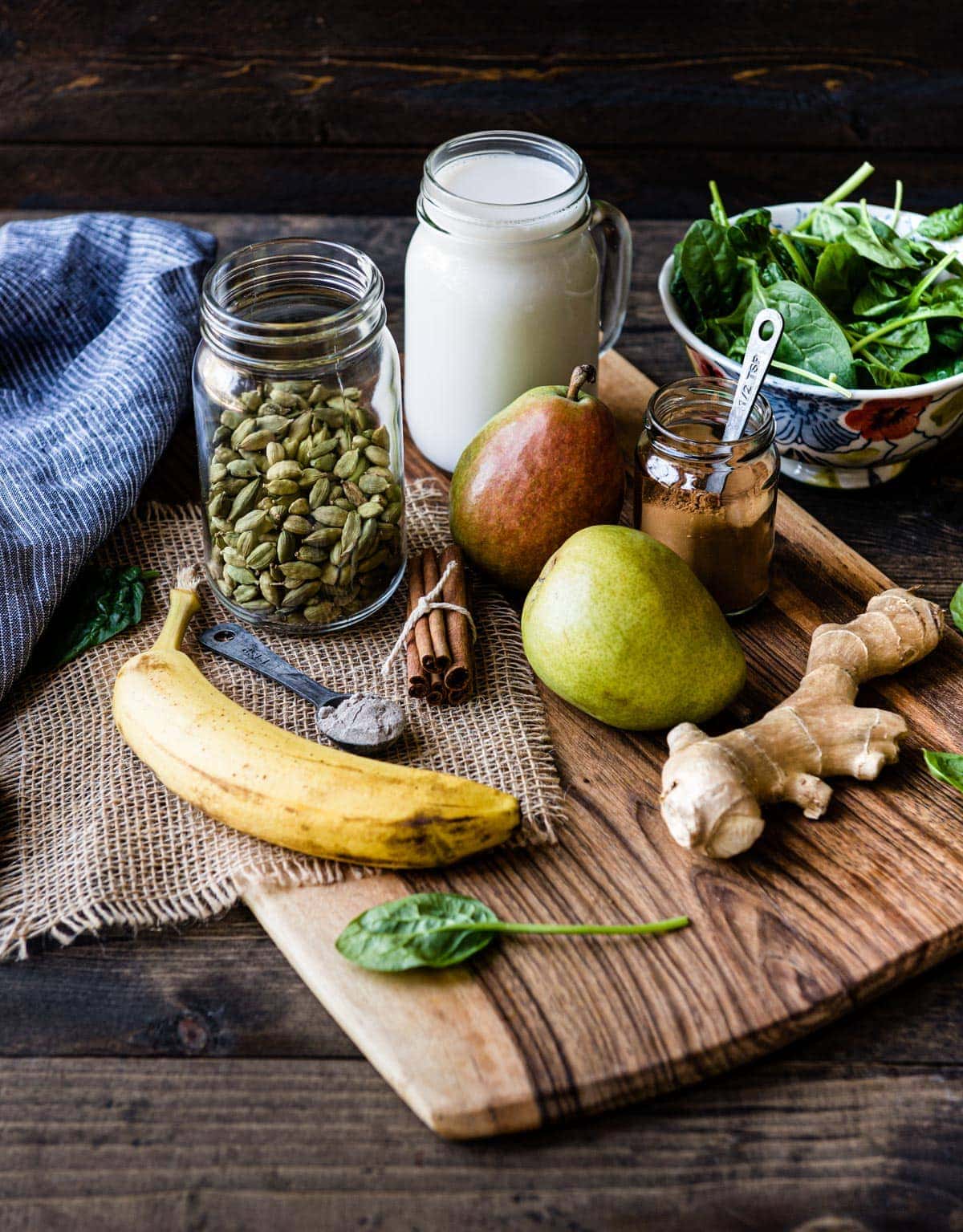 How to Make a Warm Smoothie
Warm smoothies are very similar to cold ones, with just a few tweaks. Here8217;s how I like to blend them:
Add the remaining ingredients. If you8217;re using a high-speed blender then start blending on low and work up to high speed. Blend for 3-5 minutes or until very hot. If you8217;re using a regular blender then blend until smooth and heat up the blended smoothie on the stove or transfer to mugs and heat in the microwave until warm.
Masala chai (spiced tea) is a thousand-year-old drink originating in India. It can be made with a wide range of spices as well as different kinds of tea depending on the region of the world. You can definitely make this chai-inspired green smoothie with the tea of your choice (caffeinated or not).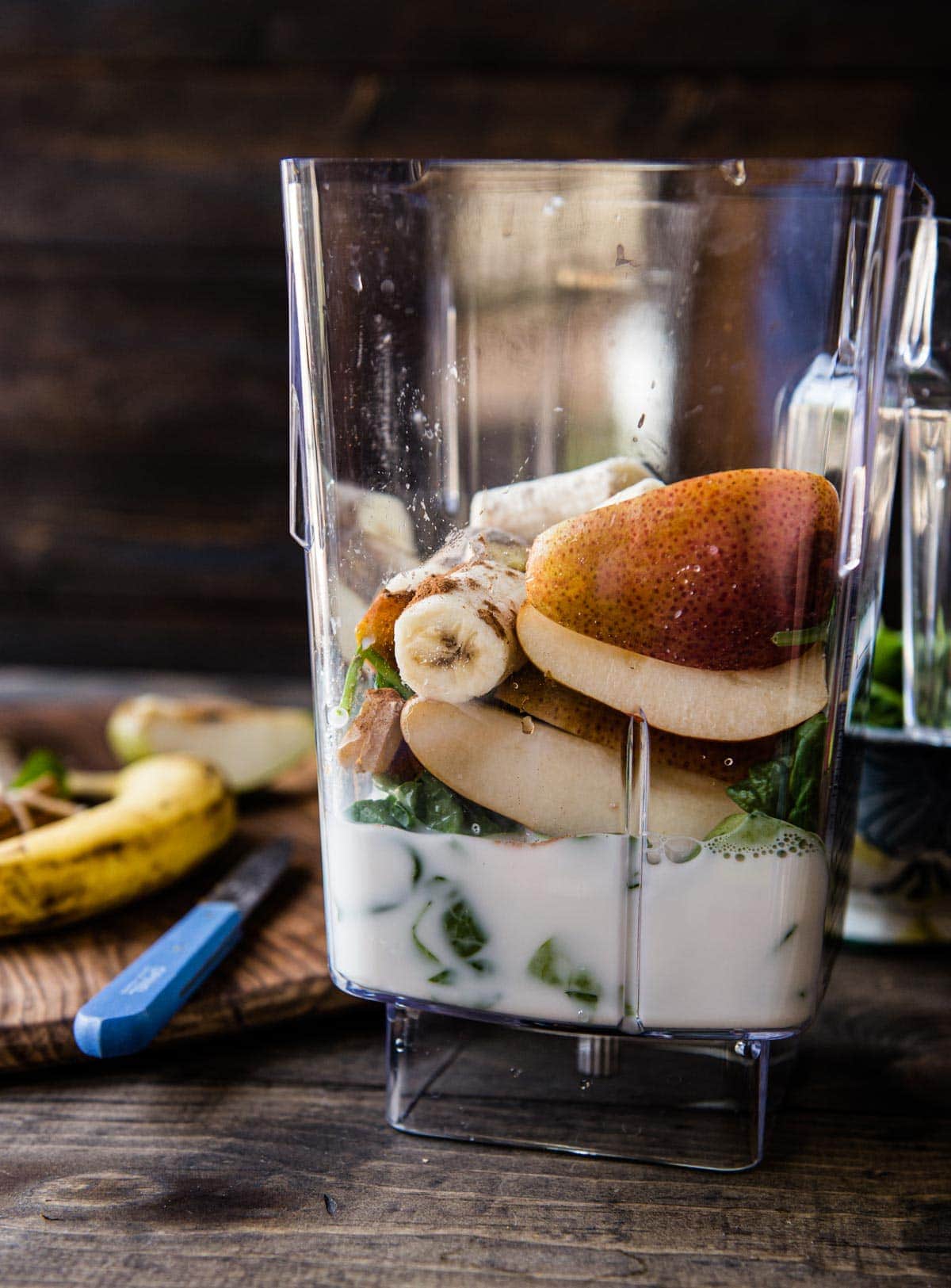 Tips for a Delicious Chai Smoothie
Hot tea can be used while blending if your blender container is heat-proof. Be sure to vent the lid so the liquid doesn8217;t leak or splatter if you choose to blend hot liquid. If your blender has a soup setting, this is the perfect smoothie for that setting!
The full-fat canned coconut milk makes this chai tea smoothie super creamy. Use light canned coconut milk or a carton of coconut milk for less fat. Swap the Medjool date for a bit of maple syrup if desired.
Feel free to drink this smoothie at room temp instead of heating it. I8217;ve had rawkstars tell me they often drink room temp smoothies during the winter, and that8217;s great! This smoothie is equally delicious chilled, so if you aren8217;t ready for a hot smoothie then make it cold!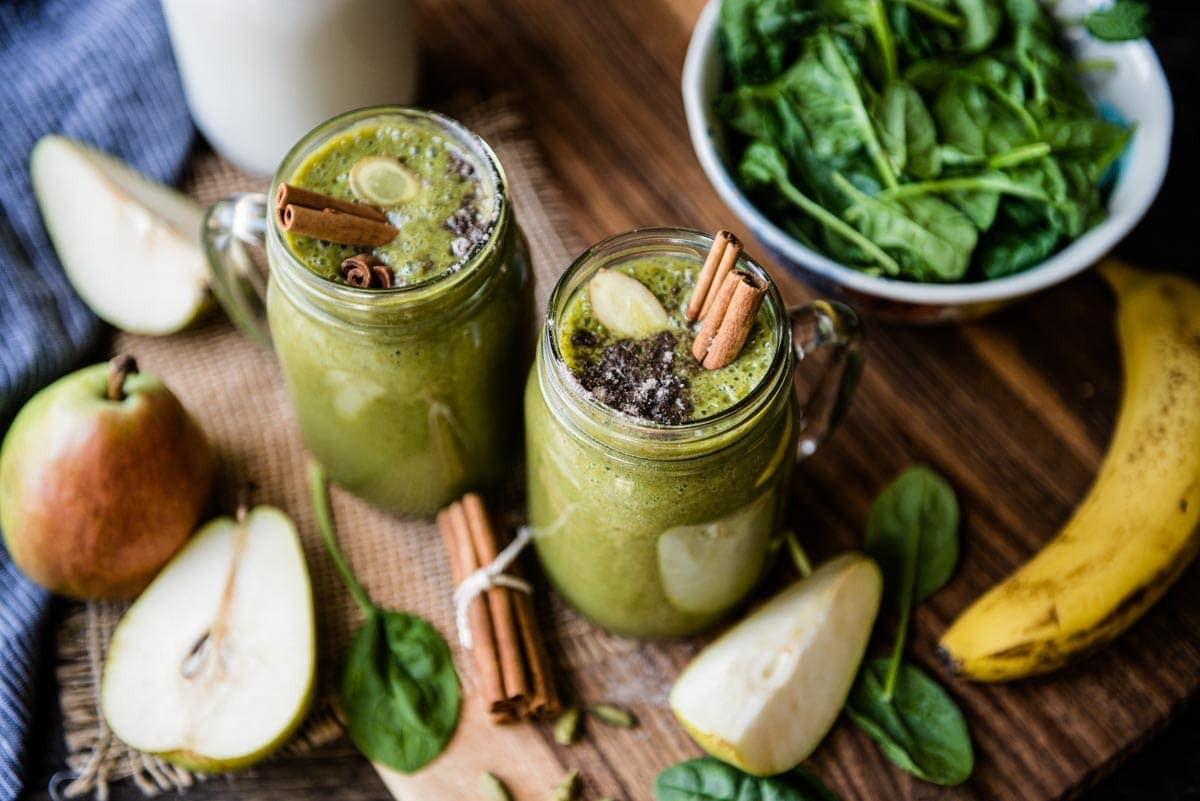 How many calories are in a chai tea smoothie?
My chai smoothie has 396 calories (with full fat coconut milk). If you want to easily lower the calorie count, just swap the full fat coconut milk for light canned coconut milk or even carton coconut milk.
How long does a smoothie stay fresh in the fridge?
I recommend drinking smoothies within two days of blending. They start to lose nutrients after about 15 minutes, yet are still great the next day! Just make sure you give that refrigerated smoothie a good shake before your first sip.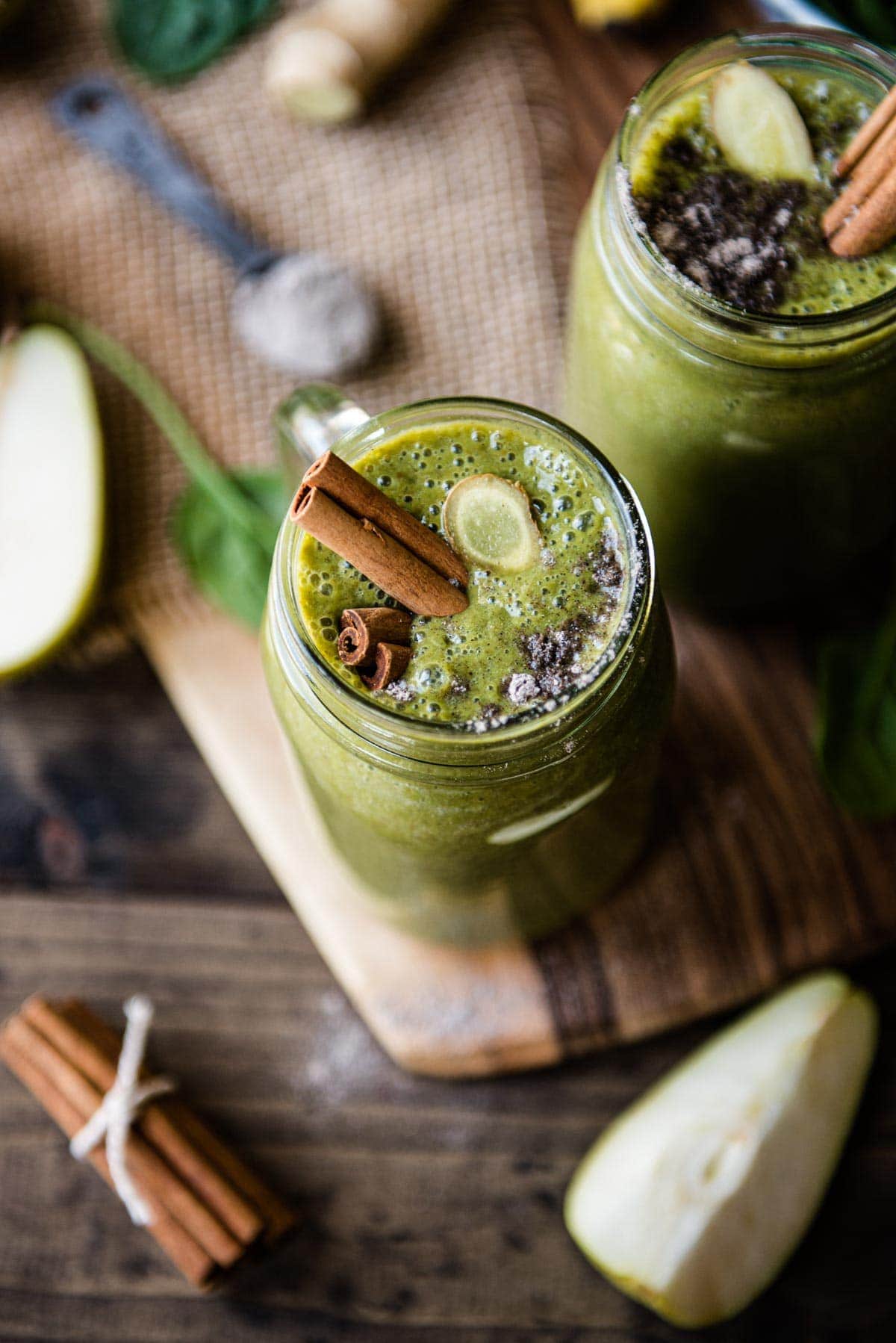 Warm Drinks for Cold Weather
Put down that cold brew coffee and get ready to jump into seasonal flavors and produce with the below smoothies and drink recipes. I love switching up my drink routine with a fresh set of fruits and veggies, and these recipes usher in cooler weather in just the right way.
Warm Smoothies
If you just can8217;t stand the thought of blending a cold smoothie this time of year then don8217;t! Instead, try one of these incredibly yummy warm smoothies and embrace the season:
Warm Plant-Based Drinks
If you8217;re like me then cooler weather has me reaching for warmer drinks all day long. Here are a few of my favorites to sip:
What8217;s your go-to hot beverage to warm you up during the cooler weather? Drop a comment below and let me know what I should be drinking this winter!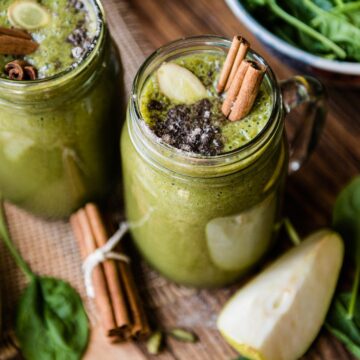 A warm comforting meal replacement smoothie that is full of healthy fruit and spinach, plus just the right amount of spice inside the warm chia tea smoothie.
Notes
Note: Hot tea can be used, but use caution when blending. Be sure to vent the lid so the liquid doesn8217;t leak and splatter. Blend on low speed, working up to high speed until smooth.
Nutrition (estimated)
Calories: 396kcal (20%) Carbohydrates: 49g (16%) Protein: 4g (8%) Fat: 25g (38%) Saturated Fat: 21g (131%) Polyunsaturated Fat: 1g Monounsaturated Fat: 1g Sodium: 32mg (1%) Potassium: 758mg (22%) Fiber: 8g (33%) Sugar: 34g (38%) Vitamin A: 1517IU (30%) Vitamin C: 14mg (17%) Calcium: 75mg (8%) Iron: 5mg (28%)